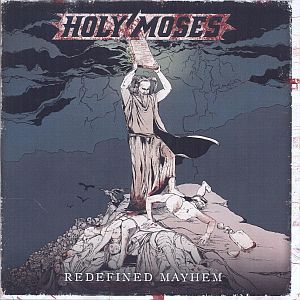 Artist: Holy Moses
Title: Redefined Mayhem
Genre: Thrash Metal
Release Date: 28th April 2014
Label: Steamhammer/ SPV
Album Review

HOLY MOSES were formed in 1980 as one of the first German Thrash Metal bands and they have established themselves as well-known representatives of female fronted Thrash band. After a break between 1994 and 2000, the band has ever since been around and constantly refined their energetic sound. With 'Redefined Mayhem' (2014), they put forward their eleventh full-length record, following on works like 'Finished with the Dogs' (1987) and 'Strength Will Power Passion' (2005).
On 'Redefined Mayhem', HOLY MOSES combine raw and straight-forward Thrash Metal with occasional Death Metal influences, melodic and skilled guitar work. The thirteen songs are constructed as short and without any superfluous gimmicks. Sabine's coarse and raw vocals are joined by group chants every now and then, which adds further power and energy. Alongside fast and grooving tracks like the strong opener 'Hellhound' or 'Undead Dogs', HOLY MOSES also experiment with slower, almost doom-influenced elements, like in 'Into The Dark'.
'Redemption Of The Shattered' sounds almost progressive and is probably the most complex and technical song on 'Redefined Mayhem'. This serves as a good variation in between the otherwise hard-line Thrash Metal songs. However, the guitar work does indeed work very well and adds melodic, unexpected twists and turns every now and then, which has not been as dominantly included on previous albums. Consequently, HOLY MOSES are constantly working and improving their style, although the basics have already been laid in the late 80s. Consequently, 'Redefined Mayhem' is 100% Holy Moses and fans of the band and solid Thrash Metal will surely not be disappointed.
Tracklist

01. Hellhound
02. Triggered
03. Undead Dogs
04. Into The Dark
05. Sacred Sorrows
06. Process Of Projection
07. Fading Realities
08. Liars
09. Redemption Of The Shattered
10. Whet The Knife
11. Delusion
12. One Step Ahead Of Death
13. This Dirt
Line-up

Sabina Classen – Vocals
Peter Geltat – Guitars
Gerd Lücking – Drums
Thomas Neitsch – Bass
Website

www.holymoses.net
/
https://www.facebook.com/official.holy.moses
Cover Picture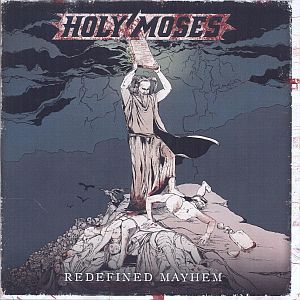 Rating

Music: 7
Sound: 7
Extras: -
Total: 7 / 10