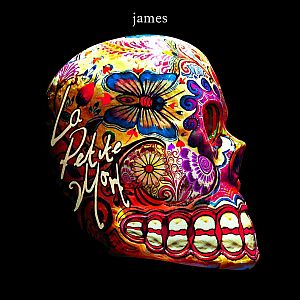 Artist: James
Title: La Petite Mort
Genre: Indie
Release Date: 6th June 2014
Label : Mercury
Album Review

JAMES, for those who don't know Tim Booth's incredible band, has a weird history... Formed in the early 80's it took them ten years and their smash baggy Manchester hymn 'Come Home' to break through. But this success was mainly a British one as they were, for strange reasons, associated with this all Hacienda scene that gave birth to the STONE ROSES, HAPPY MONDAYs or INSPIRAL CARPETS. It will be the year after, in 1991, that the album 'Seven' lead by the hits 'Born Of Frustration' and 'Ring The Bells', will see them enter the First League and have success all over the world. Describing their music is easy and hard at the same time! The easiest part would be to categorized them in the Heroic / New Wave with a touch of Celtic Folk (violin, trumpet), amongst bands like the HOTHOUSE FLOWERS, U2 or SIMPLE MINDS. But there's more to it... much more to it. Certainly Tim Booth incredibly unique voice and charisma. And a sense of creativity and risk proper to great artists: two albums with Brian Eno, Tim Booth going solo with Angelo Badalamenti...
In 2001, Tim Booth decides to leave the band in good terms, the band ending up with a cult concert in their hometown Manchester (a DVD 'Getting Away With It' is available). After a solo album in 2004, Tim re-joins the bands - that never officially split up, and the reunited clan released the smashing comeback album 'Hey Ma', and later in 2010, 'The Night Before, The Morning After'. This last one was a combination of two EPs ('The Night Before' and 'The Morning After') released over a six months period and gathered as one CD upon fans demand. 'La Petite Mort' is the 13th album of JAMES... and another outstanding one. Yeah, just for you to know, there is no bad album in their discography. This one is probably the one that gather the best the essence of the band. A kind of "best of" with new compositions.
The 7min opener 'Walk Like You' is a perfect introduction to this "little death". Tim's voice is still able to reach the highest notes after all those years, the typical trumpet, violin and slide guitars are still there, pure like crystal. And the emotion.... Emotion is probably the key word to this new album. 'Curse Curse', driven by a surprising dance synth gimmick will certainly be one of the next singles to be pulled out. It's a smashing hit that promise some intense jumping on the next gigs. A clear stadium hit. 'Moving On', the first single released, is the most emotional song of the album. It comes with a very moving video, illustrating the theme of the death and letting go the beloved one. But there's no tear here. It's rather optimistic and uplifting. Just singing about life after all.
'Gone Baby Gone'... guess what? Talks about separation again. And once again, it's a potential new James hit, bass driven with some nice electro sequences here and there, a typical sing along chorus... I could carry on track by track but to be honest, this album is a full length trip that needs to be taken from A to Z. Oh yes, I can mention the superb 'Interrogation', probably one of the most beautiful song written by Tim and his friends, a very progressive tracks over 6min climbing with Tim's voice almost screaming in pain, with a lot of changing in rhythms, almost two songs in one. Ten songs that summarize the talent, passion, heart and soul of this underrated band.
Tracklist

01. Walk Like You
02. Curse Curse
03. Moving On
04. Gone Baby Gone
05. Frozen Britain
06. Interrogation
07. Bitter Virtue
08. All In My Mind
09. Quicken The Dead
10. All I'm Saying
Line-up

Tim Booth - Vocals
Jim Glennie - Bass
Larry Gott - Guitars, Keyboards
David Baynton-Power - Drums
Saul Davies - Violin, Guitar, Percussions
Mark Hunter - Keyboards
Andy Diagram - Trumpet, Percussions
Website

http://www.wearejames.com
/
https://www.facebook.com/jamesisnotaperson
Cover Picture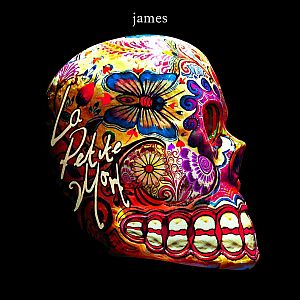 Rating

Music: 10
Sound: 10
Total: 10 / 10