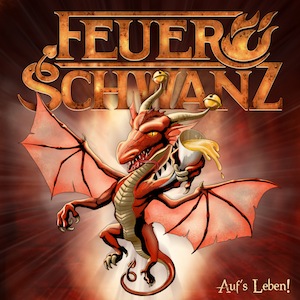 Artist: Feuerschwanz
Title: Auf's Leben
Genre: Medieval Rock
Release Date: 19th September 2014
Label: F.A.M.E. Recordings
Album Review

While the doomsday fantasies never end and one crisis hunts the next, you remain completely relaxed from Castle "Feuerschwanz". Finally, after 10 years as a real Rock'n'Roll knight you have seen worse. Instead the Satire rockers celebrate the pure joy of existence on their new album, with all the trimmings. In the thrilling magnificent spectacle, both musical and optical uniquely demonstrated, once again it all comes together what defines mankind since the beginning of existence and what will never change, even after a 1000 years of progress: The life, love, being and of departing from this world. Whether knight or fitness trainer, sailor or rock star. Whether just love, fresh or long in trust harbour of marriage.
Their way to the top, to one of the most famous bands of the medieval Rock Scene was never that easy. FEUERSCHWANZ polarized, at least because of their extravagant stage show including the light dressed "Tanzmiezen" (dancing cats) and their bawdy humour. But even critics have to admit that the music which is played is at the highest level. FEUERSCHWANZ want to make music and entertain, however sometimes insert the finger into the wound, which shows no difference from life itself. FEUERSCHWANZ in a brilliant way make you see yourselves like staring in a mirror and get a laugh out of their meaningless to snappy anecdotes, her musical audacity and also about ourselves.
With 'Auf's Leben', the band released - just in time for the 10th anniversary of their founding - another fantastic medieval folk rock album. You may be able to tell, that this album is a top class performance by listening to the intense first song of the album 'Aufs Leben'. Track two, 'Herz im Sturm', is about the wonderful feeling of being in love, of course not without the one or other wink. A real party number is Track six, 'Dumme Frage, Saufgelage', in which the band teases itself and invites you to celebrate. 'Zuckerbrot und Peitsche', my personal favourite song on this album, is an absolute party song about love and suffering in a marriage... With 'Seemannsgarn' there is also a typical sailor song on the album. But this does not quite correspond with my taste. With 'Auf Wiedersehen' there is a very personal song on the album. Here processed the singer "Prinz Hodenherz" his mother's death and says goodbye with it. For FEUERSCHWANZ it was important to tell this story and to show their soulful side.
For me the new album sounds great, like the others before. So I'm excited to join one or more concerts nearby on the following tour.
Tracklist

01. Auf's Leben
02. Her im Sturm
03. Mann aus Metall
04. Zuckerbrot und Peitsche
05. Hans
06. Dumme Frage, Saufgelage
07. Seemannsliebe
08. Auf Wiedersehen
09. Träumer und Tor
10. Sündenfrei
11. Ohrwurm
12. Der Druide
13. Frisch gezapft
Line-up

Hauptmann Feuerschwanz – vocals, guitar
Johanna von der Vögelweide – violin
Sir Lanzeflott – drums
Felix Taugenichts – bass
Prinz R. Hodenherz III – vocals, bagpipe, flute
Hans der Aufrechte – electric guitar
Website

www.feuerschwanz.de
Cover Picture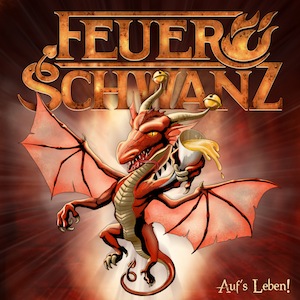 Rating

Music: 9
Sound: 8
Total: 8.5/ 10