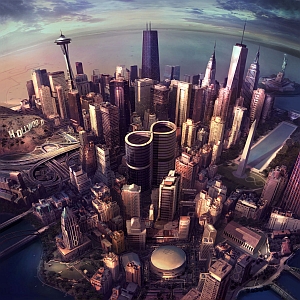 Artist: Foo Fighters
Title: Sonic Highways
Genre: Rock
Release Date: 10th November 2014
Label: Columbia (Sony Music)
Album Review

With the death of Kurt Cobain and the demise of NIRVANA, the subsequent rise to rock royalty by geeky, gangly drummer Dave Grohl came as something of a shock. The hordes were heard to mutter "He's just a drummer, right?" And yet the transformation to singer, songwriter, guitarist, drummer for hire, and all round nice guy was almost instant. And FOO FIGHTERS, the band he has fronted since the nineties, are now one of the biggest rock bands on this fair earth. And clearly with new album 'Sonic Highways', and a world tour to go with it, retirement is obviously not an option.
What it all comes down to is, how do you like your rock music served? Because 'Sonic Highways' is as meat and potatoes rock as you can get. Big, lumpy, filling, dependable, but unlikely to tickle a sophisticated palette. On opener 'Something From Nothing' there's everything chucked in, the trademark loud and soft dynamic, the Grohl growl, even a bit of funk in the mid-section, but it's not a great song. The same can be said of 'The Feast And The Famine', which sounds over-familiar and falls predictably into a massive chorus. It rocks in shudders and jolts, bounding about like an over-active teenager. It's just not terribly exciting.
Much of the album follows suit, straining at the bit to be essential yet failing to light up anything but the past. There are a couple of high-points. 'Outside' would make a great single, it's tight and urgent, well sung and rich in melody and restraint. And 'I Am A River' begins quietly and grandly, the production superb. It has an ease and maturity to it, like BRUCE SPRINSTEEN in his prime, and is by far the stand-out track here. It's also tailor-made for finales at all those vast venues lined up for the tour.
It's hard to dislike FOO FIGHTERS at times, their ubiquitous presence and affable persona making them seem like the best mates you never knew you had. But 'Sonic Highways' is nothing special, and in today's musical climate, that seems to be absolutely fine. Pity.
Tracklist

01. Something From Nothing
02. The Feast And The Famine
03. Congregation
04. What Did I Do/God As My Witness
05. Outside
06. In The Clear
07. Subterranean
08. I Am A River
Line-up

Dave Grohl
Taylor Hawkins
Nate Mendel
Chris Shiflett
Pat Smear
Website

http://www.foofighters.com
/
https://www.facebook.com/foofighters
Cover Picture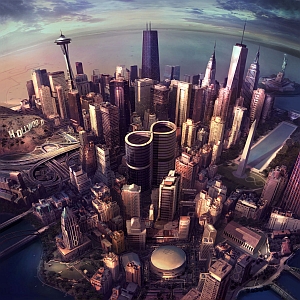 Rating

Music: 5
Sound: 7
Total: 6 / 10