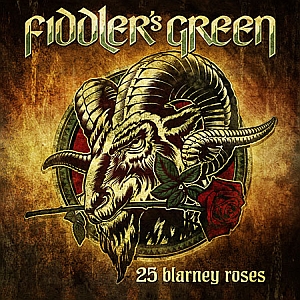 Artist: Fiddlers Green
Title: 25 Blarney Roses
Genre: Irish Speedfolk
Release Date: 13th February 2015
Label: Deaf Shepherd
Album Review

For 25 years, FIDDLERS GREEN are at home on stages in Germany and Europe and even now, much paging, sweaty stage outfits and some creative changes later, there is no end in sight for this wonderful band from Erlangen. Fortunately! The Irish Folk has always been an important part in the musical profile of FIDDLERS GREEN and they are count as one of the founders of the "folk-punk". With a lot of positive madness they celebrate their Irish Speedfolk for many years. Above all, they convince with their own compositions and talent to connect influences from Folk, Ska, Punk, Rock and Reggae to their own style.
A total of 17 albums have already been released on which you can pursue the history and development in a wonderful way. To celebrate their jubilee duly, FIDDLERS GREEN release on the 13th February 2015, for the first time in the band's history, a compilation album with the most popular and successful songs from the now huge repertoire: '25 Blarney Roses'. At the end of February, the six musicians start their big jubilee tour through twelve German cities. It is the most extensive show of the band's history so far, because they want to celebrate a big party with their fans. Celebrating is something, for sure, they have not forgotten after 25 years.
The album did not have just old familiar songs, also two new songs have been recorded. 'Take me back' was already published as video on 27th January and it shows the typical FIDDLERS GREEN style. Also 'Burning the night' is represented as a new song. It connects very well to its predecessors and definitely makes me want to hear more new songs. With the classics of early days, 'Rocky Road to Dublin' and 'Blarney Roses', there are two songs on the album which were previously only played live. Finally, these two you can also listen to at home. The other songs are popular pieces that should never be absent on concerts and put out the special style of FIDDLERS GREEN. Songs like 'Victor And His Demons', 'Long Gone', 'The Night Pat Murphy Died' and 'Another Spring Song' represent the character of the band and they like to be heard live at the concerts.
I look forward to the upcoming tour to possible to hear many of my favourite songs live and to be able to celebrate a big party.
Tracklist

01. Take Me Back
02. Rocky Road to Dublin
03. Victor And His Demons
04. Yindy
05. Old Dun Cow
06. Folk's Not Dead
07. Long Gone
08. We Don't Care
09. Green And Fellows
10. A Night In Dublin
11. Never Hide
12. Another Spring Song
13. The Night Pat Murphy Died
14. A Bottle A Day
15. Bugger Off
16. Burning The Night
17. Blarney Roses
Line up

Ralf "Albi" Albers - vocals, guitar, bouzouki
Rainer Schulz - bass
Stefan Klug - accordion, bodhran
Tobias Heindl - vocals, violin
Frank Jooss - drums, percussion
Patrick "Pat" Prziwara - vocals, guitar
Website

www.fiddlers.de
Cover Picture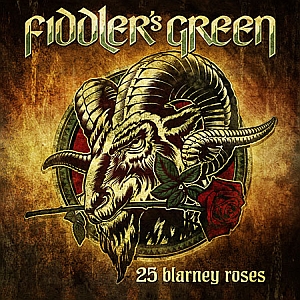 Rating

Music: 10
Sound: 10
Total: 10 / 10