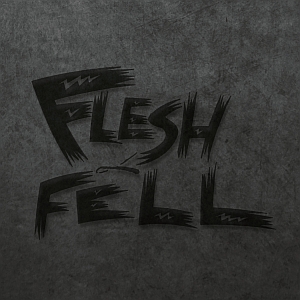 Artist: Flesh and Fell
Title: Flesh and Fell
Genre: Electronic / Synth Pop / New Wave / Cyber Punk
Release Date: 13th September 2013
Label: Out of Line
Album Review

An 80`s band from Belgium making a splash of a comeback with mystically dark lyrics and a updated Gothic sound. Their self-titled album is full of ecstatic energy with influences from the 80`s that you can clearly hear in their music. They use guitars, drum machines, electro and strong vocals to give their music a modernized atmosphere of dark bliss. The introductory song, Hunger, is a great start to the album with its hip and hungry tone. The gritty beats make the song undulate with undertones of grinding Gothic wildness. 'The Devil in Me' covers the trauma of the beast within embracing darkness. 'Love Machine' is slightly different to their other songs and brings back memories of the positive 80`s feel. 'Suicide' is hauntingly serious and reminds me of classic Gothic songs from the very beginning of Goth.
'Suspicious' picks up a bit sounding much more modern then the song that came before it. It has an undefinable edge to it discussing the depths of jealousy and trust. 'Abracadabra Erotica' really seems like it's from a different era altogether starting with 70's influences in the background then moving into synth with French lyrics making it sound darkly romantic. A song Morticia would appreciate. 'Something In Between' speeds up a bit reminding me of a candy song. 'The Wind' gives the synth enthusiast a real treat with lyrics in French sounding very high fashion and darkly trendy. 'Tipsy' is about coming back from a night out I am sure of it. Feeling upside down! 'Tongue Tied' sounds tough like a soul about to fight itself. Vanity and its relentless pursuits.
The last three tracks are a through back to the 80`s but somehow still manage to sound timeless. 'Emma' seems more like a story told within a song. This version of 'Hunger' is great with twisting and turning beats with matching guitar sounding very punk influenced. 'The Wind' has a classic New Wave sound when New Wave was at its height and sounds like French 80`s influenced. The strong vocals really drive this album. Their music will always be timeless, staying true to the classic sounds yet putting a modern edge to some of their newer endeavours.
Videos

Tipsy:
https://www.youtube.com/watch?t=125&v=Q0WOEgeZSZ8
The Devil in Me:
https://www.youtube.com/watch?t=42&v=BkLo1Cqumf0
Tracklist

01. Hunger
02. The Devil in Me
03. Love Machine
04. Suicide Hero
05. Suspicious
06. Abracadabra E-rotica
07. Something in Between
08. The Wind
09. Tipsy
10. Tongue-Tied
11. Emma (Eighties Release)
12. Hunger (Eighties Release)
13. The Wind (Eighties Release)
Line-up

Pierre Goudesone
Laurence Castelain
Laurent Stelleman
Website

http://fleshandfell.com/
/
https://www.facebook.com/fleshandfell
Cover Picture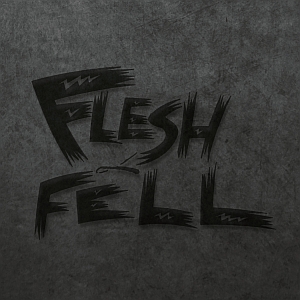 Rating
Music: 9
Sound: 9
Total: 9 / 10