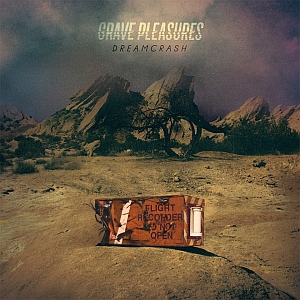 Artist: Grave Pleasures
Title: DreamCrash
Genre: Apocalyptic Death-Rock
Release Date: 4th September 2015
Label: Sony Music
Album Review

Critically lauded BEASTMILK split and splintered and became critically lauded GRAVE PLEASURES, now waving the freak-flag from Finland, and keeping about a million different genres happy all at once. Which is quite an achievement for a band who describe their curious cross-pollination of Metal, Goth, Punk and Indie as "Apocalyptic death-rock" for their second album 'DreamCrash'. It's hard to take seriously opening track 'Utopian Scream' despite its obvious nod to KILLING JOKE both old and new. Perhaps it's the vocals. Imagine THE SWEET singing a load of end-of-the-world guff in that wonderfully hysterical and tongue-in-cheek manner that made them so endearing back in the day. "I am an alien on my own planet" warbles Matt McNerney unconvincingly. Is it tongue-in-cheek? Is it? I do hope so. But it's still not very good.
'Crying Wolves' builds its gloomy-self around some pounding drums, yet it feels half-finished, like someone forgot to show up and add their contribution. The chorus is rousing enough, but as a whole it's seriously ploddy and, dare one mutter, boring. Things feel similarly half-arsed on 'Crisis' although there's some real tension surging through 'Worn Threds' and on fist-in-the-air 'Taste The Void'. Things get lively on the dusty western-tinged 'Lipstick On Your Tombstone', a song that somehow conjures up ALICE COOPER, and there's a menacing slink and swagger on the sparse, impressive 'Crooked Vein'. 'No Survival' rounds things off, the by-now familiar pounding drums powering this through a chorus that could be RAINBOW in 1980, which is a dubious compliment at best. At least no-one else is attempting THAT right now.
So, 'DreamCrash' most definitely doesn't live up to the hype, although it's fair to say it has its moments. But despite some valiant efforts to write invigorating, drama-strewn alt-rock, there's simply too much cliché by far, especially lyrically, to make this anything worthy of a brisk once-over.
Tracklist

01. Utopian Scream
02. New Hip Moon
03. Crying Wolves
04. Futureshock
05. Crisis
06. Worn Threds
07. Taste The Void
08. Lipstick On Your Tombstone
09. Girl In A Vortex
10. Crooked Vein
11. No Survival
Line-up

Mat "Kvohst" McNerney - Vocals
Valtteri Arino - Bass
Linnéa Olsson - Guitar
Uno Bruniusson - Drums
Juho Vanhanen - Guitar (live/studio)
Website

https://www.facebook.com/gravepleasvres
/
http://gravepleasures.com/
Cover Picture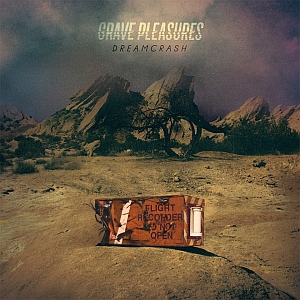 Rating

Music: 5
Sound: 6
Total: 5.5 / 10