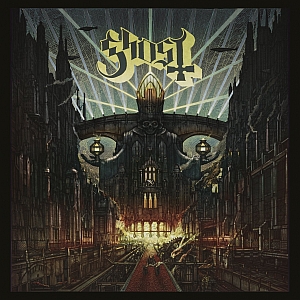 Artist: Ghost
Title: Meliora
Genre: Heavy Metal
Release Date: 21st August 2015
Label: Spinefarm (Universal Music)
Album Review

Back in 2008, six creative Swedes gifted in music decided to found the so-called GHOST MINISTRY, a band vowing to remain anonymous while playing "heavy rock music and romantic lyrics, which glorify and glamorise the disgusting and sacrilegious." How alluring. Their aim is to spread "a message of pure evil." Horns up for that. So, by what means do GHOST intend to accomplish this profane mission? - "Via the most effective device they can find: Entertainment." And entertaining they are!
Due to their distinctive stage clothes it's easy to recognize GHOST: The five instrumentalists, each representing one of the five elements (fire, water, wind, earth, and ether), wear monks' cowls and silver, ghoulish looking masks with horns; The vocalist, Papa Emeritus III, appears as a "demonic anti-Pope" figure with skull makeup, dressed in a black cardinal robe and a Pope hat. Speaking of entertainment, these outfits make GHOST one of the theatrical metal bands. While ALICE COOPER presents a horror show on stage, GHOST put on a grand spectacle with a pseudo-occult ritual-like performance. What I like about GHOST, is the way their theatrics support the uncanny vibes in their music without ever overshadowing their truly well written songs. As one of the Nameless Ghouls said, "Had not the music been rocking, I don't think that people would have gone gaga just about our looks."
Hearing the smashing track `Year Zero´ from their second album `Infestissumam´ (2013), the follow-up of their debut `Opus Eponymous´ (2010), for the very first time, I was intrigued with the contradictoriness within GHOST's tunes and enjoyed the result of their contrasting themes within lyrics and sound not being too complex or even incongruous, but rather surprisingly harmonic and effective. On the one hand, their song texts and entire image are soaked in pseudo-Satanism – I say they're pseudo-satanic because even though GHOST may look dead serious, it seems that they don't take themselves too seriously presenting their songs and videos with an implied wink – and, on the other hand, they offer this whole unholy package as metal/hard rock songs featuring unexpectedly melodic and even pop sounds along to unaggressive, very clear and rather high vocals. I agree with those who hear a 70s influence, e.g. BLUE ÖYSTER CULT, in their music. And it wasn't GHOST's nationality, but their poppy choruses that somehow also made me think of ABBA. Thus, it wasn't a shocker to hear a GHOST version of ABBA's `I'm a Marionette´ on their cover EP `If You Have Ghost´ (2013), which was produced by Dave Grohl (NIRVANA, FOO FIGHTERS). GHOST's unique combination of styles doesn't make the "ministry" seem inconsistent, but indeed interesting; they can sound bright and cheerful as well as sacrilegiously eerie at the same time. Is this also true for their third and latest release `Meliora´?
The term `Meliora´ is Latin and means "better," "ever better," or "for the pursuit of the better". In a nutshell, this tuny and at once creepy album may be considered a return to GHOST's more doomy debut appearing, all in all, stronger than the previous `Infestissumam´ (apart from my personal stunners on that record, the afore-mentioned `Year Zero´ and `Monstrance Clock´). Talking of pop influences and contradictions, `Meliora´ presents a super clean production by Klas Frans Åhlund (Get ready for this: KATY PERRY, KYLIE MINOGUE, MADONNA, KESHA, BRITNEY SPEARS, USHER) and mixing by Andy Wallace (SLAYER, ALICE COOPER, NIRVANA, WHITE ZOMBIE, GUNS N' ROSES, DREAM THEATER). Let's turn to the songs on `Meliora´ now.
According to the "Ghoul Writer," GHOST's lyricist, the opening track `Spirit´ was "meant to strike a sort of Technicolor horror chord with its almost Ed Wood-ish sci-fi introduction theme." The spacey keyboards, the on-going organs, and a choir in the background during the chorus do actually sound like from an opening scene of some horrific sci-flick displaying GHOST's obvious love for that genre. The powerful `From the Pinnacle to the Pit´, that kicks off with a fiercely grooving bass line and a floating guitar solo on top, is a Led Zeppelin style song about the fall of ambitious characters, such as, Icarus and Lucifer. Thus, the catchy chorus sung in Papa's familiar sweet vocals fittingly goes: "You were cast out from the heavens to the ground / blackened feathers falling down." In addition to his clear singing Papa also, finally, brings in some snarling here and there. This song really has punch. The following six-minute-long `Cirice´ is heavy power ballad beginning with a sinister and solitary acoustic guitar developing into to spooky intro featuring strings before things get hard 'n' heavy. Then there is a calm piano and, later, lonely organ sounds alongside soft, soulful, high-pitched vocals, which all contributes to an atmosphere of sorrowful longing next to the propulsive heaviness of `Cirice´ as the chorus explodes again and again. These changes make the song quite interesting, so that it actually doesn't feel like the longest track on this record at all. So far, we've got two convincing tracks after the introductory one.
The dreamy `Spöksonat´, which may be translated as "haunting sonata", is a 52 seconds long interlude presenting a ghostly harp tune accompanied by plucked instead of bowed strings of some string instrument (a playing technique called pizzicato). This spooky sonata sets the tone for another, this time slower, ballad entitled `He Is´, which opens with two harmonizing acoustic guitars. One doesn't necessarily need to have read Shakespeare to guess that this song employs the Romeo & Juliet theme since there is talk of "two star-crossed lovers" in the first verse. As the "Ghoul Writer" explains, it's a "love song where one of the lovers is guiding them both over the edge in the belief that there will be someplace beautiful somewhere else where their love can prosper without the threat of the outside world. It's a song about faith and devotion." The reverberation of Papa's vocals – for a change, sung in his slightly lower register – and prominent strings and piano set a nostalgic tone. `He Is´ may sound kitschy at times, however, strangely enough, in a good way as it works out; on the whole, it has an extremely expressive and, therefore, absorbing effect on the listener. Having a soft spot for lyric and proggy tunes, I just wish it wouldn't end so fast with the guitar solo fading away, but rather go on another minute or so.
`Mummy Dust´ presents heavy riffs and drums, later on a distorted keyboard riff, and fast organs. Papa Emeritus III once again employs lower range vocals and also kind of whispers. The chorus is not big and melodic as usual, but rather laid-back which makes `Mummy Dust´ a quite different GHOST song. The bluesy `Majesty´ is a great follow-up track since it's based on a rocking guitar riff supported by heavy organs and great bass lines. Another minute-long instrumental interlude, `Devil Church´ follows – Let there be more infernal organs! It also features the whole band (guitars, bass, drums) next to a choir. Following this, the catchy and rocking `Absolution´ goes off big-time. The riff-based intro is highly reminiscent of METALLICA'S `For Whom the Bell Tolls´. Finally, there is `Deus In Absentia´, which is introduced by the fast ticking sounds of a metronome (allegro). The verse is presented in a story telling rock opera way and we hear for the last time a characteristic, big, and melodic GHOST chorus, before a church choir takes over for the final two minutes singing polyphonically about the absence of God in Latin. And so, `Meliora´ ends in a quiet and mournful sounding manner.
All in all, whether one rates these friendly-while-fiendish songs of a demon pope and his Nameless Ghouls highly or not, one has to give GHOST credit for bringing something new to the world of metal with their diabolical pop project sounding creepy in a sort of beautiful way. I have to confess, with `Meliora´ they once again got me under their spell. Most of all, the songs `From the Pinnacle to the Pit´, `Cirice´, `He Is´, and `Mummy Dust´ stand out with their glory. I also appreciate the diversified vocals appearing from time to time and hope that the succeeding Papa Emeritus IV will develop this further on the future, fourth album, thereby, adding even more drama to, as always, very well composed GHOST songs.
Tracklist

01. Spirit
02. From The Pinnacle To The Pit
03. Cirice
04. Spöksonat
05. He Is
06. Mummy Dust
07. Majesty
08. Devil Church
09. Absolution
10. Deus In Absentia
Line-up

Papa Emeritus III – vocals
Nameless Ghoul – lead guitar
Nameless Ghoul – rhythm guitar
Nameless Ghoul – bass guitar
Nameless Ghoul – keyboards
Nameless Ghoul – drums
Website

http://ghost-official.com
/
https://www.facebook.com/thebandghost
Cover Picture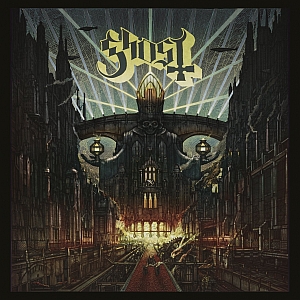 Rating

Music: 8
Sound: 8
Total: 8 / 10