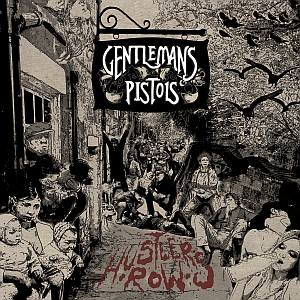 Artist: Gentlemans Pistols
Title: Hustler's Row
Genre: Rock
Release Date: 16th October 2015
Label: Nuclear Blast
Album Review

Since forming in 2003, GENTLEMANS PISTOLS had a continuous four-year span between their releases, and following 'At Her Majesty's Pleasure' (2011), 'Hustlers Row' is their third album, recorded in the studio of and produced by vocalist/guitarist James Atkinson who also wrote the songs.
Influences throughout the decades are clearly hearable: from LED ZEPPELIN ('The Searcher') to DEEP PURPLE ('Personal Fantasy Wonderland'), from THE BEATLES ('Lady Teaser') to CREAM ('Time Wasters') - we have a huge conglomeration of different classic bands. It also has elements from MUSTASCH from Sweden. This is definitely not a bad thing, since many bands these days make no bones about the music having an impact on them. The problem in my opinion is that it weakens the recognition value a little. Listening to the album is definitely a pleasant thing, no doubt about that. Tapping your foot with the beat is a must since the music is quite catchy and what I'd call road trip music (please don't tap your foot while driving though), but I wouldn't say that it could only be a creation of GENTLEMANS PISTOLS. It lacks that special something, a unique sound that makes you go "Ah!".
With its ten tracks and the road trip quality it's a pretty decent album anyway, and my favourite song is without a doubt 'Private Rendezvous' which has a lot of energy. The opener 'The Searcher' kicks ass and doesn't waste any time to do so, and neither do the other songs with only 'Stress and Confusion' and 'Hustler's Row' as slower and almost ballad like tracks, in contrary to 'Personal Fantasy Wonderland', described by Atkison as "just a love song" - which it is not.
In conclusion I can say that despite the absence of the distinct sound and a certain constancy, 'Hustler's Row' is still worth listening. There are few highlights, but those really kick in and get it going - definitely an album for those who like the sleazy sounds of the 70s and 80s rock scene.
Tracklist

01. The Searcher
02. Devil's Advocate On Call
03. Time Wasters
04. Private Rendezvous
05. Stress And Confusion
06. Personal Fantasy Wonderland
07. Lady Teaser
08. Dazzle Drizzler
09. Coz Of You
10. Hustler's Row
Line-up

James Atkinson - vocals, guitars
Bill Steer - guitars
Stuart Dobbins - drums
Robert Threapleton - bass
Website

www.gentlemanspistols.co.uk
/
www.facebook.com/gentlemanspistols
Cover Picture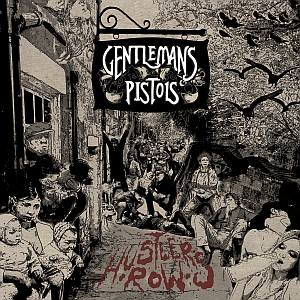 Rating

Music: 6
Sound: 7
Total: 6.5 / 10