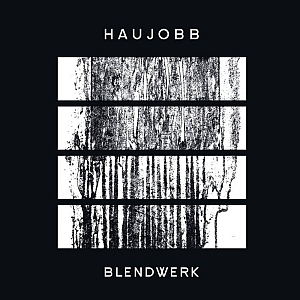 Artist: Haujobb
Title: Blendwerk
Genre: Electronic
Release Date: 6th November 2015
Label: Minuswelt / Basic Unit Productions
Album Review

When HAUJOBB released their so-called comeback album 'New World March' in 2011 I was instantly addicted to it. With 'New World March' Daniel Myer and Dejan Samardzic managed to re-invent their sound and style, combining a more opulent and richer sound with dystopian darkness and with a sort of catchiness the duo not too often displayed before. The single 'Dead Market' was a prime example for this and became HAUJOBB's first major club hit, also thanks to a clever video clip.
Unfortunately it took Myer and Samardzic more than four years to release the follow-up 'Blendwerk', leaving the fans on a cold turkey in terms of new studio material. But now it's here - and it's probably not what many fans would have expected! The only constant in HAUJOBB's output is still that they love to change their style and sound characteristics more or less radical. 'Blendwerk' is no exception here. While 'New World March' was arguably the band's most accessible long-player to date, 'Blendwerk' on the other hand is rather a sleeping beast that slowly wakes up and clutches little by little the listener, if you give the album just enough time and listens. In this sense the album title 'Blendwerk' ("false front" or "illusion" in English) makes sense, in a way. This album is not what it seems at first sight, it is so much more!
'Blendwerk' starts with 'Completion', and this track gives somehow a false sense of familiarity. It's one of the more up-tempo and catchier songs on 'Blendwerk' and it certainly echoes the style of the previous album. However, the more reduced sound and the raw and groaning bass line already give you an idea of the sonic architecture of the latest HAUJOBB effort. To this effect 'Completion' is the perfect opener for 'Blendwerk', and it makes sense that the track does not end with an epic climax but just falls to pieces to pave the way for 'Dark Heart 5', a piano-driven cyber-ballad with robotic vocals and sparse synth effects all over it. Quite a shock to have something like this as the second track on the album but Myer and Samardzic had their good reasons. Now you are right in the middle of the stripped-down, monotone and experimental sound universe of 'Blendwerk'. The beast is awake and mercilessly grabs for you, be it with the hammering beat and manic vocals of 'Destroy' or the dark and ambient 'LeaVing' or the hypnotic and desperate 'Meltdown'. If you know the lead single 'Input Error' already you will have a rough idea where 'Blendwerk' is heading, but it's one of the more moderate and docile efforts of the album and sits comfortably in the middle of the track list like a spider in its web. The more accessible track is surely the (almost) club-friendly 'Failures', which probably would have been a good lead single, too.
On their new album HAUJOBB dispel the semi-symphonic, euphonious wall of sound of 'New World March' for the most part and face a much more minimal, almost surgical approach. They dissect and anatomize their sound, strip away the redundant to get a clearer view of the basics. And as the mad sound scientists they've always been, they add a good portion of gloom and bitterness to their top-heavy craft. It is probably a bit difficult to find an emotional connection to such an analytical and cold album but in the end 'Blendwerk' will get hold of you. It's just a question of time – so give this album a bit of time! 'Blendwerk' is available as digital download album (see link below), standard CD, double vinyl in a textured gatefold vinyl sleeve with four bonus tracks and as a limited edition on white vinyl:
http://basicunitproductions.bandcamp.com/album/blendwerk
Tracklist

01. Completion
02. Dark Heart 5
03. Destroy
04. Failures
05. Information Space
06. Input Error
07. Leaving
08. Little Miss Danger
09. Meltdown
10. Perfection
11. Produkt
Line-up

Daniel Myer
Dejan Samardzic
Website

http://haujobb-music.com
/
http://www.facebook.com/haujobbmusic/
Cover Picture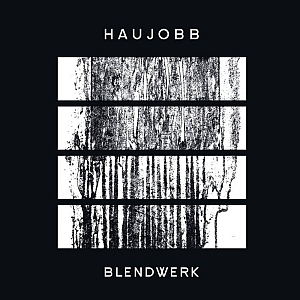 Rating

Music: 9
Sound: 9
Total: 9 / 10