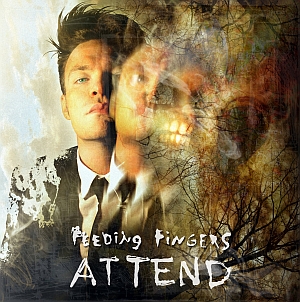 Artist: Feeding Fingers
Title: Attend
Genre: Post Punk / Dark Wave / Alternative
Release Date: 9th February 2016
Label: Tephramedia / Sounds For Sure
Album Review

I've taken quite a break from writing, and I really needed this for very personal reasons. But I made a promise to someone that I'd do a review on a certain album and so here I am, sitting at my desk on a cold January afternoon reminiscing on a mere coincidence that brought me to FEEDING FINGERS and their then-newly released album 'Baby Teeth' Much has changed since. The band itself for example with the exception of Justin Curfman and more importantly the music. The last album 'The Occupant' already turned a new page as in breaking through the confines that represented what many perceived as the classic FEEDING FINGERS sound. In all the years that followed this album's release, Curfman's goal was to build on what was established with it and as a result taking the band's sound to a different level while maintaining the core character. This has become a large undertaking and would ultimately result in what is now known as 'Attend', an album clocking in at almost 2 hours of music divided into 25 tracks.
The lead in is made by 'Your Candid Laughter Crawls' with a gentle xylophone intro that in a brief moment erupts into a complex array of clear-cut drums and wonderful pop sensibilities. Lighter in mood than many of its siblings, it is nonetheless full of pure melancholia and touches one deeply right away. As life is full of contradictions, so is music and so is this album and so 'Ashes Displayed In Zoos' is a dark monolith in vintage clothing conjuring pictures of a dystopian future when all that is left of us and essentially of everything is put on display for strange creatures to see who might wonder what strange beings those humanoids were. Eerie pictures they are, but they have been an integral part of FEEDING FINGERS as long as I can remember and I've long given up trying to dismantle their origin and I doubt that even Justin Curfman could give a definitive answer as to what triggered them, so it is best to find your own strange sense in them, and there is more than meets the eye.
One of the odds of having such a large collection of songs to put on a double album is that it may look to the outside world that the artist just has put just about everything and anything out on two disc just to make the think look big. In order to avoid such traps, the songs so need their own personalities, a special kind of signature if you will. The larger the number of songs on the album, the more important it gets. Let's take 'Barbed Wire Threads The Sun' as an example for a signature: A sacred organ, a gentle jazz attitude that is very singular within the FEEDING FINGERS cosmos and yet Curfman's shadowy storytelling makes it instantly recognizable. The centre piece of the album 'Attend' becomes somewhat of a fragmented little bastard and in its core processes integral elements of classic 70s progressive rock music. A warped chamber section calmly addresses the listener in its early stages, carrying whispered broken words on its wings, ending with an electronic experiment. In-between it delves deep into the never-ending abyss of a being in twisted images.
It's getting more and more obvious that the stylistic variety knows no bounds as 'Through Marrow Always' unfolds as a preserved electronic memory where the background static noise is the foundation for a tale long hidden inside this strange diary found in an empty house in the woods. The vocals otherworldly as can be evoke a feeling of listening to an echo from the afterlife. While we are 'At Play With Wasps' we notice the sudden shift towards a rather classic approach to a song with spindling acoustic threads played with extreme dexterity dancing around a meandering percussion in a haunting sea of pads. The scenery you're watching is nonetheless a stark contrast. Something almost every child has done: Playing with insects, putting them in boxes reveals an earnest obsession, a fascination that for one moment pushes away the tormenting thoughts, the utter loneliness, the realization of dying without anyone noticing. A life without attachments breeds strange habits.
'Survive Bliss' Is something of a paradise bird even on this album. This might be the outcome of chanson, a little musique concrete and jazz locked up in a secret basement with torture instruments to turn their insides out. With its initially subtle presentation 'Orphans Veiled In Feathers' just reveals its haunting beauty a few more moments in. Everything here plays brilliantly together, making it one of my instant favourites on the new album, much like its companion 'The Firstborn Stands Sedated' which puts a traditional classical instrumentation on top of an elegantly sublime electronics while Justin's voice seems to break at any second. The poignancy is overwhelming there.
So there it is, the inevitable end. There is indeed a multitude of impressions storming in on you while listening through the almost two hours of music on 'Attend'. Some of the conclusions and thoughts arising may never be put into words properly while others need to be spoken out loud to make the world understand or to just get them off your chest. To put it in more concrete words: I think it is astonishing what has been accomplished here over the years; the heart's blood put into making each one of those stories as singular as they are, and while you probably never will get to the truth behind the distorted lyrical images as indicated earlier you will always find something to relate to, to connect to your own life. I am really happy of having had the chance to listen and am sure to do the journey many more times. So, there goes my Thank You to the band for what you have created here.
Tracklist

01. Your Candied Laughter Crawls
02. Ashes Displayed In Zoos
03. Perfumed Truth
04. Virus Tape
05. Barbed Wire Threads The Sun
06. A Sleeping Centipede Presence
07. Attend
08. Flusso
09. All In Full Bloom Smeared
10. Through Marrow Always
11. Abrasive Remains Lubricate Me
12. Polaroid Papercuts
13. Quintet
14. At Play With Wasps
15. The Smiling Dumb And Serious
16. Survive Bliss
17. And Crayon Toxic Twins
18. In Liquid Summer Schools
19. Did My Absence Follow Me
20. The Last Bruise I Harvest Here
21. Orphans Veiled In Feathers
22. The Firstborn Stands Sedated
23. I Am Erasing Doors
24. Where All Of These Towns And Choices End
25. On Glass
Line-up

Justin Curfman
Marco Esposito
Johnny Dema
Elio Severino
Website

http://feedingfingers.net
/
https://www.facebook.com/feedingfingers
Cover Picture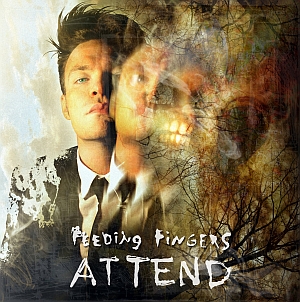 Rating

Music: 9
Sound: 9
Total: 9 / 10