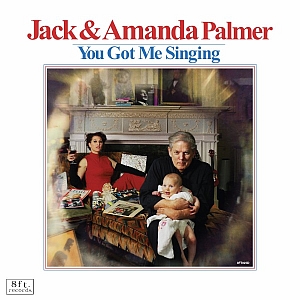 Artist: Jack & Amanda Palmer
Title: You got me singing
Genre: Synth Pop / Synth Rock
Release Date: 15th July 2016
Label: Cooking Vinyl (Indigo)
Album Review

AMANDA PALMER is not only a musician but a multi-talented artist. As a living statue, better known as "The eight foot bride", she earned quite good for her livelihood. Many people might know the American musician as being one half of the Punk Cabaret duo THE DRESDEN DOLLS, or from the band EVELYN EVELYN she founded with Jason Webley in 2007. She started her solo career in 2008 and released her album 'Who killed Amanda Palmer'. After fighting two years to get out of the contract with her former label, that she felt to be restrictive for her as an artist, she celebrated her victory by releasing an album 'Amanda Palmer Performs the Popular Hits of Radiohead on Her Magical Ukulele' in 2011 and released two albums under Creative Commons. Believing in the freedom of art and deeply trusting her fans she decided in 2012 to produce and release her album 'Theatre is evil' with the help of Kickstarter. Not only was this project a massive success but she was also heavily criticised for doing it.
But the amazing success of her Kickstarter project lead to an invitation to the TED talk which also, amongst all the talks she had with fans and friends in real life and online, gave her the inspiration to write a book (The art of asking) which quickly became a bestseller. She then took it one step further by joining patreon, a platform where an artist gets money from his/ her patrons every time something new was created and released - an opportunity to make a regular living from ones art and gives the artist freedom to create. With this backing she was able to spontaneously release a tribute EP for the late DAVID BOWIE together with ANNA CALVI, JHEREK BISCHOFF, NEIL GAIMAN and others as well as an EP for the late PRINCE. This album with her father now is quite special as it helped to renew the contact to her father. After he had visited one show of her, they planned to do something together but it was not possible due to scheduling difficulties until she was pregnant with her first child. Then they picked up songs they both appreciated in order to do some cover versions of them. Jack Palmer, trained by his long- standing semi- professional choral singing and guitar playing, exposes on this album to be an equal duet partner.
If you expect something in the typical AMANDA PALMER style you are certainly wrong. She and her father chose twelve songs they both appreciated and created cover versions of unique beauty. Amanda shows here that she is also a soft- spoken woman. No loud singing, no screaming and no hammering on the piano. Jack's amazing bass voice gives you Goosebumps already with the first notes of 'You got me singing'. As this is an acoustic album with only the guitar, piano, the ukulele and the xylophone as instruments there is nothing that distracts the listener from the beautiful singing, be it as harmonious duets or solo singing. You are also listening attentively to the lyrics and while listening I wondered if they chose 'All I could do' because at the time when they recorded the songs Amanda was eight months pregnant. A wonderful tranquil album which feels uncommonly for AMANDA PALMER and probably some of her fans might be quite disappointed with this work. But I think if you are open minded you understand that it is about art and the beauty in its manifold appearances and the joy of creating something together. Surely this is not music I usually listen to but I can really advice you to give it a chance and listen to this album not only once. It will grow on you. The album is available as CD and vinyl.
Tracklist

01. You got me singing (LEONARD COHEN)
02. Wynken, blynken, and nod (SIMON SISTERS)
03. Again (MELANIE)
04. 1952 Vincent black lightning (RICHARD THOMPSON)
05. Louise was not half bad (TOM T. HALL)
06. Black boys on mopeds (SINEAD O'CONNOR)
07. All I could do (KIMYA DAWSON)
08. In the heat of the summer (PHIL OCHS)
09. Pink Emerson radio (KATHLEEN EDWARDS)
10. Skye boat song (Traditional)
11. Glacier (JOHN GRANT)
12. I love you so much (NOAH BRITTON)
Line-up

Jack Palmer (vocals, guitar)
Amanda Palmer (vocals, piano, ukulele)
Website

http://amandapalmer.net
/
https://www.facebook.com/amandapalmer
Cover Picture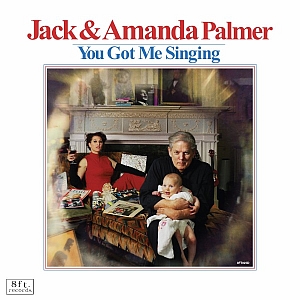 Rating

Music: 9
Sound: 10
Total: 9.5 / 10