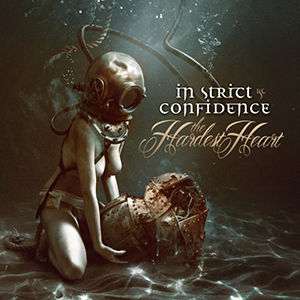 Artist: In Strict Confidence
Title: The Hardest Heart
Genre: Gothic Synth / Electro / Industrial
Release Date: 25th November 2016
Label: Minuswelt Musikfabrik
Album Review

The long awaited album of German electro-industrials IN STRICT CONFIDENCE has landed on Earth. 'The Hardest heart' has two forerunners: the EP 'Somebody Else's Dream' and the mind-sticking 'Everything Must Change'.
If you think you will crack this "nut" from the first try - don't be so optimistic. The new creation of Dennis Ostermann is not a hard and plane construction, but a combination of very different, by perception, music fairy tales. The whole album makes an impression of good old stories bundled in one colourful book. ISC still have got a lot in its music to surprise and to shake the fan's mind as well as soul. The album is full of catchy songs and lyrics, although, the hits aren't so obvious. Floundering in the shallow waters of the music genre, there is a definite feeling that Ostermann's music needs more freedom and field for experiments. Twelve tracks on the new album present the whole idea as a natural canvas, each landscape differs from the next one, sometimes rough, sometimes tender and melancholic; aggressiveness which borders with deeply affective instrumental fields. Two of twelve tracks, (the powerful and persistent 'Doublefaced' and the strong yet melancholic 'Coming closer') were filled with the gorgeous vocals of Nina de Lianin and her performance doesn't let any chance but to surrender to the sound.
For those fans who are collecting CDs and other "tasty" things, IN STRICT CONFIDENCE made a truly precious surprise. 'The Hardest Heart' is released in three versions. First one is a standard digipak. The second version is a box set with a double CD which includes the old and rare album 'Face The Fear', and last but not least the album is released as a cassette tape. The box set also includes a number of postcards, a condom with band logo, two buttons, and some stickers. Another surprise is for the fans of analog sound. As third release, the album is available on vinyl with download code and bonus tracks, limited to 500 copies. This is the first LP in band's long history.
Tracklist

01. Frozen Kisses
02. Everything Must Change
03. Somebody Else's Dream
04. Destroy Something Beautiful
05. Time
06. Herz
07. Land of Grace
08. DoubleFaced
09. Letzter Wille
10. Erde Ade
11. Ask Your Soul
12. Coming Closer
Line-up

Dennis Ostermann – Vocals, Music, Lyrics
Nina de Lianin – Vocals, Lyrics
Jörg Schelte – Synthesizer, Lyrics
Stefan Vesper – Drums, Music, Lyrics
Haydee Sparks – E-Guitar
Website

www.instrictconfidence.com
/
https://www.facebook.com/instrictconfidence
Cover Picture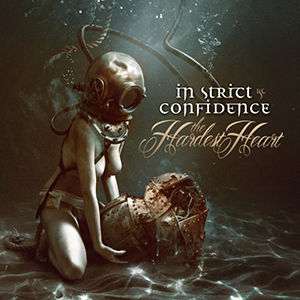 Rating

Music: 8
Sound: 9
Total: 8.5 / 10