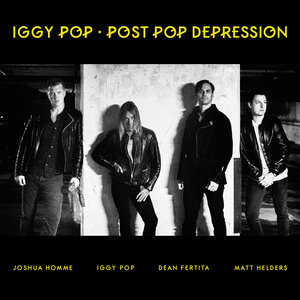 Artist: Iggy Pop
Title: Post Pop Depression (Live At The Royal Albert Hall 2016)
Genre: Rock
Release Date: 28th October 2016
Label: Eagle Rock / Universal
Album Review

You know you're an International Treasure when you play London's prestigious Royal Albert Hall and your backing band consists of a duo from QUEENS OF THE STONE AGE and the ARCTIC MONKEYS' drummer. You know it when you have a setlist that spans decades, influenced generations, and still sounds as raw and lusty and bursting with life as ever. You know it because your real name is James but no-one would dare use it, because Bowie was a best mate of yours, and because you can still parade your strangely rubbery muscled 70 year old body at every opportunity and nobody laughs. You're IGGY POP, International Treasure, and it's time to throw a live album out there....
This reviewer has long since held the belief that live albums generally are a dull and pointless exercise, pretending to please the fans while in reality only contract-fulfilling and cash-generating. And listening to the shouts and screams from a packed venue you weren't at, perhaps while travelling to work or frying an egg just doesn't cut it. But this is IGGY POP, and remember he is an International Treasure.
'Post Pop Depression' is a mixed bag at best. There's certainly a feel-good vibe running through it, there's plenty of energy, and the crowd seem to be absolutely up for it. On classics like 'The Passenger', the playing is fluid and organic, the raspy vocals unmistakeable and the whole thing a joy to hear. It's a song that never grows old it seems, much like its creator. But 'Funtime' is anything but, it's all over the place and distinctly amateur sounding. No-one wants a polished performance from one of punk's great survivors, but no-one wants a mess like this either. It could be hoped that the spirit of DAVID BOWIE might have hovered around and tinkered with the much loved 'China Girl', but sadly not and it sounds flat and half-arsed.
Some of the sleazy magic still drips and oozes as dirty guitar and leery vocals do just what we've come to expect from the one time STOOGES mainstay. There is real chemistry on songs such as 'Baby' for example, but then there's the excruciating song (and subject matter of) 'Chocolate Drops', reminding us that actually Mr Pop has recorded far more duds than he has classics. The album closes well, with the brooding, rumbling, grumbling 'Paraguay', and the shambolic strut and brag of gnarly old anthem 'Success'. It opened with the peerless 'Lust For Life'. Which leaves 'Post Pop Depression' like any other retrospective of IGGY POP's career. A sandwich that looks delicious, with a good tasty filling at the top and the bottom, but with bits of old and chewy sour things hiding in between. It's hard to dislike the man, but a live album at this stage in his musical journey merely showcases what is bad, and only hints at what has made him such an enduring and endearing figure on rock`s long and very bumpy road.
Tracklist

01. Lust For Life
02. Sister Midnight
03. American Valhalla
04. Sixteen
05. In The Lobby
06. Some Weird Sin
07. Funtime
08. Tonight
09. Sunday
10. German Days
11. Mass Production
12. Nightclubbing
13. Gardenia
14. The Passenger
15. China Girl
16. Break Into Your Heart
17. Fall In Love With Me
18. Repo Man
19. Baby
20. Chocolate Drops
21. Paraguay
22. Success
Line-up

Iggy Pop – Vocals
Joshua Homme – Guitars
Dean Fertita – Bass
Matt Helder – Drums
Websites

http://iggypop.com
/
https://www.facebook.com/iggypop
Cover Picture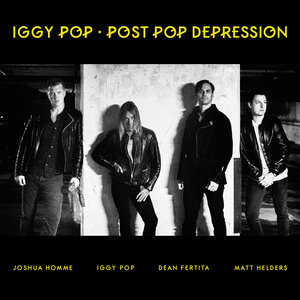 Rating

Music: 6
Sound: 6
Total: 6 / 10