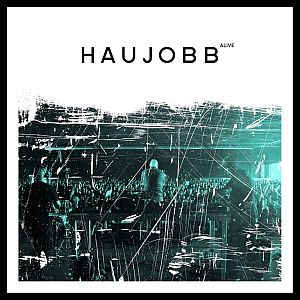 Artist: Haujobb
Title: Alive
Genre: IDM / Noise / Electronics
Release Date: 6th April 2018
Label: Metropolis Records
Album Review

HAUJOBB have been flirting with so many musical genres over the years that when I heard they'd release a live best of album I was curious which sonic trace would prevail. It seems with 'Alive', Daniel Myer and Dejan Samardzic decided to strike the balance and show a coherent essence of most dynamic pieces of their artistic output. The band is definitely a well-established name among the artists in electronic, noise and electro stream. Extremely productive and creative through the years (starting 1993), both in live performances and production, in 2018 they come up with the album which is a summary of their artistic journey in a form of the chosen songs recorded during various live concerts given in Europe.
I'd imagine creating the "selection" of an album is usually a challenge - the artists may be particularity proud of some pieces that they find representative for their expression, whereas the fans do have their specials too and they cling to them (like for me it will be 'The Noise Institute'). To show the uniqueness of what the band is and what it stands for is quite a trick - especially with such a long and creative history. I think in case of 'Alive', the artists succeeded in showing the main HAUJOBB quality which is mathematical sonic precision and craftsmanship plus the dancy, vivid electronic tones that go hand in hand with the powerful, blasting vocals.
It is hard to outline one single track that would be defining for the release since they all harmonize to show different shades of the band's artistic explorations and tints - Industrial ('Dead Market'), Dancy Trance ('The Noise Institute', 'Antimatter'), IDM ('Let's Drop Bombs'), Electro ('Meltdown') or Noise ('Product', 'Let's Drop Errors'). The album pieces seem to be organized to gradate the soundscape - from the gentler, dancier to the harsher, stronger one at its finale though.
For me, HAUJOBB has always stood for hypnotic, entrancing pieces seasoned with harsh, glass-cold electronics and powerful, strong vocalic manner which altogether create an impactful, extremely impressive quality. It's vital especially if you take into consideration the recordings are live ones so the listener may particularly enjoy both the accuracy of musical line and the vividness, emotion and energy of the live show. I believe the combination of passion and engineering is what makes the album and HAUJOBB's overall output so special and distinctive.
Tracklist

01. Machine Drum
02. Antimatter
03. Renegades of Noise
04. Input Error
05. Crossfire
06. Let's drop Bombs
07. Eye over you
08. Meltdown
09. Penetration
10. Dream Aid
11. Dead Market
12. Information Space
13. The Noise Institute
14. Produkt
15. Let's drop Errors
Line-up

Daniel Myer
Dejan Samardzic
Website

https://haujobb.bandcamp.com
Cover Picture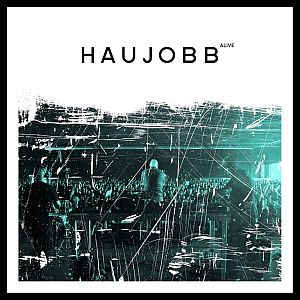 Rating
Music: 10
Sound: 10
Total: 10 / 10