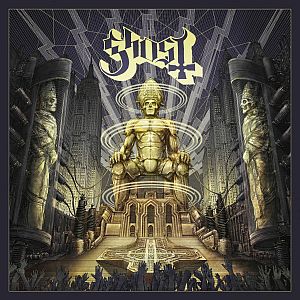 Artist: Ghost
Title: Ceremony and Devotion
Genre: Occult Rock
Release Date: 19th January 2018
Label: Loma Vista / Spinefarm Records / Universal
Album Review

"Best Metal Performance" Grammy winners GHOST from Linkšping, Sweden, made it. Their opus titled 'Meliora' made it to the top 10 in the American album charts; their EP 'Popestar' was number 1 on the Billboard Top Rock Album Charts; and their fourth and latest record, 'Prequelle', (out since June 2018) was certified gold in their homeland. The "nameless" and "ghoulish" combo around wicked pope Tobias Forge aka Papa Emeritus - mystery long solved - are the most rocking clergy around. And now, a decade after the formation of the unholy act, the masked band is unleashing their first live album on mankind. 'Ceremony and Devotion' was recorded in summer 2017 during the "Popestar" tour in the US. It was produced and mixed by Tom Dalgety. The title perfectly reflects GHOST's ritualistic performance qualities, the allure of their well-composed, catchy hymns that "glorify and glamorise the disgusting and sacrilegious," and their disciples' enthusiastic faithfulness. Hallelujah and horns up!
'Ceremony and Devotion' - Not just the album's title, but also the outstanding sound is absolutely convincing bringing the GHOST-ly live sensation to the fans' homes. All instruments as well as the vocals resound equally prominent and crystal clear. The guitar riffs are simply glorious. 'Square Hammer' from the 'Popestar' EP makes for a celebratory kick off. Papa asks the crowd: "California, are you with us?" And the fans scream and shriek. Every song is greeted with great applause once the crowd recognises the next song to be played. This record is a wickedly fun ride thanks to a killer setlist presenting the best of GHOST.
On the whole, the digital version of the album presents fifteen songs covering the three GHOST records 'Opus Eponymous' (2010), 'Infestissumam,' (2013) and 'Meliora' (2015) and also the 'Popestar' EP (2016). Timeless tracks like the powerful 'From the Pinnacle to the Pit', the sinister and heavy 'Cirice', and the hymn 'Year Zero' are of course not to be missed and earn hurricanes of an applause. Another highlight is the ballad 'He Is' making the immortalised crowd in San Francisco and the listener at home rejoice. As known from GHOST's live shows in the past, the band delivers a "happy ending" with 'Monstrance Clock'. The "Frisco" crowd, as Papa has been shouting out to their devoted audience, sing along beautifully towards the end before the ecclesial choir takes over for the final fade-out.
Fans should definitely get the hardcopy of the album (out since January 19th), if they want to be indulged with two additional tracks: 'Elizabeth' and 'Secular Haze' make it worth it. Also for GHOST-novices 'Ceremony and Devotion' is a superb starting point to get to know the band's greatest hits thus far. While some lament that they are missing the visual aspect of this theatrical act and would have preferred a DVD release, the way I hear it, the ghoulish ministry and the demon pope nail it the way they entertain the listener with 'Ceremony and Devotion'.
Tracklist

01. Square Hammer
02. From The Pinnacle To The Pit
03. Con Clavi Con Dio
04. Per Aspera Ad Inferi
05. Elizabeth
06. Body And Blood
07. Devil Church
08. Cirice
09. Ghuleh / Zombie Queen
10. Year Zero
11. Spöksonat
12. He Is
13. Mummy Dust
14. Secular Haze
15. Absolution
16. Ritual
17. Monstrance Clock
Line-up

Papa Emeritus III – Vocals
Fire – Lead Guitar
Water – Bass
Wind – Keyboard
Earth – Drums
Ether – Rhythm Guitar
Website

http://www.ghost-official.com / https://www.facebook.com/thebandghost
Cover Picture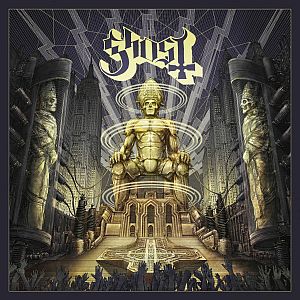 Rating

Music: 9
Sound: 10
Total: 9.5 / 10