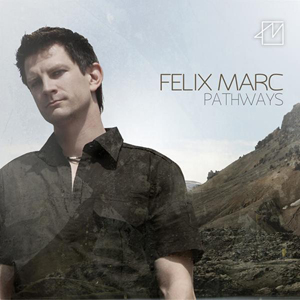 Title: Pathways
Artist: Felix Marc
Genre: Electronic
Release Date: 29th August 2008
Label: Infacted Recordings
Introduction

It was already announced for a release a few years ago yet untitled at that time, but now it's finally there and carries the title 'Pathways', the first album of FELIX MARC, known as member of DIORAMA and singer of FROZEN PLASMA.
Members

Felix Marc - All Music, Production, Lyrics, Vocals
Website

http://www.felixmarc.de/
/
http://www.myspace.com/felixmarcmusic
Track Review

01. Give back the Moments - 3:44
'Give Back The Moments', the song to witch a grandiose video was shot, opens 'Pathways' and I can't forbear to point out the emotionality in the lyrics and that they'll go under your skin from the very first moment, the realization that this person you've spent a long time together with has made a fool out of you with her baseness and though you demand them back, these moments are lost and you'll never get back this wasted life time.. "Give me back the Moments - too late, too late".
02. A Thorn inside my Head - 3:57

'A Thorn inside my Head' continues with a slightly darker theme and also Felix' chant is much deeper, primarily in the chorus, where it reaches unimagined power, just as if he's wanting to persuade another unnamed person to take a final step "Trust me, I've got so much love to give".
03. Follow the Demons - 4:24
Longing and melancholy speak from every line of the mid-tempo 'Follow the Demons' shaded with spherical layers. But somehow it makes me sad; it seems like there's a loved person who's near yet so far away and unreachable like in a coma, you're standing right next to her and there's nothing you can do to make her come back… a place far away.
04. Belles - 4:31
Further on we go with the clubby up-tempo track 'Belles' which is describing something, I guess many of us can empathize with. To be drawn to someone so badly that you change your appearance and words just to make that someone recognize; or even love you. 'Belles' is a more clubby tune with its solid dance beat and I guess it will be played in the clubs but with all the danceability you shouldn't disregard the lyrics which are very deep and thoughtful, so the song is for both, the body and the soul.
05. Winterwalk - 5:50
'Winterwalk' is like an introspection, while you're walking on confided paths through the crystalline clarity and cold of a winter day. Icy synth layers unfold and dress everything in a coat of melancholy. Felix speaks, rather than he sings the verses, partly whispered and normal and at the end stands a conclusion "Right into your arms, I want to fall with no one; with no one else but you".
06. Separation - 5:34
When I first heard 'Separation' I had tears in my eyes, it goes so deep and you empathise with Felix when he sings about the imminent end of something that was meant to last… maybe forever and you try everything to prevent it "Take everything I have, but promise me that you stay", you can't imagine a life without that special person "Don't let it be the end of what we share and come back to me". Drenched in vast atmospherics and slow reverberating beats, permeated with acoustic guitar and piano, this song is a moving emotional chunk and a wonderfully fragile piece of music.
07. Back to Life - 3:55
'Back to Life' is hopeful, it is a call to leave the black tunnel you entered one day when a sad event severed almost all your links to life, look what you have, there's still things worth living for, start over again "far beyond your life awaits". The track is rather slow and initially with only sparse melody use, but in the chorus part, a carpet of melodies unfolds to carry the chant to new heights. Both things in combination are goose bump guarantors.
08. Digital Love - 5:11
How would love on a digital level work? Maybe with a robot with lips that never speak, hands that never touch. You can customize your perfect lover and never have to deal with conflicts anymore, guess that's exactly what we need today; many people don't want to deal with them anymore. If there's one, one or the other partner tries to get their will, instead of talking things out. But is a robot really more desirable than a human being? Music-wise, 'Digital Love' places more emphasis on the danceable side in Felix' music and plays with bit-crushed beats, complemented by some trance leads and subtly atmospherics.
09. All the Words (Catharsis) - 4:52

After a faster moment follows a slower one with 'All the Words (Catharsis)' - a mid-tempo number with admittedly powerful drums. You become aware of two different; let's call it currents, initially a gloomy one, a bit threatening, a confrontation that has to be made, even though it has been tried to avoid it; and then comes the clearance in the hymnal chorus; all the disenchantment bundles up in those lines "Where are you now that I need you most" Felix proves once more what a great singer he is and how to transport as much emotion as possible to not make a song cold and sterile. You're not listening to it from a distance, you're in between; a very special virtue.
10. Sweet Dancer - 4:17
Did I mention that I really do love piano sections? In case I haven't done it before you know it now and a wonderful piano section is just what these ballad is starting with, then beautiful strings join in and at last the drums that somehow sound like from a real drum kit. 'Sweet Dancer' is a song, radiating something beautiful, something majestic. A girl with a dark past, but she escaped, she found something that made her forget, made her happy again; and now she dances, dances everything away with her delicate movements on a blooming meadow when the sun is rising.
11. Control - 5:24

"Do you know my life, would you go my way or would you simply walk away?" All justified questions but you'll never know if you're not even trying it. It could become the best thing you ever did in your life and can make you a happy man, but it could as well become a failure, just like so many others in the past, but you can't control everything and sometimes you just have to risk something. Melancholic melodies and dance appeal are joining hands again on 'Control', widely stretched layers on top of small broken dance beats to provide a perfect soil for the sensitive chant of Felix which is beyond all doubts.
12. Pathway - 6:24

Serpentine it is, the 'Pathway' of life, meandering through dark valleys and green lowlands of happiness, you never know where it will lead you and what will come next, you can only try to make the best out of it, find your place, make friends and find a lover who can help you cope the dark times, whom you can call when the pressure becomes too much. The track itself is also constructed as a path, leading through planes imbued with gentle piano lines and seamed by thick clouds of slightly orchestral ambience you can sink into never to return again, straight away they're getting company with a frisky layered rhythm, staying with us for a small part of our journey to fade away soon to make way for the all captivating melancholy of the piano again towards the end. I think I've mentioned it before but at the end I'll say it again: This voice is terrific.
Cover Picture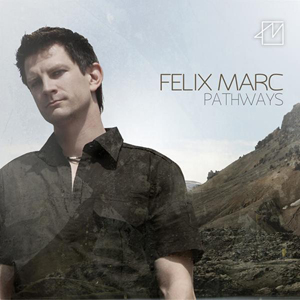 Rating
Music: 10
Sound: 10
Extras: -
Total: 10
Conclusion
We've waited quite some time for an album from Felix. Now, after hours and hours I've spent listening to this album, I can say it was worth it. 'Pathways' has gotten even better than I expected. It's typical FELIX MARC with much melody, many poppy elements, but it never becomes simple or mediocre. The rhythms are sophisticated, reaching from straighter constructions to more eclectic elaborate ones, but most important is that it gets to you, it moves, sometimes makes you burst into tears or juts causes a shower of goose bumps, running over your body and it still does it after dozens of spin that I can promise you and that's what makes it a very special release…