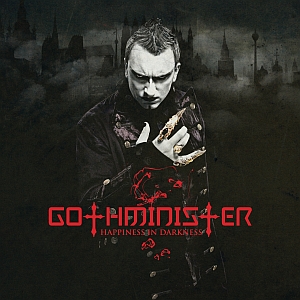 Title: Happiness in Darkness
Artist: Gothminister
Genre: Electro Rock
Release Date: 14th November 2008
Label: Drakkar
Album Review

Bjørn Alexander Brem, a lawyer in real life founded GOTHMINISTER as his solo project in 1999 and already the debut album 'Gothic Electronic Anthems'(2003) gained overwhelming critics by both the national and international critics. With the second album 'Empire of Dark Salvation'(2005) continued on the path of success and was the first Gothic Industrial act ever to hit the road for a night liner tour through the big cities. Meanwhile the project is grown to a real band and brings us the third album 'Happiness in Darkness'...
The album celebrates its relentless start with the club single 'Dusk Til Dawn' which not only comes up with the typical rocking guitar/industrial crossover it reaches orchestral heights with monumental arrangements, apparently from a real orchestra, anyway it sounds very much like it and as a good song is nothing without a good chorus it is placed in the middle as usual where Brem rises to top form. Gloomy male and female choirs ascend to announce the coming of the next track 'Darkside'. The powerful drums come in all of a sudden and destroy the sublime atmosphere from before to replace it with one reigned by harsh guitars and the already confided orchestral element. Altogether it's somewhat harder than the opener. The last track was called 'Freak' interestingly enough, the follow-up track 'Sideshow' begins with a sample where the listener gets to hear the music of a travelling circus and a host saying the following "We didn't lie to you folks, we told you we had living, breathing monstrosities." Strange coincidence isn't it? The sample stops and sinister strings take over its place and hard drums press forward partly displaced by the mighty orchestral strings. It speaks for GOTHMINISTER that he's also able to keep his temper and knock out a solemn balladry kind of track like 'Emperor' which reveals rocking elements to as it progresses but much more understated.
GOTHMINISTER did everything right with 'Happiness in Darkness'. It will please the old fans and most likely will gain new ones. The sound is catchy but not to flat and monotonous. In short: Value for Money.
Tracklist

01. Dusk Till Dawn - 4:42
02. Darkside - 3:55
03. Your Saviour - 3:49
04. Freak - 4:02
05. Sideshow - 4:59
06. The Allmighty - 2:06
07. Beauty After Midnight - 4:19
08. Emperor - 4:25
09. Mammoth - 3:47
10. Thriller - 3:45
Line-up

Bjørn Alexander Brem – Vocals, Bass
Bjørn Aadland – Guitar
Icarus - Guitar
Halfface - Keys
Chris Dead - Drums
Website

http://www.myspace.com/gothminister
Cover Picture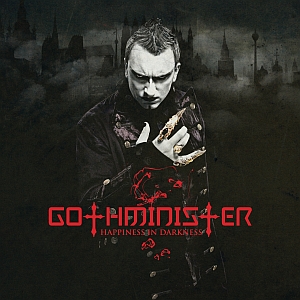 Rating

Music: 8
Sound: 8
Extras: -
Total: 8