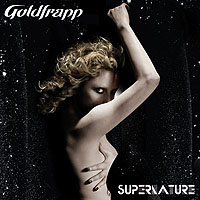 Bandname: Goldfrapp
Title: Supernature
Genre: Electronic Glam
Release Date: August 2005
Record Company / Label: Mute
Introduction
Goldfrapp originates from the Bath and Bristol area down in England. The area that is most known for its huge amount of popular trip hop bands, like Tricky and Portishead. When Alison Goldfrapp met Will Gregory a musical match was made, which resulted in some tremendous albums like Felt Mountain (2000), which is like an eerie form of old James Bond-like soundtracks with Shirley Bassey vocal lines and a dark foreboding feel to it, and Black Cherry (2003), which is more of a slight pounding gritty disco version of the old with some slight hints that this is actually still the same act that released Felt Mountain 3 years earlier. Always re-inventing themselves, they have created their own sound. Filled with dirty electronic sounds, sexual innuendos (from subtle to not-so-subtle), angelic to jazzy vocals of one of the best female singers around, a hint of burlesque and even a huge amount of potential to make it big. Goldfrapp is English, and they are not afraid to show it. In more ways than one...
Line Up

Alison Goldfrapp
Will Gregory

Website
Song Review
01. Ooh La La - 3:24
First song starts off with some pulsating electronic sounds that quickly sound similar to old glam rock like it was made in the 70s. T-Rex all the way. Alison's seductive voice sings about her sexual perversions again. Some 80s keyboards thrown in, the catchy melody line stolen from Marc Bolan, and a very easy to sing along chorus make this the perfect introduction to the new album. And alas, they made it the first single.
02. Lovely 2 C U - 3:25
Handclaps, gritty sounds and a chorus of Alison's voice chant the title. Straight in it is hard to sit still. Very static beat like you always hear with bands like Depeche Mode. Heavy bass-ridden sounds are used, but the overall sound is quite empty, filled with very carefully thought-out details. Goldfrapp also acknowledges the power of a good, easy to digest chorus with ditto vocal line. The put down the perfect bridge between the old 80s and 70s electronics with the modern current dance scene. This could be played everywhere and a wide range of people would enjoy it.
03. Ride a White Horse - 4:41
According to the interview I saw with Alison this is not about dope, but actually about riding a white horse as a metaphor for meeting someone who could give you what you want. Her low tuned vocals make a nice contrast. The huge amount of sounds used make this another song that can keep your attention for start to finish.
04. You Never Know - 3:27
This song right away reminds me of the Felt Mountain material. Subtle vocals in her diva type of way. Total control and so sensual. Another catchy chorus. Recently I read some reviews of a goth metal band that performed some Mozart material live and where the female vocalist was capable to sing the high parts with so much controll. Alison sings some very, very impressive vocal lines in this one that get very close to the operatic feel. Impressive. The entire song has this orchestral feel to it. Nice composition.
05. Let it take You - 4:29
A laid back track that starts with some piano chords and muffled beats. Very minimalistic, giving a lot of space for the beautiful vocals of Alison Goldfrapp. She sounds so mature and sincere. The track has a loungy feel to it. Sampled orchestral sounds. Soothing the listener, gently rocking them to a dream-filled sleep.
06. Fly me Away - 4:25
Back to the slightly tacky, yet o so catchy disco feel of Black Cherry. Never loud, but very easy to digest and another chorus that everyone can sing along. It's almost like a mix of the hit-potential of Lovely 2 C U and the lounge filler that is Let it take You. She sings with ease and very laid back. A nice track that brings balance to the album by combining some of its elements.
07. Slide In - 4:17
A slightly harsh beat combined with the whispering vocals and you can feel the build up tension. The beat transforms to a louder version; more bass. Then a slightly distorted bass line kicks in and after some moans from Alison we're straight into the chorus. It grabs you, again. Hard to sit still. The way their songs are constructed make it sound so logical, but when you analyse it you discover that it is a complex web of different sounds and parts; all working for Alison, giving her room to express her vocals.
08. Koko - 3:23
Strings with a sitar and some late 70s synthesizer sounds and the retro sound of which Goldfrapp is constructed is back in full force. A lot of dynamics in this track. Very diverse, which makes it very easy to listen to. Never boring.
09. Satin Chic - 3:28
Definitely one of the songs that stand out. Probably my favorite track. Stubborn, very straight forward beat, combined with a honky-tonk piano sound and a Moulin Rouge feel of vocal lines. The burlesque reference is clear. You can almost see the smoky club with the pianist and the girl with all the feathers upon the stage. Let's hope this also will be a single. A chorus without actual words always does really well. :)
10. Time out from the World - 4:47
After the pulsating feel of Satin Chic it's back to the ethereal feel, the dream-like experience. Floating sounds with Alison leading. The emotion and beauty behind the music and vocals is so spot on. Very well balanced. This song could have been released on any of the other albums. I actually think the dreamy sound is the actual red line that runs through all the Goldfrapp albums.
11. Number 1 - 3:25
And then we arrive at the last song of this album. The second single actually. Cheesy keyboards, cheesy drum beat, make this another easy to digest track. Slightly positive sounding this could have been a great summer-time song to play while driving down the road through the Devon country-side. Early 80s keyboard sounds always do well. A positive and friendly end to the album. Goldfrapp actually leaves you with a smile on your face.
Technical Information
Total playing time: 43:16
Total tracks: 11
Also comes as a SACD version with a bonus DVD containing interviews, clips and many interesting items and photographs.
Cover and Promotional Pictures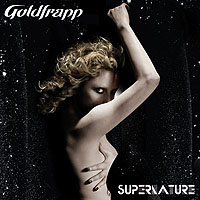 Conclusion
There's no band like Goldfrapp on this world, and the world definitely needs a band like Goldfrapp. Standing out like a sore thumb in the eletronic music scene. The sensual voice of Alison can make many grown men melt. After actually meeting her I can only say that she is a very well-spoken and eccentric person. And that makes an artist just that little bit more special. This new CD brings you 11 well balanced, well written songs. None really blow you off your chair like Strict Machines did, but the dreamy, ethereal tracks make up for it so well. There's no actual low point. Another great CD for your collection.
Rating
Music: 8.5
Sound: 8.5
Extra's: 8
Total: 8.25