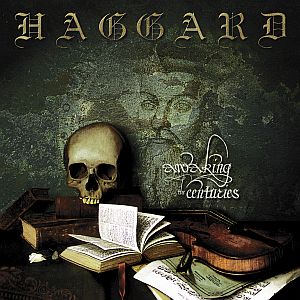 Title: Awaking the Centuries
Artist: Haggard

Genre: Death Metal / Symphonic Metal
Release Date: 6th April 2010 (Re-release)
Label: Artoffact Records
Album Review

Listening to the band's music it's hard to believe that it originally played death metal but if we remember the founders of symphonic metal THERION, then it's not so surprising. Unfortunately, early works don't remain and fans have to enjoy complicated and versatile sounds of modern HAGGARD. So now we can hear the influence of the Renaissance music: almost doom vocals, rich parts of string instruments and a choir that creates an amazing and touchy atmosphere. Besides the musicians don't forget about the combination of opera and brutal vocals which already became a classic for the metal scene. Compositions are devoted to personalities of the Renaissance and the general subject matter of the songs is getting religious and mystic. Judging by the line-up modern HAGGARD can't be called a rock band, it's mostly an orchestra directed by Asis Nasseri and it includes violinists, cellists, and vocalists of different kinds, pianists and flutists.
The album 'Awaking the Centuries' became a conceptual piece and it tells us about the life of Michel Nostradamus and on this CD there was also used the music of Russian composer Sergei Rachmaninov. The intro makes us expect something enigmatic and scary: the hysterical female voice shouts "C'est la peste! Sauve qui peut!" (It's plague! Every man for himself!) against a background of strange, oppressive silence. And in this way there started a story of Nostradamus, an outstanding figure who had lost all his family during the plague in France in the 16th century. The qualitative sound, great chorals, rich growl and female opera parts, excellent arrangements, splendid melodies that come from almost authentic medieval passages and heroic fantasy motifs to up-to-date metal effects - all those things captivate and carry a listener away to the past.
Now you can imagine the atmosphere of luxurious balls, pompous ceremonies but then unexpectedly you find yourself at a rainy night full of hopelessness and despair. But the album doesn't demonstrate monumental coldness of symphonic metal; it is rather accessible, which perfectly conveys the moods of the past brought to our days.
Tracklist

01. Intro, Rachmaninov: Choir – 0:38
02. Intro, Pestilencia – 1:54
03. Chapter I, Heavenly Damnation – 2:59
04. Chapter II, The Final Victory – 3:35
05. Chapter II, Saltorella La Manuelina (La Manuelina) – 0:57
06. Chapter III, Awaking the Centuries – 9:34
07. Chapter III, Statement zur Lage der Musica – 1:18
08. Chapter IV, In a Fullmoon Procession – 5:18
09. Chapter IV, Menuett – 1:20
10. Chapter V, Prophecy Fulfilled (Part I) / And the Dark Night Entered (Part II) – 6:23
11. Chapter V, Courante – 1:12
12. Chapter V, Rachmaninov: Choir – 2:32
Line-up

Asis Nasseri (Vocals & Guitars) plus various musicians
Website

http://www.haggard.de/
/
http://www.myspace.com/haggard2007
Cover Picture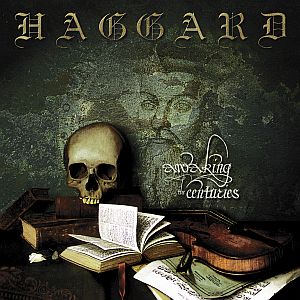 Rating

Music: 10
Sound: 9
Extras: -
Total: 9.5 / 10
{jos_sb_discuss:19}