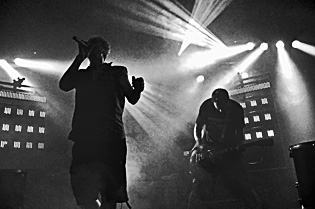 Backstage Halle, Munich, Germany
11th September 2011
Front Line Assembly, Digital Factor

It was a hot summer Sunday and I came along on the way to the Backstage in hope that it would not be as sudorific in the hall as the day before. FRONT LINE ASSEMBLY would play there this day promising a great show…



Digital Factor

DIGITAL FACTOR is a music project from Altenburg / Germany founded in 1993. Quite fast the band became an asked live act and supported famous electronic bands. Their first EP 'Falling Down' appeared in 1994. In September this year, their new studio album 'Trialog' appeared at Black Rain. www.digitalfactor.de

Music & Performance
Shortly after 8:30, singer Mike Langer, Leo von Leibnitz (synthesizer), who substituted Torsten Heise in 2010 and Guido Litke (synthesizer) appeared on the only meagerly illuminated stage. In the hall it was still breeding warm and I do not know whether this was the reason for the fact that only very few spectators have found the way here or whether it was rather due to the fact that FRONT LINE ASSEMBLY had already played here before not too long time ago or just because it was Sunday.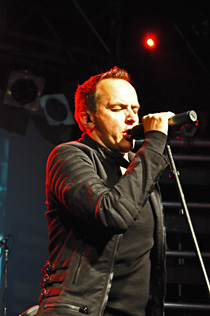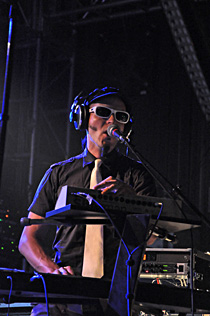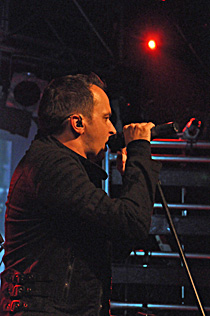 Anyway the front third of the hall was empty and thus a very engaged dancer and few photographers could let off steam in front of the stage. The band delivered a very professional show and worked with projections which showed parades marching up as well as red hearts adding some variations to the show. However, no real mood wanted to arise in the hall what was a great pity on account of the good presentation of DIGITAL FACTOR. After little more than half an hour, the band left the stage accompanied by moderate applause.

Rating
Music: 7
Performance: 6
Sound: 7
Light: 5
Total: 6.3 / 10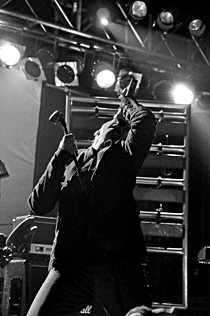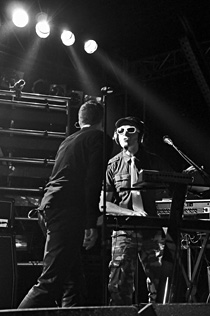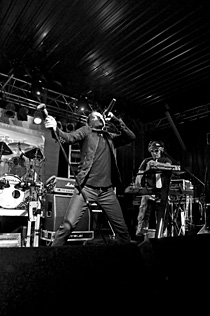 Front Line Assembly

FRONT LINE ASSEMBLY (FLA) is a Canadian electro-industrial band which was founded in 1986 by Bill Leeb. This was after he left the band SKINNY PUPPY. The other band members of FLA changed quite often. In 1987 appeared their first album 'The Initial Command'. Their latest album 'Improvised Electronic Device' was released in last year's June. The single coming from it 'Shifting Through The Lens' even reached the US-American Billboard charts. www.myspace.com/thefrontlineassembly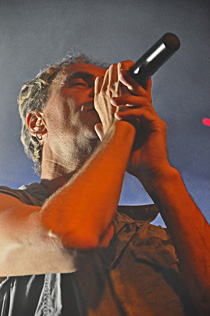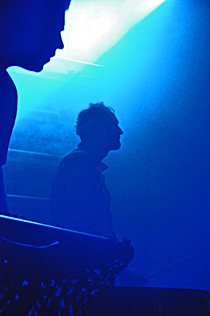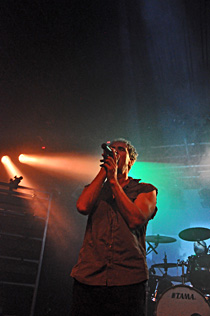 Music & Performance
After the rebuilding break Bill Leeb and his band appeared on stage. The stage was even darker than before already during DIGITAL FACTOR and, in addition, still wrapped in thick fog. In the meantime, the hall it had become fuller around, but there still was lots of place for the dancers. Nevertheless, the mood became better. Bill Leeb welcomed the guests occasionally in German, otherwise wasn't talked a lot. Beside newer songs like 'Angriff' and 'Shifting Through The Lens', they also played older songs like i.e. 'Mindphaser'. The audience thawed visibly. After 1¼ hours, everything including additions was already over and it became quickly empty in the hall after the applause…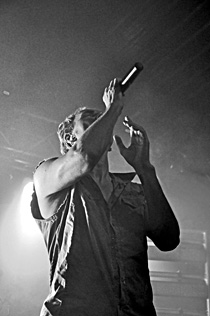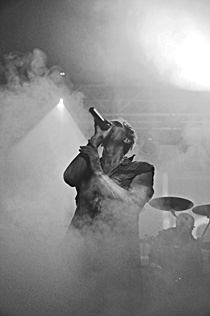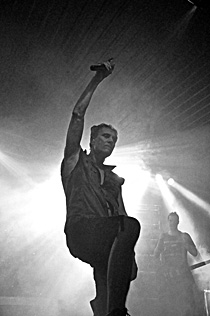 Setlist
01. Gun
02. Circuitry
03. Angriff
04. Resist
05. I.E.D.
06. Vigilante
07. Plasticity
08. Prophecy
09. Shifting Through The Lens
10. Millennium
---
11. Liquid Separation
12. Mindphaser
13. Bio-Mechanic

Rating
Music: 8
Performance: 7
Sound: 7
Light: 4
Total: 6.5 / 10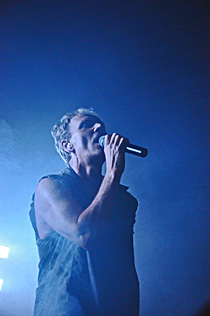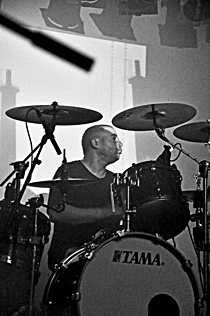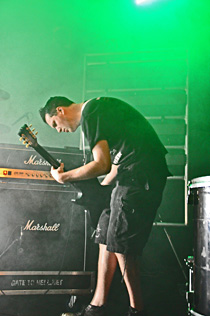 Musically, the evening exceedingly succeeded, even the support was exceedingly hearing-worth, however, the audience was much too calm according to the mood.

All pictures by Erika Knepper (This email address is being protected from spambots. You need JavaScript enabled to view it., www.facebook.com/erikaknepper)