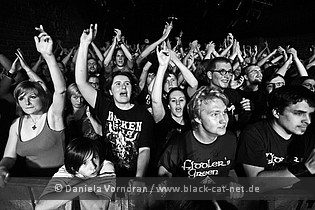 Matrix, Bochum, Germany
13th October 2011
Fiddler's Green & Zico

FIDDLER'S GREEN celebrated their tour start in Bochum. And a lot of people followed their call. The venue was totally packed with people eagerly awaiting the German folk rockers who have just recently released their new album 'Wall of Folk'. The evening was opened by ZICO, of course not the well-known football player but the Bavarian band with the same name.



Zico

This Bavarian trio (completed by one more live musician), founded in 2006 during the soccer championship, consists of musicians all below 20 playing a mix of Reggae and Blues. Even though all are still going to school, they already recorded their debut album 'Zufällig genau so'. ZICO is Julian Knobloch-Krippner (vocals, guitar), Max "Maax" Mayinger (bass), Flo Giesen (drums, vocals) and Benjamin Rebele (live guitar - not present at the matrix). http://www.zico-music.de/ / http://www.myspace.com/zicoandthenoisemakers / https://www.facebook.com/pages/Zicomusic/103970863000706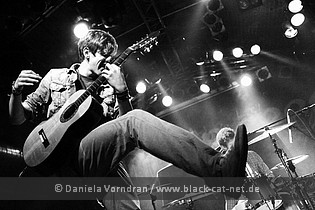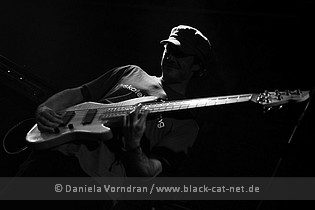 Music & Performance
The three guys entered the stage sharp at 8:00 to start their 40 minutes lasting program with 'Balkan'. They presented German tongued Reggae Rock with offbeat influences and a special Bavarian charm, a charm that did not really fit to the folk rockers of FIDDLER'S GREEN. The audience obviously had the same opinion and during their show, ZICO did not get much applause. Lots of people were just screaming for the main band of the evening wanting ZICO to leave. Well, even if the band did not fit into the program in my opinion, the behaviour of some fans was not very fair towards ZICO. But they took it easy, made some jokes and speaking a lot to the audience and went professionally through their program. The show did not only contain Reggae influences but also presented some disco funk with 'Disco'. With catchy sing-along song 'Rastaman' from the current album 'Zufällig Genau So' ended the set.

Setlist
01. Balkan
02. Warum magst Du mich nicht
03. Frau Holle
04. Disko
05. Zugvogel
06. Kids Just…
07. No Love
08. Rastaman

Rating
Music: 6
Performance: 7
Sound: 8
Light: 6
Total: 6.7 / 10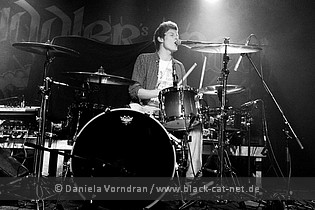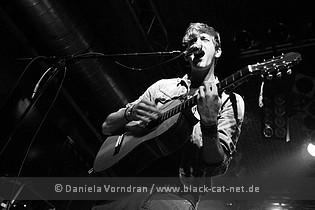 Fiddler's Green

FIDDLER'S GREEN, formed in 1990, is a German band from Erlangen playing independent Irish Speedfolk. Their first concert under the name of FIDDLER'S GREEN was at the Newcomer-Festival in Erlangen in November of the same year. The band made the second place in the contest. In 2010 the band released the live DVD 'Folk's not Dead' to celebrate their 20th anniversary. End of 2010, the band was returning to the studio to work on new material. 'Wall of Folk' was finally released on 16th September 2011 followed by a massive tour mostly through Germany including also some festival appearances. FIDDLER'S GREEN is Ralf "Albi" Albers (vocals, acoustic guitar, bouzouki, mandolin, banjo), Pat Prziwara (vocals, electric & acoustic guitars, banjo), Stefan Klug (accordion, bodhran), Tobias Heindl (violin, vocals), Frank Jooss (drums, percussion) and Rainer Schulz (bass). http://www.fiddlers.de/ / http://www.myspace.com/speedfolk / https://www.facebook.com/Speedfolk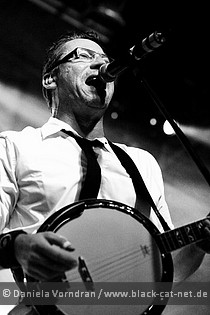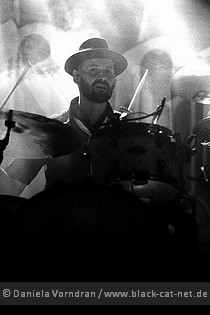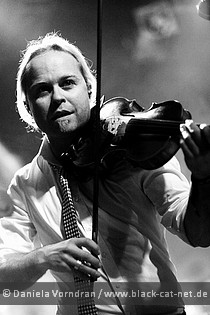 Music & Performance
During the rebuilding break, loud fan chant sounded through the hall being much louder than during the support band. The mood reminded of a football match in a stadium. Finally, short past 9:00, the Folk Raider with his ram skull and horn entered the stage to welcome the audience. When he left, the 6-piece marched in to start with the title song of the new album, 'Wall of Folk', already receiving blustering applause. FIDDLER'S excessively celebrated their new album having a lot of songs out if it in their luggage, so the two following songs 'P stands for Paddy' and 'Country of Plenty'. Having quite dimmed lights during those three songs, the lights went brighter with the start of 'Queen of Argyll' and so you could see people dancing, jumping and waving their hands back to the last rows. Following 'Jump' was also known by lots of people, even though it is only included in the ltd. edition of the CD. "A song about marriage", namely 'Scolding Wife', increased the mood even more and turned the hall onto a boiling pot. 'Days of Yore' was taken over from the acoustic tour since anyone loved it so much. Starting with a harmonica play by Ralf, the obligatory dramatic pause (=Kunstpause) followed when anyone was loudly screaming "Kunstpause" and after a while, the song went on accompanied by lots of hands waving lighters. Also acoustically started next song 'I'll Tell Me Ma' but quickly turned faster.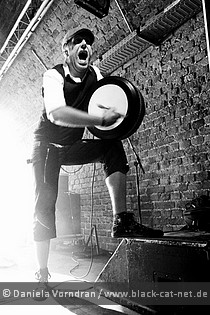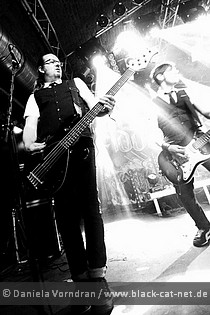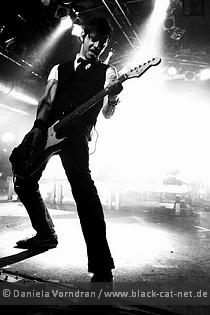 For following 'Greens and Fellows' was a song from the band for their fans, as Ralf stated. After 'Victor and His Demons' it became calmer with the wonderful melancholic ballad 'Lost to the Moon' also out off the current album. Next song was known by anyone: 'Star of the County Down'. For 'Rocky Road to Dublin', the obligatory wall of death was requested and of course as know for FIDDLER'S GREEN, it was turned into a wall of folk when anyone was jumping around happily. Following 'Shut Up and Dance' was not planned at the first place but heavily requested by the audience. Good that a band is still able to play a song spontaneously. A few more new songs and old classics followed and then, 'Irish Air' started. The band called a girl (her name was Jessica) onto stage and then also her friend. Both were dancing along on stage during this song while the rest of the audience was celebrating and jumping in the hall. The glorious end of the man set stood under the motto 'Folk's Not Dead'. But still, there were many songs to come. All in all, the band played six encores until the set ended after about two hours with new song 'Dirty Old Town' releasing a sweating and extremely happy audience into the night.

Setlist
01. Wall of Folk
02. P stands for Paddy
03. Country of Plenty
04. Queen of Argyll
05. Jump
06. Scolding Wife
07. Days of Yore
08. I'll Tell Me Ma
09. Greens and Fellows
10. Victor and His Demons
11. Lost to the Moon
12. Star of the County Down
13. Rocky Road to Dublin
14. Shut Up and Dance
15. Yindy
16. Fields of Green - Nie zu spät
17. Hangman's Lullaby
18. This Old Man
19. The Irish Rover
20. Irish Air
21. Folk's Not Dead
---
22. Tam Lin
23. Rollin'
24. Bugger Off
---
25. Bonnie Ship the Diamond
26. Marie's Wedding
---
27. Dirty Old Town

Rating
Music: 9
Performance: 9
Sound: 8
Light: 8
Total: 8.7 / 10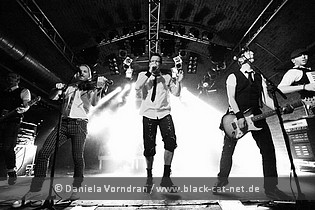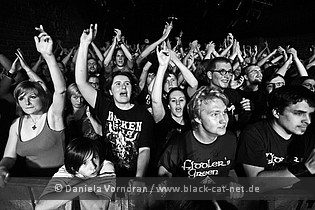 All pictures by Daniela Vorndran (http://www.vorndranphotography.com / http://www.black-cat-net.de/ / http://www.myspace.com/vorndranphotography / http://www.facebook.com/blackcatnet)