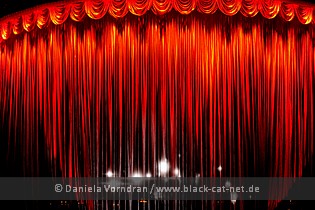 König-Pilsener Arena, Oberhausen, Germany
9th November 2011
George Michael

Millions of fans have waited for these news: George Michael will return to stage with an unusual show – "Symphonica: The Orchestral tour". Five years ago, George Michael was the last time in Germany with his sold out "25live" tour. As one of the most successful and most popular singers of Great Britain he wants to present a show like you have never seen him before. Next to a few songs of his own he wants to sing some of his favourite songs from other artists. All songs arrangements will be played by the Symphonica Orchestra, something interesting to look forward to.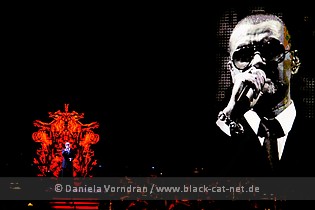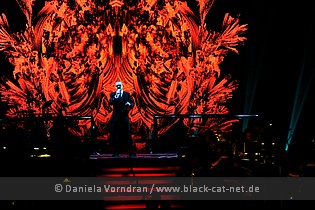 George Michael is a singer-songwriter and record producer who rose to fame in the 1980s when he formed the pop duo WHAM! with his school friend, Andrew Ridgeley. Everybody knows George Michael. Or at least they think they do. He's a global icon, an international artist of the highest order who has sold over 100 million albums in a world where Germany's population is 82 million; the United Kingdom's is 62 million and Australia's is 23 million. He's topped charts from Austria to Australia. He's sold-out stadiums from Tokyo to Tampa. He re-defined popular music with his debut solo album, 1987's Faith and went on to build a ground-breaking, substantial and enormously popular body of work. http://www.georgemichael.com / http://www.myspace.com/georgemichael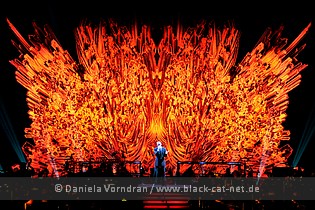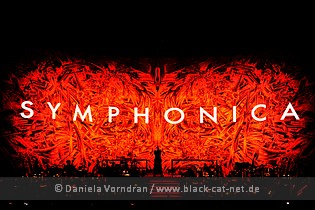 Music & Performance
With a big red curtain the concert stage reminded of a theatre. This different look let us know that we will get something special. When the lights went down and the orchestra started to play you just heard Georg's voice and could see him just a little bit through the curtain. In the middle of the song the curtain felt down and you could see him standing behind the Symphonica Orchestra and behind him a large video screen. While the whole show you see colourful elements on the screen which moved to the sound of the music, live shots of George or his musicians as well some other persons and things which had to do something with the songs. After the wonderful 'Through' as an opener which showed at once the volume of George's voice, he brought some Swing with 'My Baby just cares for me'. With his hips moves he let the women started to scream. George's voice in combination with the orchestra was perfect. After ten songs which were quieter we had a break of 20 minutes.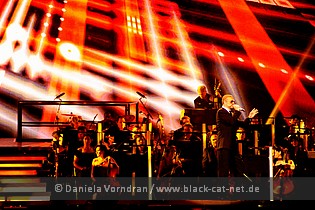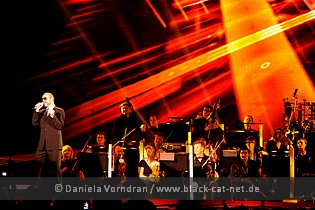 George Michael and the Symphonica Orchestra returned with so many different songs in new versions. Some of his own stuff and the rest were favourite songs of him. Also Amy Winehouse got a tribute. I never thought I'd like a song of Rihanna, but George's version of 'Russian Roulette' blew me away. After introducing some of his musicians he let us know how a Warm-Up with the background singers sounds like that he is doing each night before the show starts. The 'dancing part' of the concert was the medley of songs from George and his beginning with Wham. A unique singer brought us a special show and to say it with his own words: George I think you're amazing!

Setlist
01. Through
02. My Baby Just Cares For Me
03. Idol
04. Cowboys & Angels
05. True Faith
06. Going To A Town
07. Let Her Down Easy
08. You Have Been Loved
09. Wild Is The Wind
10. Brother Can You Spare A Dime
---
Break of 20 Min.
---
11. Patience
12. John & Elvis Are Dead
13. Roxanne
14. Song To The Siren
15. A Different Corner
16. Where I Hope You Are
17. You've Changed
18. Kissing A Fool
19. Love Is A Losing Game
20. Russian Roulette
21. Praying For Time
22. Feeling Good
---
23. Medley Amazing/I'm Your Man/Freedom
24. I Remember You
25. Free (Orchestra instrumental)

Rating
Music: 10
Performance: 10
Sound: 10
Light: 10
Total: 10 / 10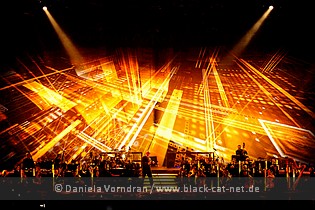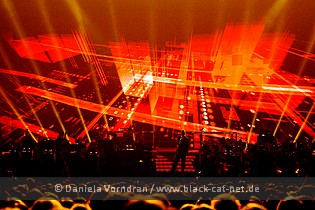 All pictures by Daniela Vorndran (http://www.vorndranphotography.com / http://www.black-cat-net.de/ / http://www.myspace.com/vorndranphotography / http://www.facebook.com/blackcatnet)