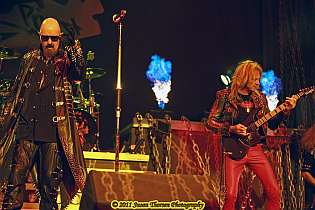 First Bank Center, Broomfield, Colorado, USA
5th November 2011
Judas Priest

Few metal rock bands make it big. Even fewer make it big and become legends. Even fewer still are able to maintain their legendary "metal god" status for over four decades and still continue to tour, sell out and play their shows with the fresh enthusiasm that they had when they first started out. JUDAS PRIEST has been there and done all that and then some. Most other bands would have been knocked off their post long ago, so more power to JUDAS PRIEST. They've rightfully earned their place in metal rock history and stood their ground. www.JudasPriest.com


Music & Performance
Claiming that this is their "farewell tour", it's hard to believe that 40 years have come and gone so quickly and that we are seeing the last of these guys. If it really is the end for them, they are doing it up in quite a grandiose show that is absolutely phenomenal. Complete with fire pods shooting off across the back of the stage from the very first song, 'Rapid Fire', the band got the crowd in Denver, Colorado off to a fist pounding the air, fast, furious and frenzied start that was non-stop the entire two hour and 20 minute set. Though original PRIEST guitarist, the beloved KK Downing, is no longer with the band, his replacement, Richie Faulkner was clearly not a disappointment to the fanatics on this night in the Mile High City. Flawlessly playing a Gibson Flying V guitar, Faulkner seemed to have no problem sharing the stage and delivering the goods alongside the familiar face and high energy of Glenn Tipton as they traded exuberant guitar lick chemistry throughout the 21 song set without missing a beat. Clearly having a great time on stage, the two guitarists even managed to squeeze a smile or two out of original bassist, Ian Hill who along with drummer, Scott Travis, produced a brilliant low-end thump that was non-stop and took vibration to a whole new level.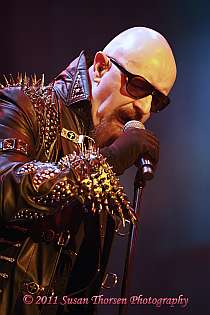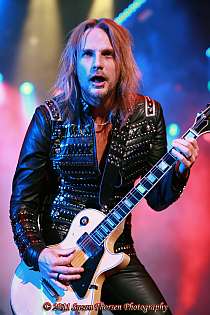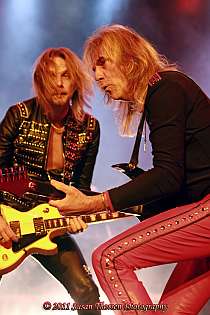 Legendary PRIEST vocalist, Rob Halford, proves what really makes this band tick and why after 40 years they have not been set on the back burner on simmer. Plain and simple, Halford is worshipped by the band's fans. Dressed in his classic leather and chains get up, I couldn't help but wonder how this guy manages to stay so ultra cool under the hot lights with fire pods blasting while wearing such a heavy outfit, as it was hotter than a furnace in the photo pit. Regardless, this guy is definitely a hard-core metal god and he doesn't fail to impress. Starting out the show, Mr. Halford told the crowd that PRIEST would be playing a variety of songs that spanned their entire career. He wasn't just giving lip service and the band didn't just going through the motions. From start to finish, JUDAS PRIEST played their Rocky Mountain set with more energy and enthusiasm than a pack of wild mustangs on the range. Covering their well-known hits, 'Breaking The Law' and 'You've Got Another Thing Coming' (complete with lots of crowd sing-a-long input!), PRIEST truly kept their fans in metal-heaven as they crossed into eras of long ago with tunes, 'Never Satisfied', 'Starbreaker', 'Diamonds And Rust', 'Heading Out To The Highway', 'Hell Bent For Leather', 'Prophecy' amongst many, many others. While singing 'Victim Of Changes', 'Judas Rising' and 'Painkiller', Halford demonstrated he is still able to hit his mark on the high notes with seemingly little effort as he spewed screams that could wake the dead to say the least.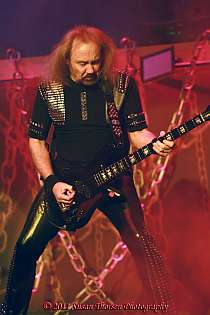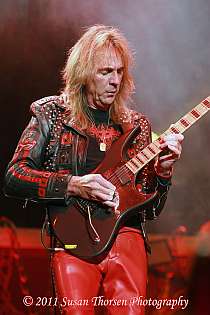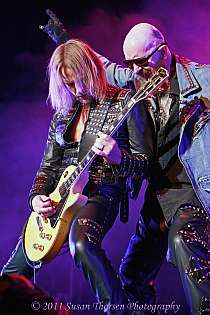 Ending the second encore with the classic, 'Living After Midnight', JUDAS PRIEST left the stage with an arena full of happy, jubilant fans that clearly love them. It was obvious that the feelings were mutual. The band had once again left their imprint with a show that won't too soon be forgotten by anyone there. Even though they are calling this the Epitaph Tour, I doubt that they (being a band of this calibre) simply hang up their guitar straps and spend the rest of their days out on the golf course. However, I wouldn't expect them to plan Epitaph Tour 2 real soon either – if at all. The occasional date here and there may end up being the extent of opportunity to witness this finely tuned machine in extreme action mode. That being said, get out and see this show while you can. JUDAS PRIEST aims to please and you won't be disappointed.

Setlist
Battle Hymn
01. Rapid Fire
02. Metal Gods
03. Heading Out to the Highway
04. Judas Rising
05. Starbreaker
06. Victim of Changes
07. Never Satisfied
08. Diamonds & Rust (Joan Baez cover)
Dawn Of Creation
09. Prophecy
10. Night Crawler
11. Turbo Lover
12. Beyond the Realms of Death
13. The Sentinel
14. Blood Red Skies
15. The Green Manalishi (With the Two Pronged Crown) (Fleetwood Mac cover)
16. Breaking the Law
17. Painkiller
---
The Hellion
18. Electric Eye
19. Hell Bent for Leather
20. You've Got Another Thing Comin'
---
21. Living After Midnight

All pictures by Susan Thorsen