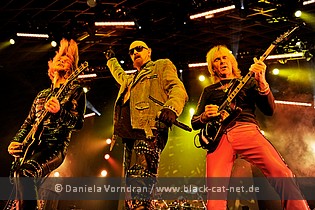 Halle Münsterland, Münster, Germany
30th April 2012
Judas Priest & Thin Lizzy

Few metal rock bands make it big. Even fewer make it big and become legends. Even fewer still are able to maintain their legendary "metal god" status for over four decades and still continue to tour, sell out and play their shows with the fresh enthusiasm that they had when they first started out. JUDAS PRIEST has been there and done all that and then some. JUDAS PRIEST, the style-defining band from Birmingham, became the spearhead of "New Wave of British Heavy Metal" with their successful album 'British Steel'. With their classics 'Breaking the Law', 'Metal Gods' or 'Living After Midnight', the band established as queen of the British Heavy-Metal scene. Now, JUDAS PRIEST are saying goodbye after 40 successful concert years with the "Epitaph Farewell Tour 2012". We took the chance to see the band, supported by THIN LIZZY, in Münster.



Thin Lizzy

THIN LIZZY are an Irish hard rock band that formed in Dublin, Ireland in 1969. The band was originally led by bassist, songwriter and singer Phil Lynott. They are best known for their songs 'Whiskey in the Jar', 'Jailbreak', 'The Boys Are Back in Town' and 'Bad Reputation', all major international hits still played regularly on hard rock and classic rock radio stations or heavy metal. History has but two ways to define a band: Through their body of work, or via the legacy they leave. The legendary THIN LIZZY are distinguished on both accounts. Phil Lynott died on January 4, 1986 due to heart failure, kidney failure and heroin addiction. Later, John Sykes decided to try and re-assemble THIN LIZZY, presenting the band as a tribute to Phil Lynott's life and work. He decided to take on the role of lead vocals himself in the absence of Lynott. In May 2010, a new THIN LIZZY line-up was announced having as only remaining original member drummer Brian Downey. Today, THIN LIZZY is Ricky Warwick (lead vocals, occasional guitar - The Almighty), Scott Gorham (lead guitar, rhythm guitar, backing vocals), Marco Mendoza (bass guitar, backing vocals - Whitesnake), Darren Wharton (keyboards, backing vocals), Brian Downey (drums, backing vocals), and Damon Johnson (rhythm & lead guitar). http://www.thinlizzyband.com / http://www.facebook.com/ThinLizzyOfficial / http://www.myspace.com/thinlizzynow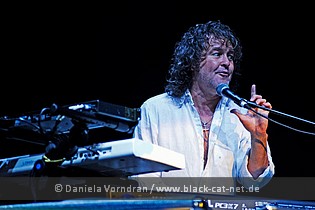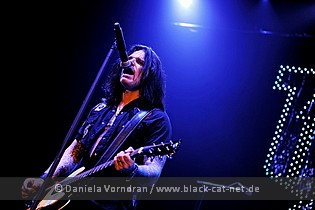 Music & Performance
Last time I say THIN LIZZY was some years ago, still with John Sykes on vocals. Now, I was curious if Ricky Warwick, doing the lead vocals now, could compare with him. First thing you spotted when looking at the stage was huge "Thin Lizzy" writing in the back of stage, all made of light bulbs, announcing what soon would be starting. When the six musicians entered the stage, they were warmly welcomed by the audience, ready to rock and warm themselves up for the priests. About 45 minutes were given to THIN LIZZY to get the warm-up job done and so, they got people going right away with 'Are You Ready' and 'Jailbreak'. Front man Ricky Warwick had the crowd on their feet from the very start. In my opinion, Ricky could nearly compare with original singer Lynott. One of my faves was 'Whiskey in the Jar', younger people probably only know the METALLICA version of this song. Before starting up 'Rosalie' (originally written by rocker Bob Seger in tribute to Rosalie Trombley), the band paid a special tributary recognition to deceased band members Phil Lynott and Gary Moore. If you are not firm with the band's history, Gary was a guitar player who had worked with Phil Lynott since the late 1960's. With the last song presented, it was sure that 'The Boys Are Back In Town'. Let's hope for another fulltime show soon!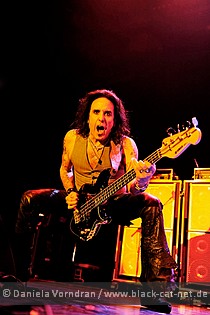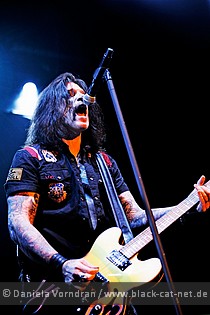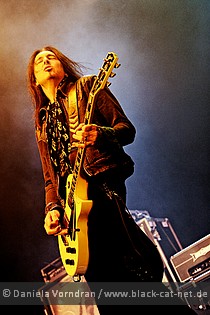 Setlist
01. Are You Ready
02. Jailbreak
03. Killer On The Loose
04. Emerald
05. Whiskey in the Jar
06. Suicide
07. Rosalie (Bob Seger cover) / Cowgirl's Song
08. Black Rose
09. Cowboy Song
10. The Boys Are Back In Town

Rating
Music: 9
Performance: 9
Sound: 8
Light: 9
Total: 8.8 / 10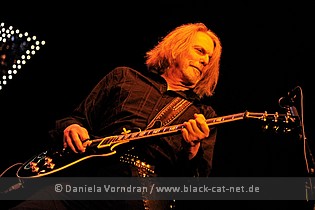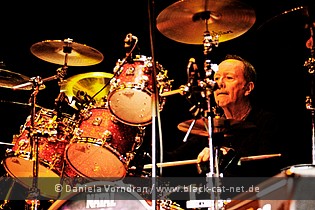 Judas Priest

The long history of JUDAS PRIEST, the Heavy Metal band from Birmingham, UK, dates back to 1969. Known for a twin lead guitar style, a wide operatic vocal style, the band has sold more than 50 million albums worldwide. After quite a hard start-up, the band found commercial success finally on the 80s. The discography of the band is extensive. Besides 17 studio albums, the first one being 'Rocka Rolla' in 1974 and so far last one 'Nostradamus' in 2008, the band released 31 singles, 18 music videos, 6 live albums, 6 compilation albums, and 10 video albums. JUDAS PRIEST announced on December 7th, 2010, that their "Epitaph World Tour" would be the band's farewell tour. Anyway, on January 27th, 2011, it was announced that JUDAS PRIEST was in the process of writing new material, though this shall never be played live. In the course of their final tour, guitarist K. K. Downing was leaving the band, not ending the tour. He was replaced by Richie Faulkner. Over the years, the band has seen numerous line-up changes, including a revolving cast of drummers in the 1970s as well as temporary resignation of current singer Rob Halford in the early 1990s. Only original member is bassist Ian Hill. JUDAS PRIEST today is Rob Halford (vocals), Glenn Tipton (E-Guitar), Richie Faulkner (E-Guitar), Ian Hill (E-Bass) and Scott Travis (drums). http://www.judaspriest.com / https://www.facebook.com/OfficialJudasPriest / http://www.myspace.com/judaspriest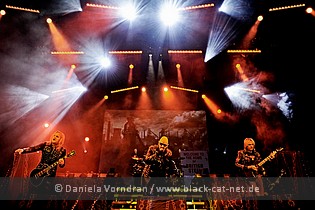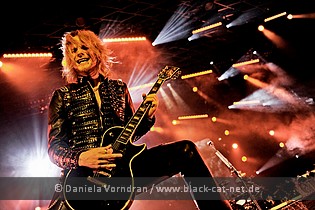 Music & Performance
A long time has passed. Unbelievable that after 40 years on stage, JUDAS PRIEST are now on their farewell tour, setting themselves an epitaph, a memorial for the gone. But JUDAS PRIEST is not gone yet. This tour is surely not the end of the band since there is a new album in the making, but most likely of all live activities of the band, since the band members (at least some of them) visibly aged. But does the age makes them holding back when performing on stage? No way! During introducing sounds of 'War Pigs' and 'Battle Hymn', the band entered the stage which still was covered by a black curtain having the "Epitaph" written on. When the curtain fell down, with lots of colourful lights and full power, PRIEST started with 'Rapid Fire'… and rapid this show was… and full of fire it was too, not only literally spoken, there were indeed lots of fire columns within the show, starting already during 'Metal Gods'. From the very start, the audience was excited, and you heard mostly man screaming "Priest, Priest, Priest" over and over again in-between the songs and holding the devil horns high up into the air.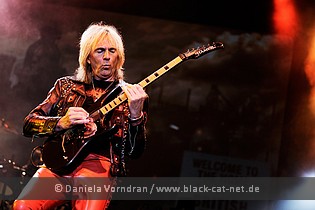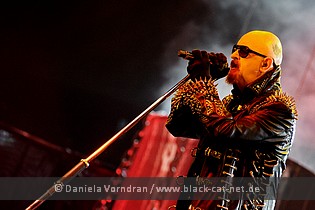 The whole band was in top form. It might have been a bit strange for the fans not to see original guitarist K.K. Downing on stage anymore. But his replacement Richie Faulkner was clearly not a disappointment to the fans. He was flawlessly playing a Gibson Flying V guitar and obviously did not have a problem to share stage and deliver the goods alongside the familiar face and high energy of Glenn Tipton. Both guitarists were perfectly plying together. Bassist Ian Hill produced a brilliant low-end thump along with drummer, Scott Travis that was non-stop. And last but not least there was singer Rob Halford. He was incredible. His screams were waking people up. During the show, he was changing clothes over and over again, wearing black tight black leather or jeans with rivets, , golden and silver costumes or wearing a glittering robe like a priest. And still he stays ultra cool under the hot lights with fire pods blasting. Not the youngest anymore, he's still a real entertainer, walking like a robot or standing like a priest holding a mass for the audience while the string fraction of the band is posing for the audience.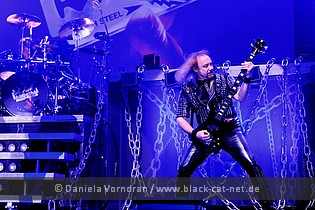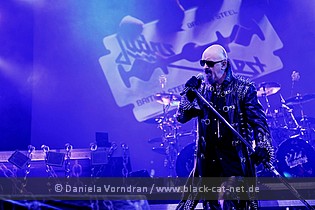 JUDAS PRIEST kept the level high, presenting their big hits, like 'Breaking the law' where the question "Breaking the what?" was answered with "The Law!" and the audience was singing all on their own, or 'You've Got Another Thing Comin'' and the end of the show presenting Falkner with a solo part. Faulkner and Tipton were delivering a guitar thunderstorm at 'Victim of Changes'. The set presented very old material like 'Never Satisfied' from the band's debut album besides i.e. 'Prophecy' from the latest PRIEST album. During 'Turbo Lover', the mood of excitement reached the highest level. People were screaming and shaking their hair. Besides the music, the stage show was incredible, leading you back into the colourful 80s with red and green lasers, disco balls, flames, smoke columns and lots of bright lights. After about two hours, 'Painkiller' was marking the end of the set. But a PRIEST show would not be a PRIEST show without Halford riding onto stage on his Harley Davidson. And when the engine of the bike started, about 4,000 fans knew it was time for 'Hell Bent For Leather'. With 'Living After Midnight', JUDAS PRIEST finally left the stage for good, leaving lots of jubilant happy fans back.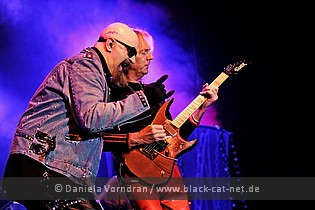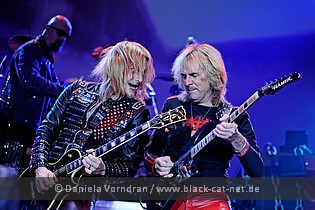 Was this really the end of an era? The JUDAS PRIEST live era? You never know and even though they are calling the tour "Epitaph" tour, and telling this was the stage farewell, they might be true blood musicians who cannot stay away from playing live forever…

Setlist
00. Intro: War Pigs (Black Sabbath song) & Battle Hymn
01. Rapid Fire
02. Metal Gods
03. Heading Out to the Highway
04. Judas Rising
05. Starbreaker
06. Victim of Changes
07. Never Satisfied
08. Diamonds & Rust (Joan Baez cover)
09. Dawn of Creation / Prophecy
10. Night Crawler
11. Turbo Lover
12. Beyond the Realms of Death
13. The Sentinel
14. Blood Red Skies
15. The Green Manalishi (With the Two Pronged Crown) (Fleetwood Mac cover)
16. Breaking the Law (Rob Halford let audience sing entire song)
17. Painkiller (Drum Solo before song)
---
18. The Hellion / Electric Eye
19. Hell Bent for Leather
20. You've Got Another Thing Comin' (With Richie Faulkner solo)
---
21. Living After Midnight

Rating
Music: 9
Performance: 10
Sound: 9
Light: 10
Total: 9.5 / 10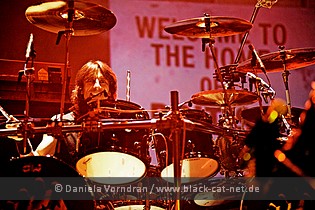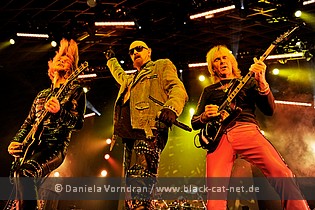 All pictures by Daniela Vorndran (http://www.vorndranphotography.com / http://www.black-cat-net.de/ / http://www.myspace.com/vorndranphotography / http://www.facebook.com/blackcatnet)