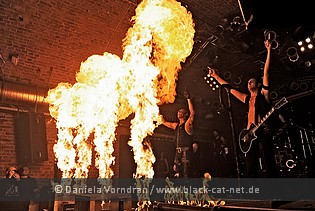 Matrix, Bochum, Germany
27th October 2012
Feuerengel

FEUERENGEL is a true RAMMSTEIN cover band. During a RAMMSTEIN show in 1997, they had the idea to cover this band as original as possible. So, they became the first ever RAMMSTEIN tribute band. Not only covering the songs was important, also covering the show using authentic effects and requisites. For their shows, they use an own pyro-technician. Knowing all this one thing was sure: this must turn out as a cool show! On 14th October, the band presented their set 1 with RAMMSTEIN albums from 1995 to 2001. Following albums were presented during a show one day later. FEUERENGEL is Boris (vocals), +hors+en (keyboards), Farp (guitar), Daniel (guitar), Holger (bass) and X-oph (drums). http://www.feuerengel.de / http://www.myspace.com/feuerengelmusic / https://www.facebook.com/feuerengelmusic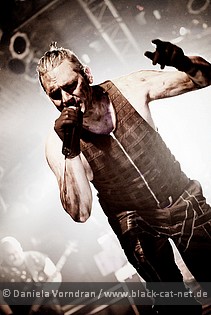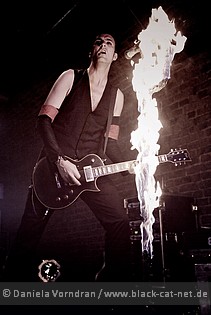 Music & Performance
On the 27th of October in Bochum's Matrix we were ready to attend the FEUERENGEL Concert! 2 hours of pure RAMMSTEIN cover from these professionals was awaiting us. Over 15 years of experience made our eyes glow with expectations. After meeting in front of the Matrix club, we met with friends from Mindbreed magazine and entered the club. It was quite crowded but we managed via active queuing up to reach the second row, right in front of the great German national flag, which was covering the stage. Unfortunately the flag fell down a bit too early into the intro, but that was forgotten the moment the first word of 'Sonne' was sung. With several flames and great make up / costumes, FEUERENGEL created a nice atmosphere which made the crowd burst into cheering already in the beginning. Though it wasn't as much show, as we're used by RAMMSTEIN (well, the venue in fact was much smaller tan RAMMSTEIN is used to play at), it still looked good, especially when the microphone stands of Farp and Daniel began to burn.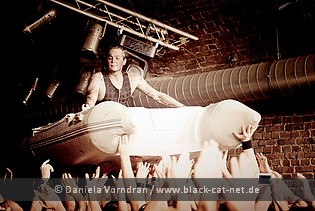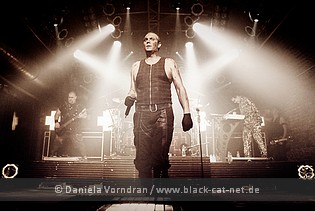 What else can I say? The sound was exceptional close to RAMMSTEIN, better than any other cover band I've heard before. The crowd celebrated especially Holger by shouting out his name, were requesting 'Rein Raus' all the time and had a big party when FEUERENGEL played it finally. Boris knew how to play with the crowd and even his band mates when he kissed Holger's boot after reentering the stage. During 'Du Hast' I was a bit disappointed by Boris singing to playback, because of the LED he held in his mouth, but I guess you can't expect him to puncture his cheek just like Till Lindemann did. I was a bit annoyed by the burning in my nose from the red burning lithium flame, but that was all forgotten when they put a concert attendee - and afterwards Boris himself - in a life raft and sailed the crowd whilst playing 'Haifisch' in the encore.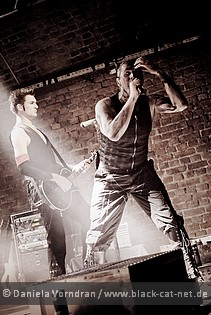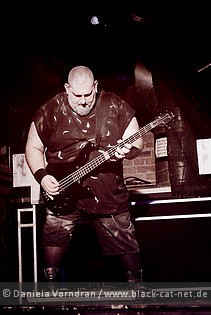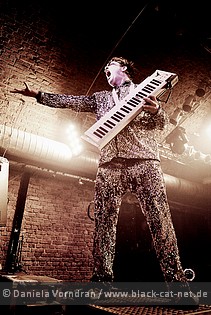 Unfortunately we weren't able to listen till the end of the encore because of transformational issues, but after all it was an all nice concert in the Matrix and I'm hoping on seeing them soon again!

Setlist
01. Intro
02. Sonne
03. Mein Land
04. Sehnsucht
05. Asche zu Asche
06. Ich Tu Dir Weh
07. Bestrafe mich
08. Zwitter
09. Amerika
10. Wo Bist Du
11. Rein Raus
12. Du Riechst So Gut
13. Weisses Fleisch
14. Weidmanns Heil
15. Du Hast
16. Feuer Frei
17. Ich Will
---
18. Bück Dich
19. Haifisch
20. Pussy
---
21. Engel

Rating
Music: 8
Performance: 9
Sound: 7
Light: 8
Total: 8 / 10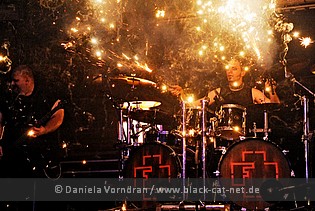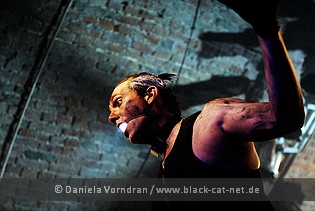 All pictures by Daniela Vorndran (http://www.vorndranphotography.com / http://www.black-cat-net.de/ / http://www.myspace.com/vorndranphotography / http://www.facebook.com/blackcatnet)