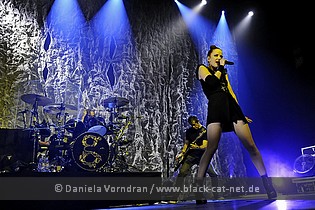 E-Werk, Cologne, Germany
26th November 2012
Garbage & Superbus

The last big GARBAGE tour in Europe took place seven years ago in support of the fourth studio album 'Bleed Like Me' when much to anyone's surprise the last dates in France, UK and Belgium were cancelled and rumours occurred that the band would split-up. But the band around Scottish singer Shirley Manson found together again to release their fifth album in May 2012 and after appearances on Hurricane and Southside Festival in summer, the band now scheduled two dates in Germany in the course of their current world tour. The second last date of this tour took place in Cologne, where lots of fans were squeezing into the jam-packed E-Werk to see an energy-laden show.



Superbus

French band SUPERBUS was formed 1999 by Jennifer Ayache together with Michel Giovannetti and François Even, first as a trio. The band took its name from Latin word "Superbus", meaning "proud". After signing a deal with Mercury Records, the band released the first album, 'Aéromusical', in March 2002 even reaching position 85 of French charts. With the following albums 'Pop'n'Gum' (2004) and 'Wow' (2006), the band gained more popularity, even reaching position 6 in French charts with 'Wow'. The latest album 'Sunset' was released in Summer 2012. SUPERBUS is Jennifer Ayache (vocals), Michel Giovannetti (guitar), François Even (bass), Patrice Focone (guitar) and Greg Jacks (drums). http://www.superbus.fr / https://www.facebook.com/superbusmusic / http://www.myspace.com/superbusmusic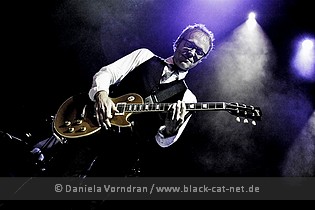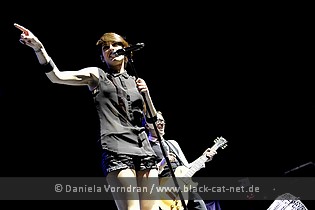 Music & Performance
Before GARBAGE started, the stage belonged to French SUPERBUS, being already a big-wig in their home country. Many Germans on the other hand were not really familiar with the band and so were we. SUPERBUS come along in a similar line-up as GARBAGE where front woman Jennifer is accompanied by four guys on their instruments. Guitarist and backing singer Pat even is able to speak German whereas Jenn – dressed in stylish hot pants – at least manages pretty well to recite a memorised German text, as her band mate told us. But with their up-tempo track 'Lola', the band first stuck to their native tongue before they went along with crispy 'Radio Song' in better understandable English. When catchy mid-tempo 'Whisper' started, the audience was finally warmed up for the band and practised to clap along, before the set moved on with pushing 'Mrs Better'. The playful title track of 2009s album 'Lova Lova' had some pinches of Chanson and Polka included whereas following 'Butterfly' came along really pushing and danceable.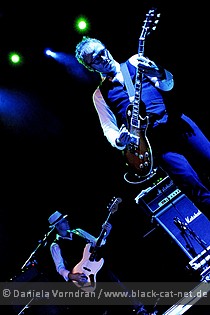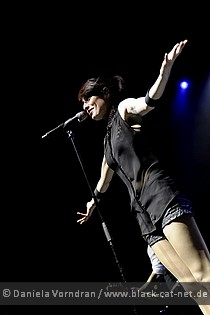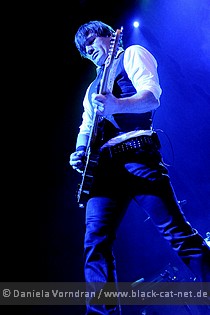 For the LANA DEL REY cover 'Video Games', Mademoiselle Ayache was handed a big tom she was appealingly maltreating from time to time. A really well done interpretation of this song! After the little detour to calmer realms, the band turned it up again with final song 'Travel The World' when they – much to the joy of the audience – even managed to include a RAMMSTEIN passage taken from 'Du Hast'. The quintet was rewarded with well deserved friendly applause after its harmonious 30 minutes lasting set.

Setlist
01. Lola
02. Radio Song
03. Whisper
04. Mrs Better
05. Lova Lova
06. Butterfly
07. Video Games (Lana Del Rey cover)
08. Travel the World (incl. part of Rammstein's "Du Hast")

Rating
Music: 8
Performance: 8
Sound: 8
Light: 7
Total: 7.8 / 10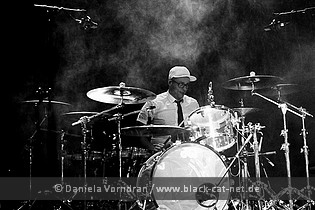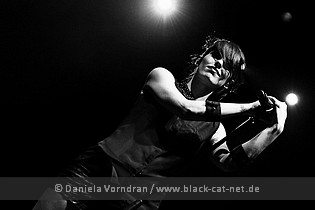 Garbage

Alternative Rock band GARBAGE was founded in 1994 in Wisconsin/USA and so far has counted worldwide album sales of over 17 million units. In their first years of existence, the band already released some increasingly successful singles like 'Stupid Girl' or 'Only Happy When It Rains'. The debut album 'Garbage' was selling over 4 million copies and certified double platinum in several countries. Follow-up album 'Version 2.0' topped UK charts and was comparably successful as the debut. Being so successful, the band also performed the theme song for nineteenth James Bon movie, 'The World Is Not Enough'. After releasing 'Beautiful Garbage' in 2001, the band disbanded in late 2003 for two years, reforming for the fourth album 'Bleed Like Me', out in 2005.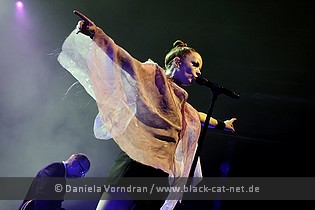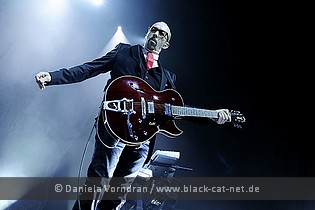 After a following tour, the band announced an "indefinite hiatus", emphasizing that they had not broken up, but wished to pursue personal interests. 2007 saw the release of a best-of album and finally in October 2010, there was a real sign of life again with the band starting work on their fifth studio album, 'Not Your Kind of People', being release in May 2012 on the band's own label. GARBAGE is Shirley Manson (vocals, guitar), Steve Marker (guitar, keyboards), Duke Erikson (bass, guitar, keyboards, guitar, percussion) and Butch Vig (drums, percussions). On the current tour, they were supported by Eric Avery on bass. http://www.garbage.com / https://www.facebook.com/GarbageOfficial / http://www.myspace.com/garbage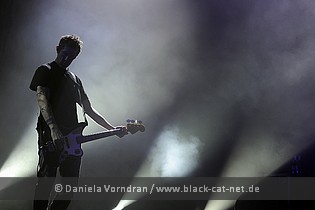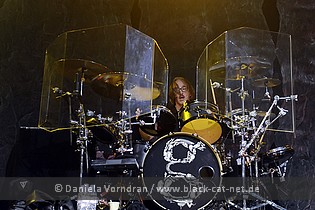 Music & Performance
It took another 30 minutes until the stage was ready for GARBAGE. While the intro 'Time Will Destroy Everything' was sounding through the dark E-Werk, the musicians took position behind their instruments until finally Shirley as last one reached her place behind the microphone. The lady was showing quite some leg and started the show with smasher 'Queer'. In the background in the meantime, diverse video sequences were shown on a huge backdrop whereas the stage was illuminated by colourful light. Being warmed-up by SUPERBUS, the audience was not holding back with applause and following got delivered the pushing 'Automatic Systematic Habit' from the current album. Also the new material was duly celebrated. 'Shut Your Mouth', Shirley demanded little later after she undressed her blazer and – lets call it – transparent poncho. Off we went with following 'Why Do You Love Me'. A special moment was the performance of 'Metal Heart' because Shirley dedicated this one song to her mother who head her death anniversary that day. With lots of speed and accompanied by bright yellow lights, classic 'Stupid Girl' from 1995's self-titled debut album followed and also 'Vow' with its high-speed final did not miss out on anything.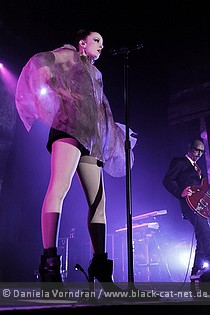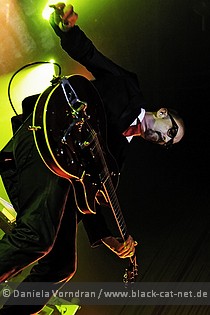 'I Hate Love' from the latest album was brought into the play as next, accompanied with very fitting background videos. Than, the band moved way back in its history with 'The Trick Is To Keep Breathing' from second album 'Version 2.0' (1998) whereof also big hit 'I Think I'm Paranoid', following afterwards, was taken from and being heavily celebrated by the fans. But first, Steve had to take his photographs and Shirley nipped on her Scottish whiskey. Also fast-forward 'Special' is 14 years old but never lost its charm. The bridge to 'Blood For Poppies' was presented a-capella. 'Cherry Lips (Go Baby Go!)' as well as 'Battle In Me' convinced with strong guitars and drums. For the ballad 'Cup Of Coffee', Duke was hitting the keys, just to change back to the six-string for 'Push It', crawling slowly into your brain. After a soft start, 'Only Happy When It Rains' gained lots of power while 'You Look So Fine' once more was hitting the softer sounds. Latest when front woman Shirley grabbed the guitar herself, the calm before the storm was over and anyone celebrated the last song before the band left the stage after about 90 minutes.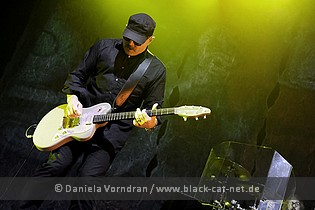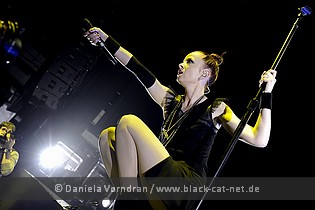 Of course the band just couldn't leave for good after such a long stage abstinence, especially when encores were loudly demanded. So, first 46 year old front woman came back to stage stating, accompanied by her band mates, that originally only two encores were planned, but the band is open for negotiations. Until finally with the audience was discussed which songs to be played, she presented first various synonyms for the female genital, noticed that she spontaneously with a certain Thomas in the first rows and had seen one or another fan growing up (whereas the average age at the club surely was not too low and probably many attendees were fans of the first hour). Finally, drummer Butch noted the encore requests while Steve took some more photos. Last but nor least, anyone agreed upon 'The World Is Not Enough' as first encore. The song presented anything a James Bond theme needs to have. On it went with lots of emotions and a little bit dishevelled Shirley with the song 'Milk'. Either she had little bit too much from the Scottish drink or problems with her in-ears. Anyway there were some vocal discrepancies which were not audible during gloomy '#1 Crush' and its fat bass lines. The show came down the stretch finally with 'When I Grow up' as last encore.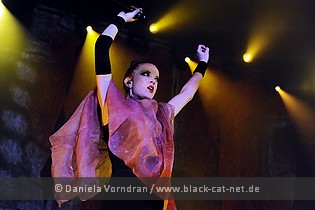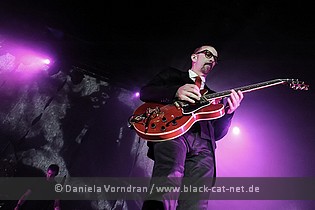 After about two hours, GARBAGE bet farewell to an totally excited audience and proved that they did not unlearn anything during the last years. Old and new songs perfectly matched together, taking care for an overall successful evening. I don't believe that the last show in Berlin would end in a disaster, as Shirley feared - at the end, GARBAGE are professionals still gathering a huge fan base.

Setlist
01. Time Will Destroy Everything (Intro)
02. Queer
03. Automatic Systematic Habit
04. Shut Your Mouth
05. Why Do You Love Me (2 Bar Intro)
06. Metal Heart
07. Stupid Girl
08. Vow
09. I Hate Love
10. The Trick Is to Keep Breathing
11. I Think I'm Paranoid
12. Special
13. Blood for Poppies
14. Cherry Lips (Go Baby Go!)
15. Battle in Me
16. Cup of Coffee
17. Push It
18. Only Happy When It Rains
19. You Look So Fine
---
20. Trip my wire (a capella snippet)
21. The World Is Not Enough
22. Milk
23. #1 Crush
---
24. When I Grow Up

Rating
Music: 9
Performance: 10
Sound: 8
Light: 9
Total: 9 / 10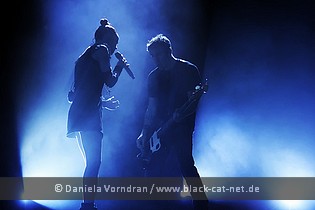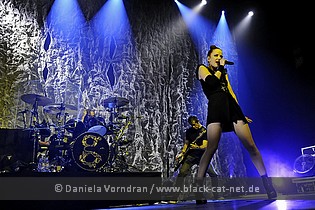 All pictures by Daniela Vorndran (http://www.vorndranphotography.com / http://www.black-cat-net.de/ / http://www.myspace.com/vorndranphotography / http://www.facebook.com/blackcatnet)



See also (all categories):