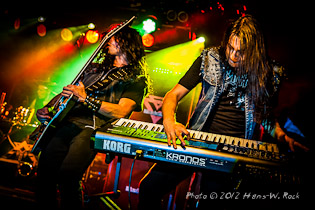 Colossaal, Aschaffenburg, Germany
2nd October 2012
Firewind & Leaves' Eyes

FIREWIND hails from Greece and has been founded in 1998 by Gus G. (who also currently serves as a guitarist for OZZY OSBOURNE) their catalogue lists seven albums with the latest 'Few Against Many' out in May this year. Now they were touring Germany, supported by LEAVES' EYES.



Leaves' Eyes

Aschaffenburg's Colossaal was almost filled up, when Liv Kristine (vocals), Thorsten Bauer (guitars), Sander van der Meer (guitars), JB van der Wal (bass) and Roland Navratil (drums) entered the stage, starting the intro to a typical LEAVES' EYES hymn, 'Spirit's Masquerade'. Liv's beautiful voice perfectly created an atmosphere of mystic Nordic sounds. Vocalist Alexander Krull (ATROCITY) joined Liv and the band on stage after a short while. And from then on he was the man to make the crowd clap and jump acting like one of those shouters on a galley. http://www.leaveseyes.com / https://www.facebook.com/leaveseyesofficial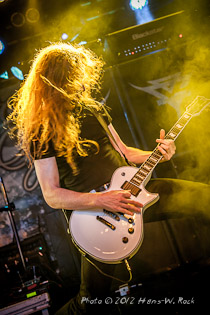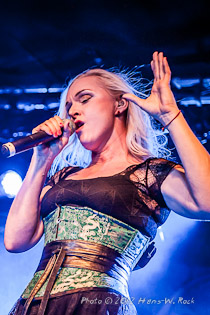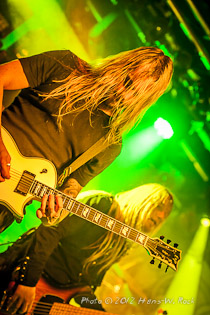 Setlist
01. Spirit's Masquerade
02. Velvet Heart
03. Ocean's Way
04. My Destiny
05. Melusine
06. Emerald Island
07. Kråkevisa
08. Take The Devil In Me
09. Elegy
10. To France
11. Frøya's Theme
12. Mot Fjerne Land

Rating
Music: 7
Performance: 7
Sound:8
Light: 7
Total: 7.3 / 10

Full Gallery


Warning: No images in specified directory. Please check the directory!

Debug: specified directory - https://www.reflectionsofdarkness.com/images/concert/2012/october/leaveseyes20121002
Firewind

It should become a great "Best-of-Firewind" show this evening. Although the band - consisting of Gus G. (guitar), Apollo Papathanasio (vocals), Petros Christo (bass), Bob Katsionis (keyboards/ live guitar) and Jo Nunez (drums) - was on tour to promote their new album 'Few against many', they played songs even from the period before Apollo joined the band. All band members obviously are great musicians and in FIREWIND they form a strong unit. So Gus G., who is Axe man for and with Ozzy Osbourne, unselfishly reduces his solo activities on stage to only one real instrumental part. Same can be said about Bob Katsionis who managed to play guitar AND keyboard! He played those one by one AND he even played them simultaneously (see picture)! And his keyboard solo just gave an impression of what to expect from his oncoming new solo album.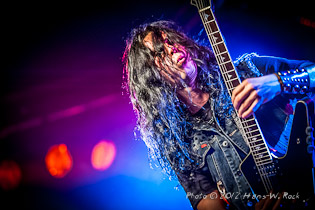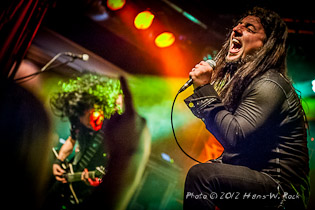 From the first moment of the show the crowd was totally with the band. Old and new FIREWIND fans together who for sure will be there when FIREWIND will be back live on stage in Germany again. Finally as a "surprise" they had Liv Kristine joining them on stage for one of the three encores 'Breaking the silence' Not surprising - it sounded great! After a furious 'Falling into pieces', FIREWIND ended a great evening in melodic power metal rock and everybody had jumped their f.... off! I do not want to forget mentioning that one could get FIREWIND T-Shirts for affordable 10 to 15 Euros and Hoodies for 25 Euros at the merch. Something very rare these days when even outdated band T-Shirts are sold for over 20 Euros during a tour.
http://www.firewind.gr
/
https://www.facebook.com/firewindofficial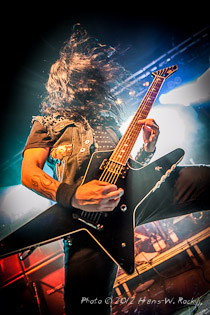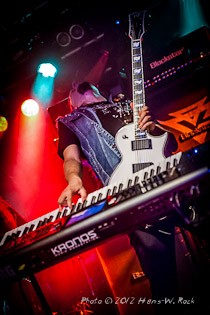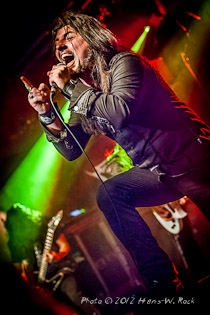 Setlist
01. Wall of Sound
02. Head Up High
03. Destination Forever
04. Few Against Many
05. Insanity
06. World on Fire
07. The Fire and the Fury
08. Losing My Mind
09. Mercenary Man
10. Angels Forgive Me
11. Glorious
12. Till the End of Time
13. I Am The Anger
14. Tyranny
---
15. Into the Fire (watch video:
http://youtu.be/f9Wwtgdw60E
)
16. Breaking the Silence (with Liv Kristine - watch video:
http://youtu.be/6XFAEVR_dVM
)
17. Falling To Pieces (watch video:
http://youtu.be/PFjKEfjiuhs
)
Rating
Music: 9
Performance: 8
Sound:9
Light: 8
Total: 8.5 / 10
Full Gallery

Warning: No images in specified directory. Please check the directory!

Debug: specified directory - https://www.reflectionsofdarkness.com/images/concert/2012/october/firewind20121002
All pictures by Hans-W. Rock
See also (all categories):