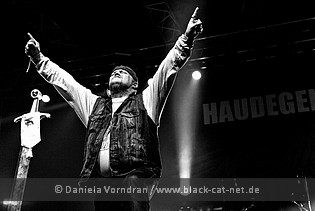 Turbinenhalle, Oberhausen, Germany
14th February 2013
Haudegen - EN GARDE - "Die letzten unserer Art Tour 2013", Support: Hagen Stoll reads from his book "So fühlt sich Leben an"

HAUDEGEN have a new album out, wearing the title 'En Garde'. The album entered the top five of German charts. Already after release in 2012, the band was touring to promote the album. Due to the huge success and mostly sold-out shows in autumn 2012, the band now comes back for lots of more shows.


The show in Oberhausen was attended by about 1000 fans, eager to see HAUDEGEN. But before the band started, there was no support act like you expected, but singer Hagen Stoll was reading from his book 'So fühlt sich Leben an' (That's how life feels like). It might sound strange reading from a book as "warm-up". And indeed firstly, people were too loud, speaking all the time, yelling when Hagen read… not a good behaviour. Things changed a bit when he read a passage from the end of his book when it deals with the beginnings of HAUDEGEN. Then, all of a sudden, the voice of second singer, Sven, was taking over the dialogues and soon, people started cheering and you could feel how much they awaited the band to follow. Hagen received a lot of applause when he left the stage. Usually you might think now the rebuilding must be very fast since only a chair and a table hat to be removed. But still people had to wait more than 30 minutes for the real concert to start.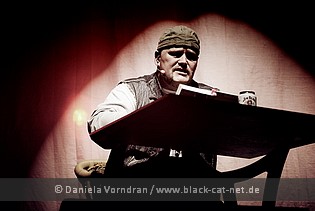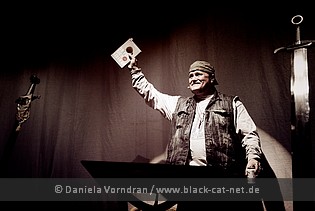 Haudegen

HAUDEGEN is a German rock band from Berlin, consisting of Sven Gillert and Hagen Stoll. Their first album 'Schlicht und Ergreifend' was released 2011 via Warner Records. Firstly entertaining the audience as Hardcore rappers, both artists founded the new band HAUDEGEN in 2009 with a complete change in style towards to emotional rock. A first EP was released in October 2010 before the debut album followed in May 2011. The new album 'En Garde' followed in September 2012. Live concerts are a huge success. The band usually dresses up nostalgically in traditional black and white clothing of craftsman apprentices or other worker clothes. Tattoos are another important element of the HAUDEGEN project. During their live shows, they are supported by several other musicians: Oliver Bienert (guitar), Nils Kühme (guitar, keyboard), Michar Plönzke (bass) and Christoph Schindelwig (drums, percussions). http://www.haudegen.com / https://www.facebook.com/Haudegen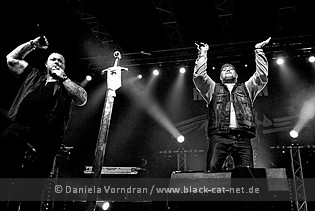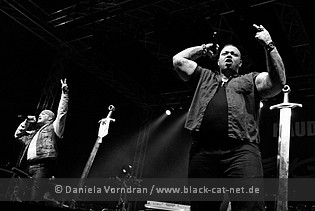 Music & Performance
HAUDEGEN (means as much as swashbuckler) attract people throughout all ages, there were the youngest one was 4 and the oldest one, at least the oldest one that screamed when the audience was asked by the band, was 65. And anyone was eagerly awaiting the band and screamed loudly, when finally at nine the intro sounded through the hall and first silhouettes were visible behind the curtain covering the stage and falling down with the first real song, 'Wir rufen was ins Leben'. Sven and Hagen were in touch with the audience from the very start, constantly talking to them or animating the to sing along and clap. People willingly followed their commands. Soon, the recipe of success was shown very clearly: the authenticity of both protagonists. People loved them for it. And the band loved the Oberhausen fans for showing, how "working class" is able to celebrate. And you feel that the band takes seriously what it is singing about… life as they experienced it themselves.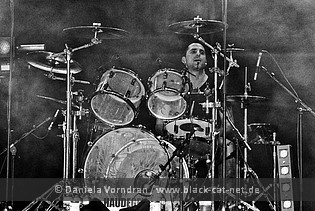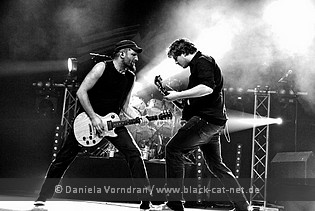 The band itself calls its musical idols PANTERA, BILLY IDOL and EVERLAST, bit also German singer-songwriter Klaus Lage. Remarkable is especially Hagen's rough and scratchy voice. To me, the music sounded quite soft and less rocking, I would call it German Soft-Rock with lyrics directly coming from life. HAUDEGEN's songs describe social problems of workers today in Germany and encourage people to recollect "the old values", honest work, fellowship and love. The new album 'En Garde' is a little rockier than its predecessor but still has the singer-songwriter influences. And this mix worked very well in Oberhausen… and I guess anywhere else on tour. People can identify themselves with the topics the songs are dealing with. And the band speaks people's language. Maybe that's the reason for its success. At least I can say that people in Oberhausen really liked the show and were with the band throughout nearly two hours until the Outro finally marked the end of the show…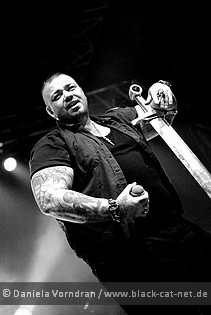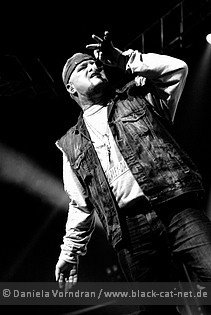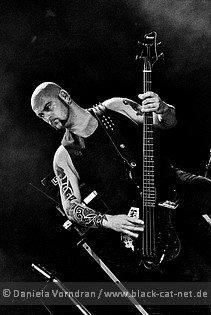 Setlist
01. Intro
02. Wir rufen was ins Leben
02. Leuchtturm
03. Zwei für alle
04. Familie
05. Ein Mann ein Wort
06. Flügel und Schwert
07. Fehlerloser Mann
08. So eine starke Frau
09. Feuer und Flamme
10. En Garde
11. Hölle
12. Wir gegen den Rest
13. Alles oder Nichts
14. Hausa us Glas
15. Zu Hause
16. So fühlt sich Leben an
---
17. Wir kommen zurück
---
18. Tag den ich nie verges
19. Outro

Rating
Music: 7
Performance: 8
Sound: 8
Light: 8
Total: 7.8 / 10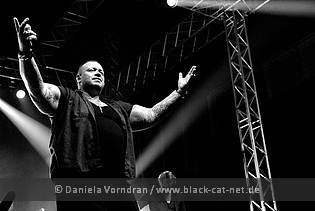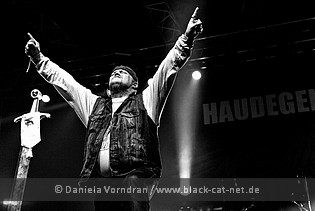 All pictures by Daniela Vorndran (http://www.vorndranphotography.com / http://www.black-cat-net.de/ / http://www.myspace.com/vorndranphotography / http://www.facebook.com/blackcatnet)