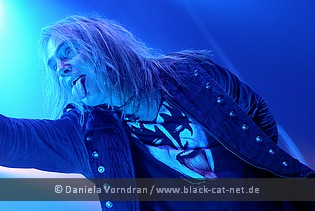 Ruhrcongreß, Bochum, Germany
13th April 2013
Helloween, Gamma Ray & Shadowside

After already touring through various European countries, "Hellish Rock" with leading German Power Metal bands HELLOWEEN and GAMMA RAY finally reached Germany and with it, also Bochum. As support, they brought female fronted SHADOWSIDE from Brazil. The audience was served with finest Power Metal and even though the venue was not completely filled, anyone was up for a Metal party.



Shadowside

Brazilian Metal band SHADOWSIDE was founded in 2001. After releasing a self-titled EP, the band released its debut album 'Theatre Of Shadows' in 2005. One year later, they supported HELLOWEEN during their Brazilian tour. In 2008 and 2009, the band was going on a headliner tour through Brazil and North America. So far, SHADOWSIDE has released three albums, the last one, 'Inner Monster Out', hit the stores in 2011. The album also featured guest vocalists Mikael Stanne (Dark Tranquillity), Björn "Speed" Strid (Soilwork) and Niklas Isfeldt (Dream Evil). With tours in 21 countries playing in front of a total audience of over 100,000 people, the band is nowadays the rising star of Brazilian Metal scene. SHADOWSIDE is Dani Nolden (vocals), Raphael Mattos (guitars), Fabio Buitvidas (drums) and Fabio Carito (bass). http://www.shadowside.ws / https://www.facebook.com/shadowsideband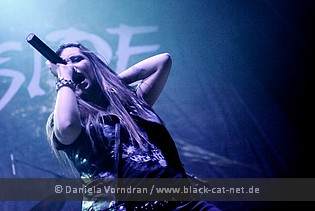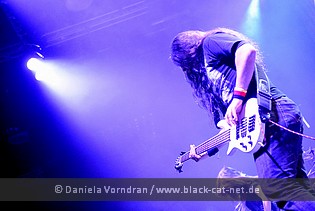 Music & Performance
About ten minutes to eight, SHADOWSIDE entered the stage, a stage which was quite small since most of the space was already reserved for the stage setting of HELLOWEEN. The female-fronted band was up to present their unique mix of Heavy and Modern metal, but did not succeed in the long-run. The sound mix was not optimal in my opinion. The voice of Dani was too weak in comparison to the drums and guitars, at least when you stood farther away from stage. Especially the female high-pitched vocal parts were not really convincing. In the front rows, it might have sounded different. The band played a selection of their own songs, mainly taken from their latest output, 'Inner Monster Out', but also a MOTÖRHEAD cover of 'Ace of Spades', causing huge excitement within the audience. According the light show, the band suffered from the "support act grudge". It was quite dark on stage and sometimes, the musicians' faces were hardly visible. All in all, it was an ok show, but nothing that was really needed since anyone was waiting for the two bands to come anyway.

Setlist
01. I'm Your Mind
02. A.D.D.
03. Highlight
04. Inner Monster Out
05. Ace of Spades (Motörhead cover)
06. Gag Order
07. Waste of Life
08. Angel With Horns

Rating
Music: 7
Performance: 7
Sound: 6
Light: 5
Total: 6.3 / 10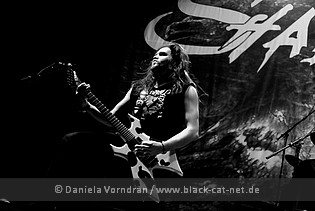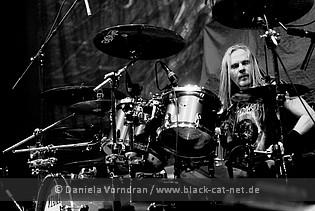 Gamma Ray

German Speed / Power Metal band GAMMA RAY was founded in 1988/89 by Kai Hansen after he had left HELLOWEEN after four years. The band name was taken from the biggest hit, 'Gama Ray', of BIRTH CONTROL, being also included on the album 'Insanity and Genius' from 1993. GAMMA RAY released the first album, 'Heading for Tomorrow', in 1990. Several albums and various other releases should follow. The latest studio album was 'To the Metal!' from 2010 followed by an extended European tour. The live album 'Live-Skeletons & Majesties' was released in 2012, followed by a sign of life in 2013 with a new EP, 'Master of 'Confusion', also containing a few new songs. Currently, GAMMA RAY consists of Kai Hansen (vocals, guitar), Henjo Richter (guitar, keyboards), Dirk Schlächter (bass) and Michael Ehré (drums). http://www.gammaray.org / https://www.facebook.com/gammarayofficial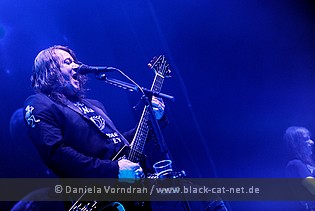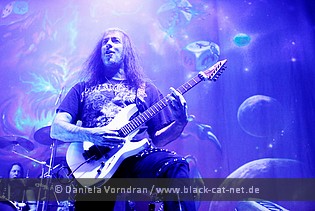 Music & Performance
60 minutes after SHADOWSIDE started their set it was time for GAMMA RAY and their one-hour show. People were looking forward seeing the ex-HELLOWEEN member with his own band now and welcomed the quartet with loud cheers. To the fans' pleasure, the set kicked in with 'Anywhere in the Galaxy' and 'Men, Martians and Machines'. The sound mix was a bit better right now and also the lights a bit brighter. But now you had some smoke covering the artists. Anyway, it was about the music and so, fans enjoyed some tracks, the band did not play that often. The set had also some new material to offer, like 'Master of Confusion' or 'Empire of the Undead', which was surely a head-banging song. The HELLOWEEN song, written by Kai when he still was member, was introduced by a long guitar solo and caused big applause within the audience. The whole set was a sheer Metal firework from start to end. But surely, a few older fan favourites, like i.e. 'Land of Free' or 'Rebellion In A Dreamland', were missing.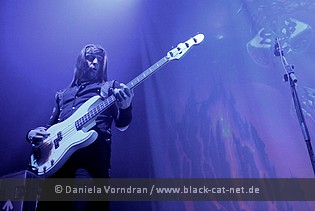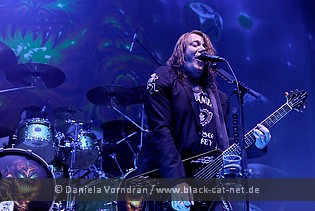 The set ended with 'To the Metal'. People were really excited, and so, there was one more song presented, 'Send me a Sign'. With a long guitar outro and a jump from the drum podium, the show finally found its end, releasing a mostly satisfied audience.

Setlist
01. Intro: Welcome
02. Anywhere in the Galaxy
03. Men, Martians and Machines
04. The Spirit
05. Gamma Ray (Birth Control cover)
06. Master of Confusion
07. Empire of the Undead
08. Empathy
09. Rise
10. Future World (Helloween cover)
11. To the Metal
---
12. Send Me a Sign

Rating
Music: 8
Performance: 8
Sound: 6
Light: 6
Total: 7 / 10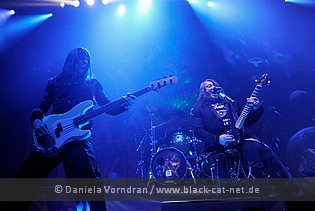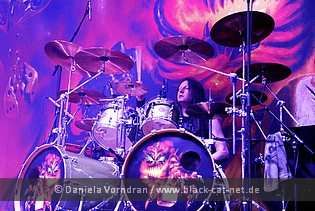 Helloween

HELLOWEEN is one of the most successful Metal bands in Germany. The Speed / Power Metal band was founded 1984 in Hamburg. The first two HELLOWEEN songs were released on the Noise Records compilation 'Death Metal'. Both songs received great critics and so, the label signed the band. 1985, a first EP was released, followed by the debut album, 'Walls of Jericho', in the same year. 1987 saw the breakthrough for the band. First part of the album 'Keeper of the Seven Keys' became one of the most-selling Metal album sin Germany. One year later, the second part was released and was even more successful. The following years saw various line-up changes and several other difficulties in the band resulting in a release break. Following albums lacked quality due to the crisis within the band and with the former record label. With Andi Deris, HELLOWEEN finally found a new, and steady, singer in 1994. Lots of more studio album followed in the time afterwards, the latest one is 'Straight out from Hell' from January 2013.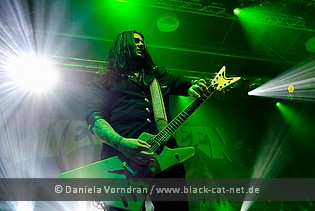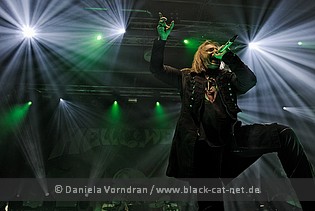 Being on tour with GAMMA RAY before under the headline 'Hellish Rock Tour 2007/2008', the band now tours in support of the new album with GAMMA RAY again, consequently under the motto 'Hellish Rock Part II'. HELLOWEEN is Andi Deris (vocals), Markus Grosskopf (bass), Michael "Weiki" Weikath (guitar), Sascha Gerstner (guitar) and Daniel "Dani" Loeble (drums). http://www.helloween.org / https://www.facebook.com/helloweenofficial

Music & Performance
Short past ten, it was time for headliners HELLOWEEN, entering a stage along with the known intro from 'Walls of Jericho'. The stage was first covered with a camouflage net so you could only see some shadows enlightened by flickering flash lights. When the net finally fell down, the fantastic stage setting was revealed, it was more or less a military scenery, resembling a war zone with broken walls, bringing the 'Straight out of Hell' perfectly onto stage. In the back, a big backdrop could not be missed either. The set following now was of course mainly focussed on the band's latest releases with a few flashbacks to older eras with i.e. 'Eagle Fly Free', 'I'm Alive' or 'If I Could Fly'.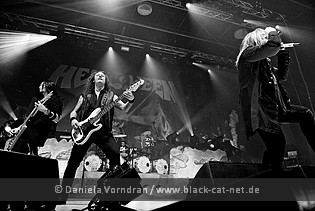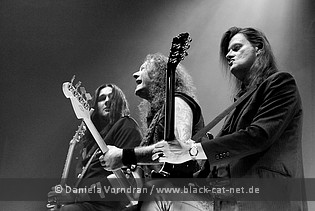 HELLOWEEN sounded really good and straight, handling their set with some kind of routine in posing and so, you sometimes had the feeling they just do their job. But otherwise, the show came over really professional, now with quite well adjusted sound and fantastic lighting. The mandatory medley with Kai Hansen of GAMMA RAY as second encore was probably the highlight of the show for many. The medley consisted of classic 80s hits 'Halloween', 'How Many Tears' and 'Heavy Metal (is the Law'). When the medley was over, the "GAMMA RAY string section" joined HELLOWEEN on stage to conclude the set with HELLOWEEN's biggest hit, 'I want out'. It was definitely great to see both bands performing together on stage, serving a magnificent end of the show. What's left to say at the end? I got anything I expected and I hope, the rest of the audience had the same impression. There were several classic songs in-between the newer material, the audience was going along very well and there were lots of positive vibes in the venue. You should at least see that package once in your life!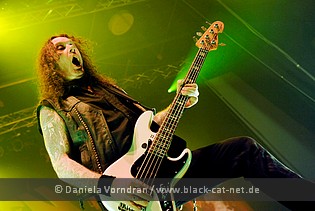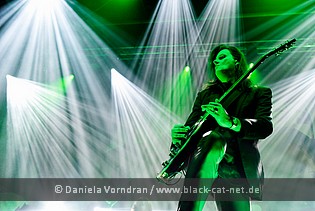 Setlist
01. Wanna Be God
02. Nabataea
03. Eagle Fly Free
04. Straight Out of Hell
05. Where the Sinners Go
06. Waiting for the Thunder
07. Burning Sun
08. Drum Solo
09. I'm Alive
10. Live Now!
11. Hold Me in Your Arms
12. If I Could Fly
13. Hell Was Made in Heaven
14. Power
---
15. Are You Metal?
16. Dr. Stein
---
17. Halloween / How Many Tears / Heavy Metal (Is the Law) / Halloween (with Kai Hansen, With Bass Solo after How Many Tears)
18. I Want Out (with Gamma Ray)
Outro: A Tale That Wasn't Right (Unarmed Version)

Rating
Music: 8
Performance: 9
Sound: 8
Light: 9
Total: 8.5 / 10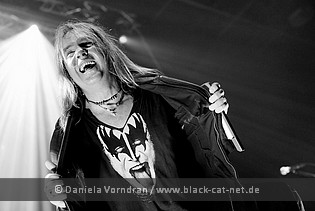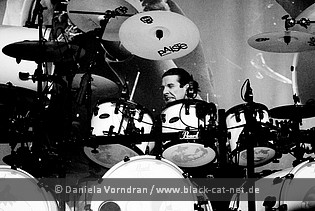 All pictures by Daniela Vorndran (http://www.vorndranphotography.com / http://www.black-cat-net.de/ / http://www.myspace.com/vorndranphotography / http://www.facebook.com/blackcatnet)