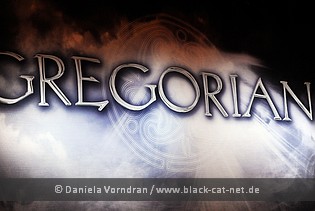 Halle Münsterland, Münster, Germany
21st April 2013
Gregorian

They are mystic, magical, moving and their concerts are goose-bumps guarantor. In spring 2013, the choir went on its biggest tour so far presenting their unique mix of Gregorian chant and modern Rock / Pop music in more than 75 cities worldwide. Of course, their brought along their new album 'Epic Chants'. The German tour ended in Münster, and sadly, this last show was not sold-out unlike so many other shows of the tour before…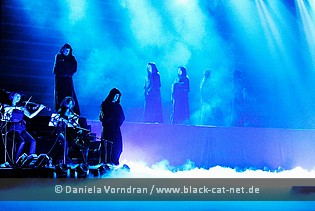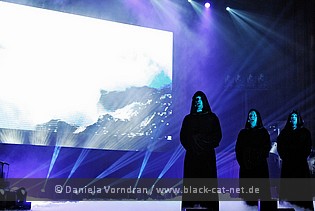 In the 90s, the Hamburger music producer Frank Peterson founded the band GREGORIAN. The band consisting of classically qualified English singers presents works of Pop and Rock music in Gregorian style of the medieval monks. In 1999, their album 'Gregorian Masters of Chant' appeared which became an international success. Then they published a new album every year, the latest one in 2011 called 'Masters of Chant Chapter 8' following the album 'The Dark Side of the Chant' (2010) and the 'Best of 1990-2010' (2011). Although they are not represented in the Top Ten of the charts, they are known by a million audience. Their recently finished tour can be counted as their most successful one up to now with more than 45,000 eager spectators. From November 2011 on, the big Christmas Tour 2011 was taking place in whose course GREGORIAN are appearing in several well-chosen churches. The 2011 tour was the most successful so far with more than 100 sold-out shows. Afterwards, Frank Peterson worked on a new album, 'The Epic Chants', that was released in September 2012.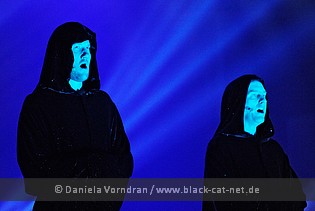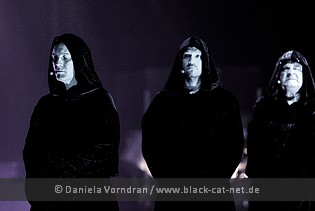 The 'Epic Chants Tour' promised to be something special, not seen during a GREGORIAN tour so far. The tour was leading through Germany, Austria and Switzerland, finding the end in Münster on 21st April 2013. The members of the GREGORIAN choir group in Münster were Daniel Williams, Christopher Tickner, Robert Fardell, Richard Naxton, Gerard O'Beirne, Brendan Matthew, Ashley Turnell and Lawrence White. Others who contribute to the vocals or sound of Gregorian are Sarah Brightman (under the pseudonyms Hepsibah or Sarah Hellmann), Amelia Brightman (Sarah Brightman's younger sister), Frank Peterson, and staff of Nemo Studio among others. During the live show in Bochum, the eight monks were supported by Amelia Brightman and Eva Mali (vocals), new GREGORIAN musician Matthias Meissner (stage piano, keyboard), Harry Reichmann (drums, percussions), long-time supporter Gunther Laudahn on guitar and percussions plus a female string / backing singers quartet. http://www.gregorian.de / http://www.myspace.com/gregorianmastersofchantusa / https://www.facebook.com/pages/Gregorian-Official/146467918732647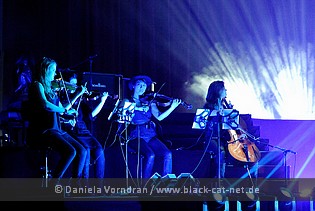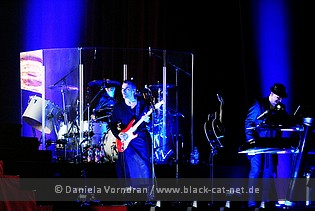 Music & Performance
The kind of music is loved or hated, but the success of GREGORIAN is undeniably. The last station of their current tour was Münster. I was told that many of the shows before were sold-out but sadly, the final show wasn't. Anyway people were looking forward the show a lot. The stage setting and also the line-up was different to the last show I saw in 2011. This time, the monks brought not only Gunther and Matthias as additional musicians, but also drummer / percussionist, Harry – who later would also present some little fire additions – and a female string quartet, also supporting the monks vocally. As female singer, we again got wonderful Amelia Brightman plus new addition Eva Mali. For more than two hours, the show was taking you onto a journey to a different world, presenting the current album 'Epic Chant' and lots of songs from movie classics, supported by movie scenes on a big screens in the back and an extraordinary light show. The show also included several acting scenes, like sword fights, and a lot of fire and laser elements as well as confetti rain.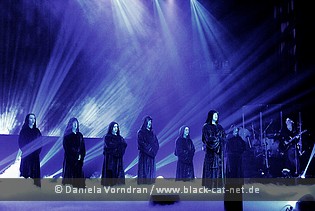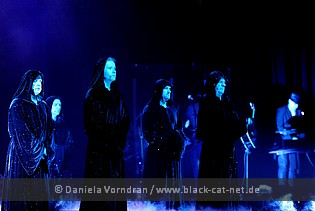 In the course of the show, especially Amelia was an eye catcher, wearing different dresses and big angel wings for the RAMMSTEIN song 'Engel'. The monks itself presented an elaborated choreography, moving around, stepping forward and to the sides or moved in circles. Nothing was left to chance and everything was additionally underlined by well-designed light settings. Even though this performance itself might not be anyone's cup of tea, I have to admit that vocally, the fully convinced. Especially Amelia's clear voice cause me goose bumps more than once. But also Eva was a great addition to the show. GREGORIAN with all monks together is strong as a choir but also one or another solo performance could convince. Surely an entertaining evening you had with GREGORIAN.

Setlist
- Part 1 -
01. Chariots of Fire
02. Conquest of Paradise
03. The Sound of Silence
04. The Rose
05. Streets of Philadelphia
06. Now We are Free
07. Who Wants to Live Forever
08. Engel
09. O Fortuna (Carl Orff cover) (20 Min. Intermission)
- Part 2 -
10. Godfather Theme
11. Bring Me to Life (Evanescence cover)
12. Against All Odds
13. Both Sides Now
14. Nella Fantasia
15. He's A Pirate
16. My Heart Will Go On
17. Kiss From a Rose
18. Piano Interlude (incl. solo 1st. Violin)
19. The Last Unicorn
20. Stay (Far away, so close)
---
21. Hallelujah
22. Kashmir (Led Zeppelin cover)
23. Live and Let Die
24. She
25. World Without End
26. Sky and Sand

Rating
Music: 8
Performance: 7
Sound: 9
Light: 10
Total: 8 / 10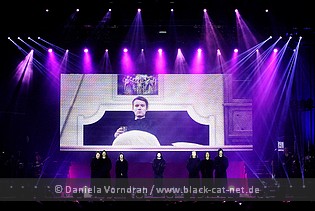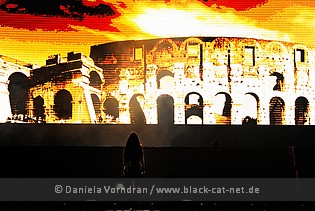 All pictures by Daniela Vorndran (http://www.vorndranphotography.com / http://www.black-cat-net.de/ / http://www.myspace.com/vorndranphotography / http://www.facebook.com/blackcatnet)