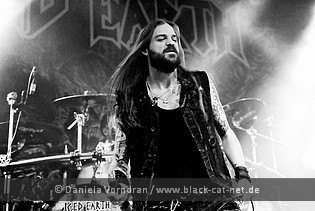 Zeche, Bochum, Germany
13th February 2014
Iced Earth, Warbringer, Elm Street

Searching for a reason to take a day off in the middle of the week? Well metal is a good reason and in metal it doesn`t get any better for this fan boy here than ICED EARTH… who you could experience on that day at an sold-out venue!
Elm Street

Formed in the year 2003 and hailing from Melbourne, Australia, the band ELM STREET plays traditional heavy metal with a sound being a mix of SENTENCED (thanks to vocalist Ben Bartres), IRON MAIDEN (classic metal guitar leads played by vocalist / rhythm guitarist Ben Bartres and lead guitarist Aaron Ardie) and speed metal like HELLOWEEN. According to the Facebook page (the band page is down at the moment) the band entered the studio in September 2010 to record their debut 'Barbed Wire Metal' which saw the light of day in 2011. After the release of their first output the band from down under came up on top and scored tours with the likes of legendary MORTAL SIN and us thrashers TOXIC HOLOCAUST.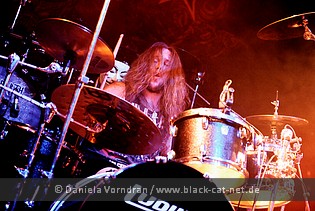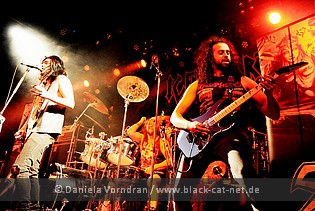 The hard work and constant touring led to a re-release in the United States by Stormspell Records in July 2011. Thanks to the German record company Massacre Records the whole gig led to a worldwide release of the album in October 2011. Now their touring schedule landed them in Bochum, Germany. ELM STREET is Ben Bartres (vocals/ rhythm guitar), Aaron Ardie (lead guitar), Anthony Longordo (bass) and Tomislav Perkovic (drums).
https://www.facebook.com/metalelmstreet
Music & Performance

The band plays very tight and singer Ben Bartres is a bundle of energy, teasing the crowd and quickly gaining friends with his uniquely sounding voice (reminding me again of Ville Laihiala from SENTENCED) overall more than once I think I hear an old song from MEGADETH or TESTAMENT (which is a big compliment). The band storms through their short set and leaves jaws ajar. Speaking only for myself I will surely see these guys again and buy more merch next time if they have long sleeves in my size.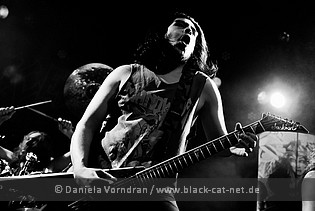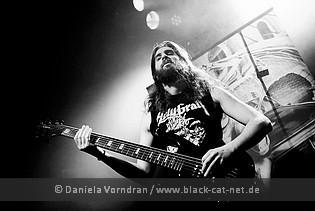 Setlist

01. Heartracer
02. Barbed Wire Metal
03. Merciless Soldier
04. Heavy Mental
05. Elm Street`s Children
06. Face the Reaper
Rating

Music : 6
Performance: 6
Sound : 8
Light: 7
Total : 6.5 / 10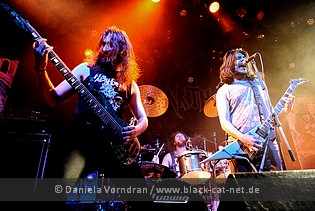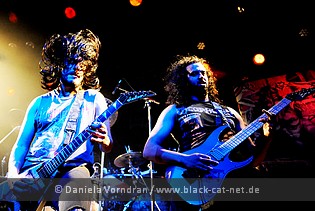 Warbringer

This US Metal combo came into existence in year of 2004 by fellow metal heads that met each other in High School. The Los Angeles domiciled band came around with their fourth record titled 'IV: Empires Collapse' in 2013. It`s their fourth album released via Century Media. In the past the band around vocalist John Kevill toured with the likes of ARCH ENEMY, EXODUS, SUICIDE SILENCE, MEGADETH, NAPALM DEATH, SUFFOCATION, HATEBREED, TESTAMENT, NILE, ICED EARTH, SYMPHONY X, OBITUARY, OVERKILL, KREATOR, DESTRUCTION, NEVERMORE just to name a few. Now in 2014 their touring routine redounds to Germany`s advantage and lands them in Bochum. WARBRINGER is John Kevill (vocals), John Laux (guitar), Jeff Potts (guitar), Ben Mottsman (bass) and Carlos Cruz (drums).
http://www.warbringermusic.com
/
https://www.facebook.com/Warbringermusic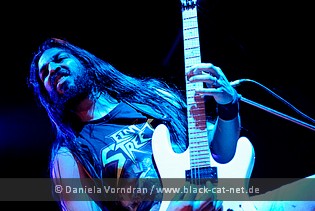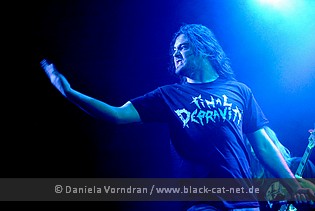 Music & Performance

If you`re into SLAYER oriented bay area thrash you will love WARBRINGER. It`s noise as an art form, feels like a tank drives into your brain. For me as an individual that loves melody oriented music and classically developed vocalists it really is kinda noisy (the crowd though really digs these guys and lies to their feet). I was kind of disappointed sound wise (I liked the band more on cd) but the short comings of the sound (noisy, vague) are not indebted by the band. The whole evening there were moments when the sound varied in a negative way (ulterior vocals etc.). Thus said I will give them another chance the next time their around and play at another location.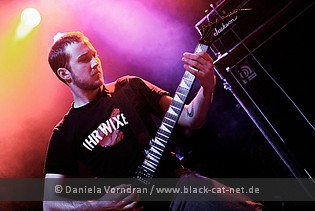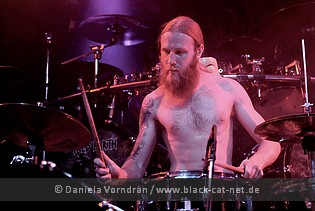 Setlist

01. Scars Remain
02. Iron City
03. Severed Reality
04. Living Weapon
05. The turning of the Gears
06. Total War
07. Living in a Whirlwind
08. Towers of the Serpent
09. Hunter Seeker
Rating

Music: 5
Performance: 5
Sound: 6
Light: 7
Total: 5.5 / 10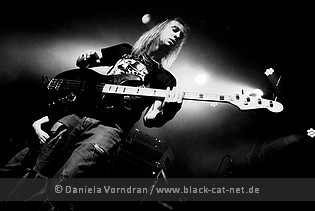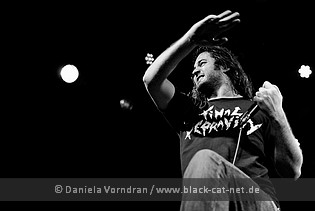 Iced Earth

This unique US metal combo formed in 1984 as PURGATORY until they changed their name to ICED EARTH in 1988. Since those early days, bandleader Jon Schaffer refined and defined the band's sound and his own vision of the bands future. Now 30 years after the formation the band is well-known around the world and 12 records (not to mention live DVD`s and EP`s) are the proof of the bands unique sound and Schaffer's excellent song writing. This band proofed almost invincible they never failed to deliver good records not even due to changes in the band roster. ICED EARTH is Jon Schaffer (rhythm & lead guitar, vocals), Stu Block (lead vocals), Troy Seele (lead guitar), Luke Appleton (bass guitar) and John Dette (drums).
http://www.icedearth.com/
/
https://www.facebook.com/OfficialIcedEarth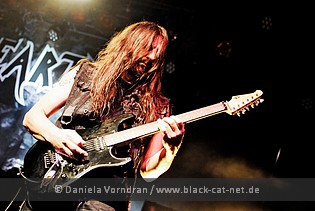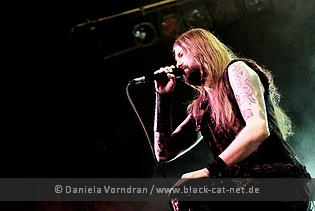 Music & Performance

From the very first riff it becomes very clear that everyone in this location is here for the guys around Jon Schaffer (guitar god) and Stu"cifer" Block (vocal chords of friggin' steel), Troy Seele plays an excellent lead guitar and Luke Appleton's bass is a base you could build a damn skyscraper on, John Dette drums for his life and every ICED EARTH fan considers him/ herself in heavy metal heaven. 18 years ago at the same location with this very band my head banging years started and it almost is as it was those many years ago because this band will always be an affair of the (metal) heart. The room was packed and anyone inside the hall had a great evening of heavy metal music with their old heroes.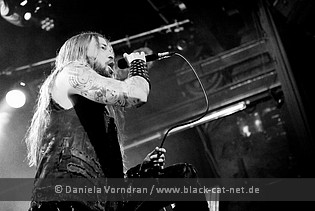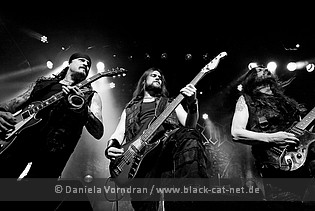 Setlist

01. Plagues of Babylon
02. Apocalypse Segue
03. Democide
04. V
05. If I Could See You
06. The Hunter
07. Among the Living Dead
08. Burning Times
09. Red Baron/Blue Max
10. Blessed Are You
11. Vengeance is Mine
12. Cthulhu
13. My Own Saviour
14. The End
15. A Question of Heaven
---
16. The Coming Curse
17. Dystopia
18. Watching Over Me
19. Iced Earth
Rating

Music: 9
Performance: 8
Sound: 9
Light: 8
Total: 8.5 / 10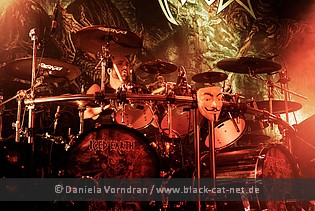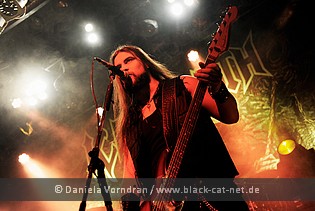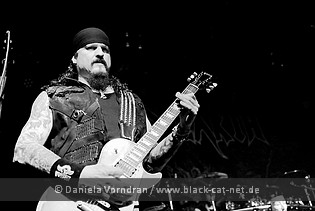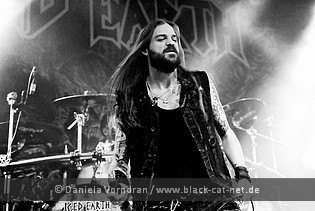 All pictures by Daniela Vorndran (
http://www.black-cat-net.de
/
http://www.facebook.com/blackcatnet
)
See also (all categories):