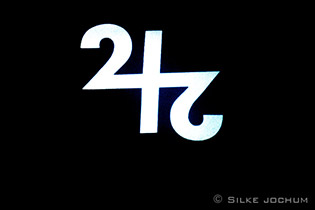 Matrix, Bochum, Germany
4th February 2014
Front 242 & The Juggernauts

Under the banner of old school EBM, people made their way to the Matrix Bochum in order to see FRONT 242, the band that still is a paradigm and inspiration for many following bands of this genre.
The Juggernauts
Like FRONT 242 this band comes from Belgium, too. Founded at the end of 2010 by BORG (composing, lyrics, vocals) and Glenn Keteleer (composing, producing, electronics). BORG was involved with THE KLINIK and another projects when he met Glenn at a concert of THE NEON JUDGEMENT. Soon after they met and started to work together on a new project. Their first song 'Phoenix' was immediately picked up by the German label Out Of Line and was featured on the 'Awake The Machines 7' compilation album in July 2011. Even before releasing an album they were invited to perform at several European festivals and gained a growing fan base.
http://www.thejuggernauts.be
/
https://www.facebook.com/TheJuggernauts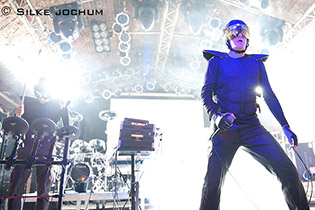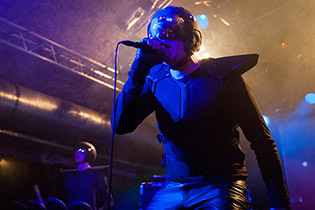 Music & Performance

When the guys entered the stage a good crowd had already arrived. Dressed in black and wearing full-face helmets with black visors they showed up martially and thus reminded of the Marvel comic figures. The stage setting was quite simple with an electronic drum kit and a sampler. As there was not much light but a lot of fog every now and then and some video projection, it was really a hard job for the photographers to take some decent pictures. BORG showed a lot of enthusiasm while performing but it took a while until the audience caught fire. Just close to the end of their show you could see some more people moving. Actually they were not bad but it surely is hard to be opening act for such old stager like FRONT 242 are.
Rating
Music: 6
Performance: 6
Sound: 8
Light: 5
Total: 6 / 10
Front 242

Founded in 1981 in Brussels, Belgium, by Daniel Bressanutti and Dirk Bergen, the band is founder and flagship for EBM as well as role model for many bands of this genre. One year later Patrick Codenys and lead-singer Jean-Luc De Meyer joined them. For their live shows they engaged Geoff Bellingham who was replaced later by Richard Jonckheere (Richard 23). Dirk Bergen left the band in order to work in the management for the band. Right from the beginning their paramilitary appearance on stage was a reason for discussion and the band name was another reason for speculations as well.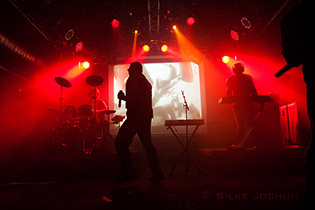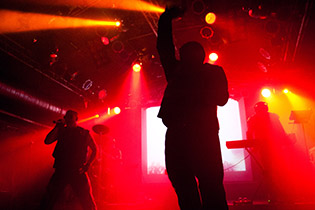 With their three albums 'No Comment' (1984), 'Official version' (1987) and 'Front By Front' (1988) FRONT 242 celebrated great success and had the opportunity to be supporting act for DEPECHE MODE on their 'Music for the masses' tour so that they had the opportunity to introduce their music to a greater audience and gather some more fans. In 1990 FRONT 242 had a deal with a major record label but their fourth album 'Tyranny For You' couldn't tie in the success of 'Front By Front'. In 1993 after the performing at the Lollapalooza festival Richard left the band and in 1995 Jean- Luc as well which meant the end for the band. Fortunately for the fans the band reunited in 1997 and started to tour again. Then in 2003 they finally released a new album 'Pulse'. Up to now they released 14 albums, including live albums and re-releases, as well as 22 EPs/ singles.
http://www.alfa-matrix.com
/
https://www.facebook.com/Front.242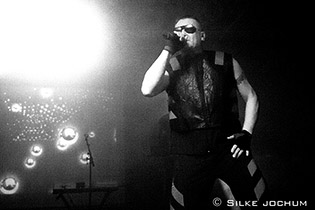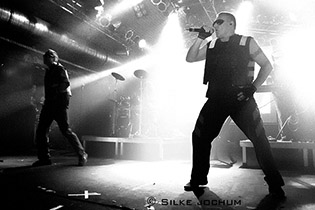 Music & Performance

During the stage rebuilding more people filled the venue and it was almost sold out when the guys entered the stage. It didn't get much brighter when the band performed so that the performance was almost a shadow play but this certainly belongs to EBM performances. Right from the beginning the crowd began to dance and some to pogo and Jean- Luc and Richard 23 were dancing the whole time as well. Obviously the sound was too low as the audience shouted several times to turn up the volume. With a good mixture of songs of their, more than 25 years, career they got the crowd going and raised the temperature of the venue quickly. Surely we haven't had to miss 'Headhunter' presented in a remixed version that I didn't know, but the audience sang enthusiastically with the band. I have seen FRONT 242 some years ago on a festival. Not sure if it was the lack of alcohol on this evening or if just the atmosphere didn't feel right, but though they played a longer set than it is possible at a festivals of course,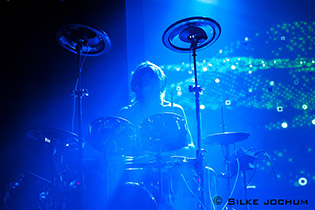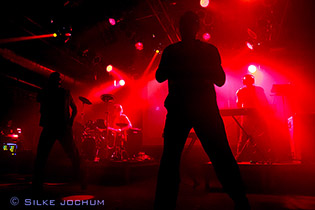 I didn't really catch fire. But probably it had to do with my ignorance of most of their songs. Anyway despite the sound issue I saw many happy fans after the concert.
Setlist

01. Moldavia
02. Body to Body
03. No shuffle
04. Lovely day
05. 7Rain
06. Together
07. Headhunter
08. Take one
09. Triple X Girlfriend
10. Quite unusual
11. U-Men
12. Funkadhafi
13. Commando Mix
14. Melt
15. Im Rhythmus Bleiben
16. Welcome to Paradise
---
17. Loud
18. Punish Your Machine
Rating

Music: 7
Performance: 7
Sound: 8
Light: 5
Total: 7 / 10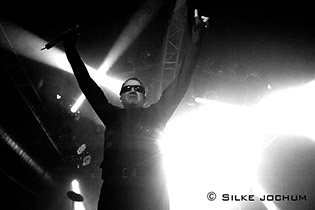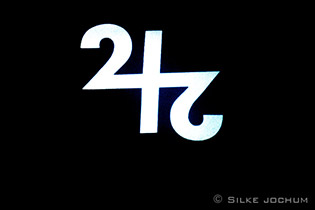 Pictures by Silke Jochum (
http://www.silke-jochum.de/
)