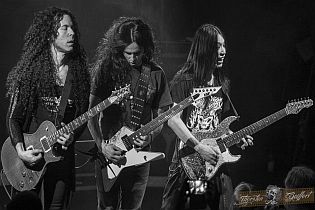 Turock, Essen, Germany
15th May 2014
Gus G and Marty Friedman

This Thursday the guitar gods visited the Turock in Essen to show us their otherworldly skills. Even though both, Friedman and Gus G, are extremely talented musicians and role models in their craft my excitement had its limits but read on for the clue… Sadly, the show was not very well attended. Both artists surely deserve more attention.
Gus G

Greek Heavy Metal guitarist Gus G, alias Kostas Karamitroudis, is best known for his engagement in his own band FIREWIND as well as guitarist of OZZY OSBOURNE. Furthermore he worked for the bands MYSTIC PRPHECY, NIGHTRAGE, ARCH ENEMY and DREAM EVIL. Gus started playing the guitar with ten years, influenced by Peter Frampton and Al Di Meola. He started studying in Berkley, but soon left collage to work as metal guitarist. After playing for several bands he replaced Zakk Wylde in OZZY OSBOURNE's band in 2009. With his own band FIREWIND he released seven albums. In March 2014 he released his first solo album 'I am the Fire' with several guest vocalists and musicians. Guitarist GUS G is supported live on stage by Mats Levén (vocals, CANDLEMASS), Or Lubianiker (bass) and Johan Nunez (drums).
http://www.gusgofficial.com
/
https://www.facebook.com/officialgusg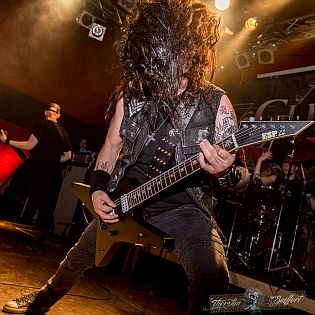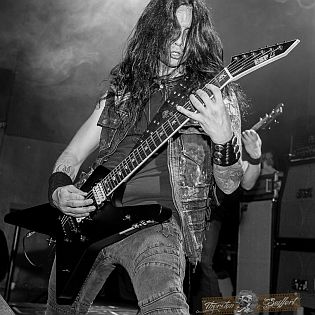 Music & Performance

Gus and his guys are excellent musicians, which is needless to say. The real surprise on that evening was Mats Leven (totally unknown to me until the review of GUS' album). That guy transformed a very good performance into a great experience for the crowd. This gig had it all - mad skills, nice stage acting and a funny vocalist with vocal chords made of steel. The light on this evening was awful because half of the time I couldn't see the band because the spotlight shone into the crowd. The highlights of the set were 'Fire & Fury' and 'I am the Fire'. I am sure that I will see these guys again and next time I will buy more merchandise and CDs.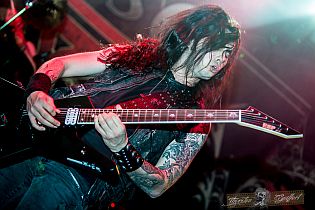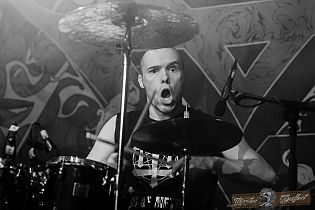 Setlist

01. My will be done
02. Eyes wide open
03. Blame it on me
04. Vengeance
05. Summer Days
06. Just can`t let go
07. Hollywood (Down on Your Luck) (Thin Lizzy cover)
08. World on Fire (Firewind song)
09. The Fire and the Fury (Firewind song)
10. Terrified (Black Sabbath cover)
11. Into the Void
12. Redemption
13. I am the Fire
14. Crazy Train (Ozzy Osbourne cover)
Rating

Music: 8
Performance: 7
Sound : 7
Light: 3
Total : 6.5 / 10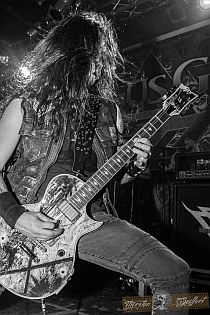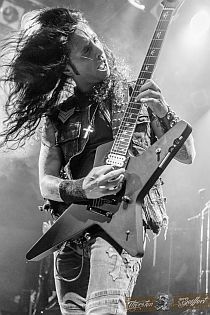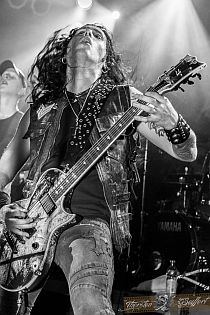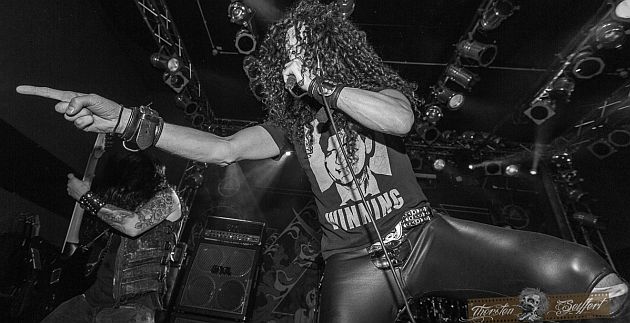 Marty Friedman

US American guitarist MARTY FRIEDMAN, who is also presenter of a Japanese show about playing guitar (he is also living in Tokyo, Japan), is very well-known and often idolized. He played in such bands like VIXEN; HAWAII, CACOPHONY and MEGADETH. In MEGADETH, he played from 1990 to 1999 as lead guitarist. FRIEDMAN released several albums with those bands. Already in 1988 he also started working as solo artists and released his first solo album 'Dragon's Kiss', followed by several more. His latest album 'Inferno' is released in May 2014. Guitar hero FRIEDMAN, who is famous for his interpretations, is supported on stage by Takayoshi Ohmura (guitar), Or Lubianiker (bass) and Johan Nunez (drums).
http://www.martyfriedman.com
/
https://www.facebook.com/martyfriedman.official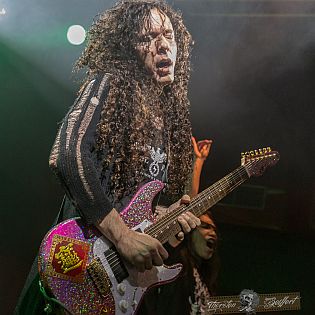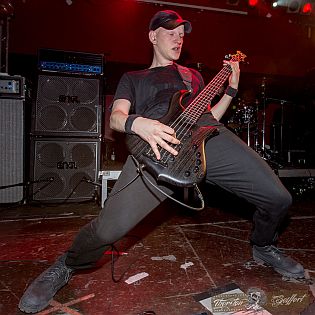 Music & Performance

I have to admit that I am not a fan of instrumental metal… at all! As soon as I discovered that there will be no vocalist on stage I was bored. I know, this is really a personal impression… Sure Friedman is a god among men considering his talent as a guitar player but there is no soft spot in my heart for shredding and I need a singer (not to mention that the light was still awful). So okay for those in the crowd who love instrumental YNGWIE MALMSTEEN like shredding this set was a gift of god but for me it was boring. Despite the fact that I did not really could dig into the gig, people attending the show –mainly male fans – of course knew what to expect and enjoyed the evening of extensive guitar madness.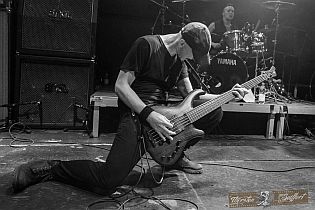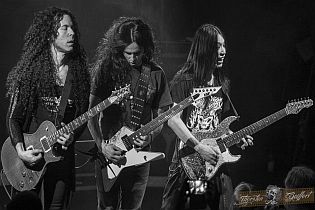 Setlist

01. Hyper Doom
02. Steroidhead
03. Stigmata Addiction
04. Elixir (2014 version)
05. Amagigoe
06. Kaeritakunattayo
07. Inferno
08. Ashes
09. Forbidden City
10. Tornado of Souls (Megadeth song)
09. Ripped (Omura Solo)
10. Devil Take Tomorrow
11. Ballad of the Barbie Bandits
---
12. Symptom Of The Universe (Jm with Gus G.)
Rating

Music: 8
Performance: 7
Sound: 7
Light: 3
Total: 6.5 / 10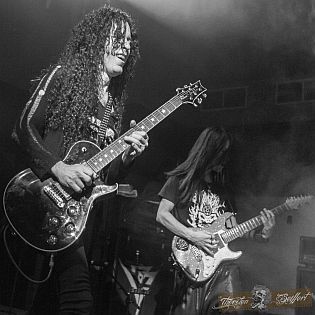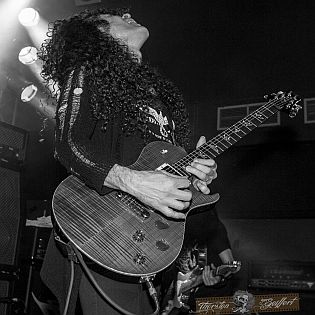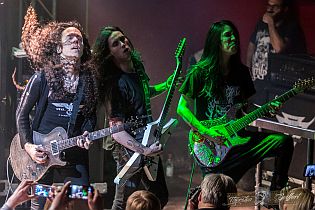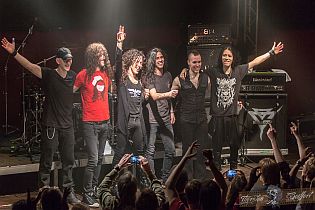 All Pictures by Thorsten Seiffert (
http://www.rocknroll-reporter.de/
)