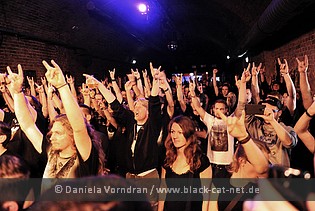 Matrix, Bochum, Germany
2nd November 2014
Insomnium, Fleshgod Apocalypse, Stam1na

The Finnish Melodic Death Metal heroes INSOMNIUM visited the Matrix in Bochum on their "Shadows of the dying Sun over Europe" tour. It is my first concert after a long period of sickness and the first time I come to see INSOMNIUM.
Stam1na

Like the headliners INSOMNIUM, STAM1NA are coming from Finland. Founded in 1996, releasing countless demos, the band released its first, self-titled, album in spring 2005. The band's second album 'Uudet Kymmenen Käskyä' charted on rank three in Finland and was in the top40 for whole 17 weeks! It also received the "Emma Award" (Finish Grammy) as best Metal album of the year. In 2008, the band released their their third studio album. Their sixth album 'SLK' came out in September 2014. STAM1NA is Antti Hyyrynen (vocals, guitar), Pekka Olkkonen (guitar), Teppo Velin (drums), Kai-Pekka Kangasmäki (bass) and Emil Lähteenmäki (keyboards).
http://www.stam1na.com
/
https://www.facebook.com/Stam1naOfficial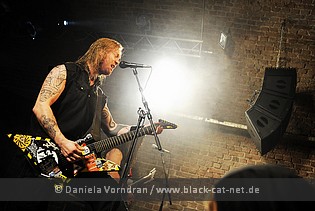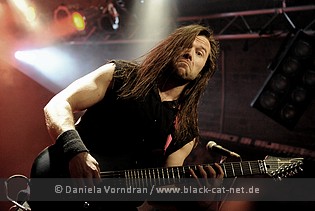 Music & Performance

On a box on the left is a Norway flag so placed that it shows an inverted cross (They are from Finland???) in the middle of the stage is a small table with a laptop placed on it. The glowing of the logo creates a weird atmosphere in my mind. Maybe my brain plays Mayhems "Freezing Moon" with Apple instead of the moon. That's the price I have to pay for not drinking alcohol anymore, damn fantastic. Ok back to the topic. There not very much people in the Matrix. Maybe 50 or so. It is getting dark, only the Apple is glowing and five guys enter the stage. Thrashing forward, the vocals remind me to some Bay Area stuff. Some progressive and some very strange parts are decorating the Thrash influenced Metal music. After two songs the singer speaks to the crowd "Stam1na, ist alles klar", applause, "Das ist super cool". These guys are very likable, but their music sounds a little too weird for my ears. More and more people are entering the Matrix, some of the really like the music.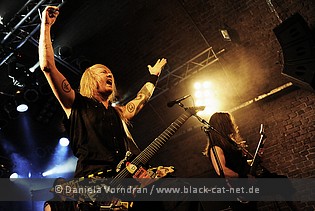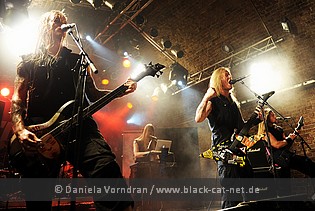 I think it is really hard work to be the opening band on a Sunday evening, especially when the weekend started with Halloween. After 45 minutes the band says goodbye with the words: "Gute Nacht! Ich liebe dich!"
Setlist

01. Paha Arkkitehti
02. Hammasratas
03. ...Ruoskitut Hevoset
04. Masiina
05. Valtiaan Uudet Vaat
06. SLK ilman doomia
07. Viisi Laukausta Pääh
08. Panzerfaust
Rating

Music: 6
Performance: 7
Sound: 6
Light: 7 (10 for the hypnotising Apple Laptop)
Total: 6.5 / 10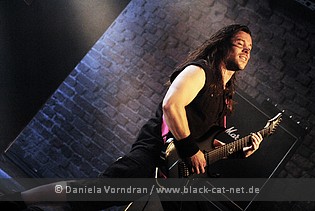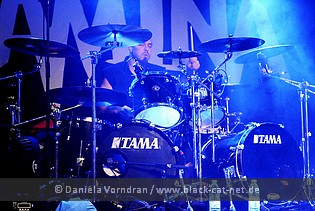 Fleshgod Apocalypse

This band comes from Italy and so they are the strange foreigners of this tour between all those Finnish guys. They are also the youngsters of this tour, FLESHGOD APOCALYPSE was founded just in 2007. With three releases under their belts, 'Oracles' (2009), 'Mafia EP' (2010) and 'Agony' (2011), the band has become one of the most talked about bands in the extreme scene. Their latest release is 'Labyrinth' and was out in 2013. As soon as the album has come out the band started touring in North America and Europe, supported by and incredible response to their new music. FLESHGOD APOCALYPSE is Tommaso Riccardi (vocals & guitars), Paolo Rossi (vocals & bass), Cristiano Trionfera (vocals & guitars), Francesco Paoli (drums, guitars & vocals) and Francesco Ferrini (piano, orchestra).
https://www.facebook.com/fleshgodapocalypse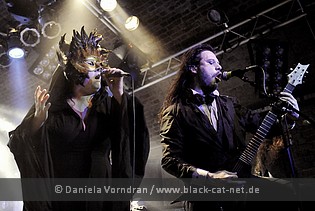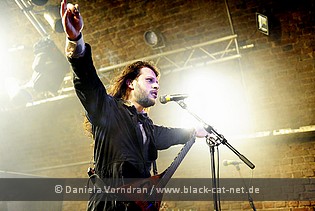 Music & Performance
A dramatic intro starts and the band dressed up very elegant and with a vampire styled make-up places themselves on the stage, which is decorated with banners showing a Minotaur and a Greek hero. They are a companied by a masked female singer, sadly on the first songs most of the vocals of the are swallowed by the drum sound, bad mix, sadly a known problem in the Matrix. The music is very hard but also with lots of kitsch and bombastic effects. Typical for Italian bands. I don`t like it very much and some other people look so too. The sounds getting better and lots of people like it, the band is very happy and while a theatrical outro is playing they thank the audience and do this with very much style and elegance.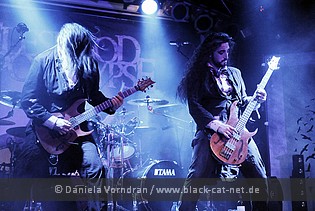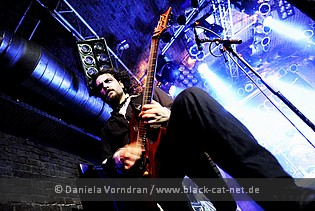 Setlist

01. Intro (Temptation)
02. The Hypocrisy
03. Minotaur (The Wrath of Poseidon)
04. Requiem In Si Minore
05. Pathfinder
06. Prologue
07. Epilogue
08. The Violation
09. The Egoism
10. The Forsaking
Rating

Music:5
Performance:8
Sound:5
Light:7
Total: 6 / 10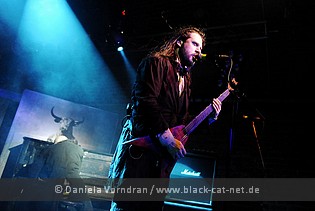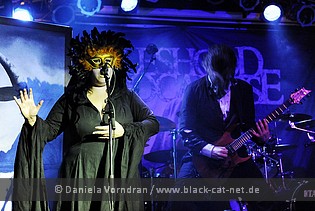 Insomnium
INSOMNIUM are on the path of Swedish melodic Death Metal but have given it a massive print of their own Finnish flavour. The band found their beginning in 1997 The band is currently signed to Century Media Records and has thus far released six studio records, among those pieces such as 'Since the Day it all Came Down' (2004) and 'Across the dark' (2009). With their album 'Shadows of the dying Sun', released in May 2014, they continue their quest of bringing out brilliant melodic Death music and now it is the time to show it on the road to their fans. From a musical point of view, the band may be assembled to bands like AT THE GATES or DARK TRANQUILLITY; lyrically, they are setting different pieces of world literature into music. INSOMNIUM consists of Niilo Sevänen (vocals, bass), Ville Friman (guitars, vocals), Markus Vanhala (guitars) and Markus Hirvonen (drums).
http://www.insomnium.net
/
http://www.facebook.com/insomniumofficial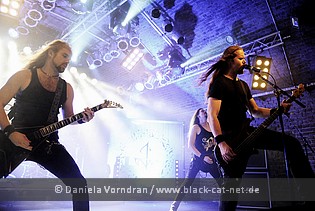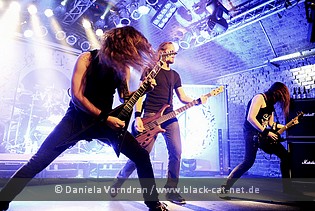 Music & Performance
After being warmed up by two very special sounding bands, the fans get what they are waiting for, INSOMNIUM. They open their gig with the first song of the new album, 'Primeval Dark', followed by 'While we sleep' and 'Revelation', exactly in the order of the new album. But after that they play songs from other albums and gave their fans what fans always want the old smashers. I think they have covered up every album with nearly one song. Seems every things all right well playing band and happy fans. Fans of quality Melodic Death Metal were surely enjoying this evening, despite the new album is not offering a radical departure from previous releases. Their mixture of heavier and darker elements worked well on the audience, who reacted pretty enthusiastically. A nice atmosphere was created and the band's members were performing encouraged and professional. Perfect ending for a long Halloween weekend.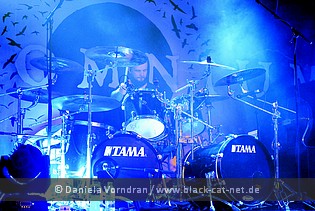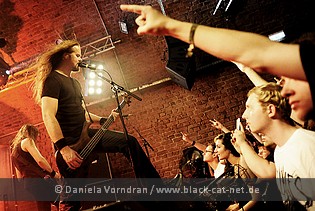 Setlist

01. Primeval Dark
02. While we sleep
03. Revelation
04. Daughter of the Moon
05. Only one who waits
06. Harrowing years
07. Weather the Storm
08. The Elder
09. Last Statement
10. Ephemeral
11. Promethean Song
12. The Gale
13. Mortal Share
14. Unsung
15. Weighed Down
Rating
Music: 8
Performance: 6
Sound: 7
Light: 7
Total: 7 /10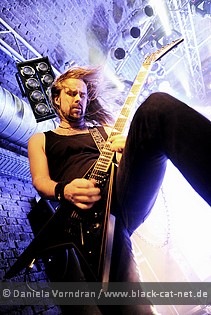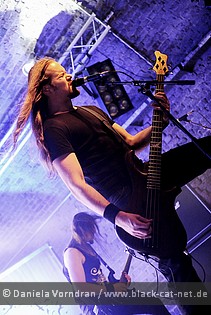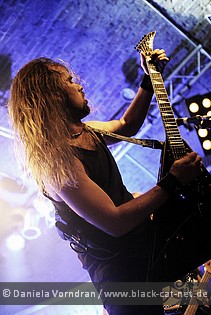 All pictures by Daniela Vorndran (
http://www.vorndranphotography.com
/
http://www.facebook.com/blackcatnet
)