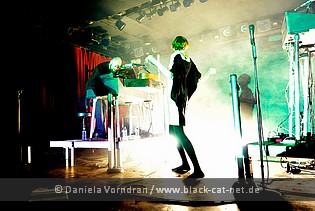 Sputnikhalle, Münster, Germany
19th December 2014
Hundreds & Miss Kenichi

My first contact with HUNDREDS was when I heard a song of the band in local radio. Then, they were playing at Wave Gotik Treffen 2014 in Leipzig, but sadly I could not make it. The happier I was when I saw the band finally playing in my home town. No question that I would finally check them out playing live after all those positive critics I heard.
Miss Kenichi
Songwriter and multi-disciplinary artist MISS KENICHI has released all in all three albums so far, the latest one being 'The Trail', out in November 2014. While the first two released were more low-key albums, her new output is a giant leap forward. 'The Trail' is an album full of shadows and glooms. Lyrically, it leans upon the nature amid which she grew up, "with frequent references to mountains, rivers, storms and skies…" (Wyndham Wallace). As MISS KENICHI is signed on the same label like HUNDREDS she was invited to support them on tour. As she said, she usually performs with a band, but in Münster, she stood there all alone on stage, only equipped with her guitar which accompanies her soft voice perfectly. Musically, she moves somewhere between FEIST and PJ HARVEY and I must say her shirt set impressed me. Each song ended with a little shy smile and was rewarded with clapping. The audience liked what it heard.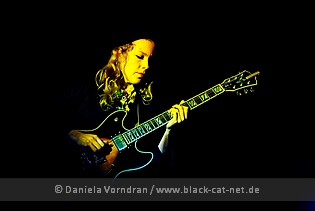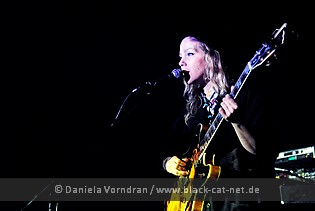 With 'The Fire', she presented a new song as well. For 'Bobby Bacala', she added some harmonica sounds as well. The very last song was 'Blanket' which was presented without any instruments at all, just concentrating on her voice! Great! I really need to dig into her albums since so far MISS KENICHI was totally unknown to me.
http://www.misskenichi.com
/
https://www.facebook.com/misskenichi
Setlist

00. Intro
01. Mountain High
02. Who Are You
03. Open Fields
04. Fire
05. Bobby Bacala
06. Blanket
Rating

Music: 8
Performance: 8
Sound: 7
Light: 7
Total: 7.5 / 10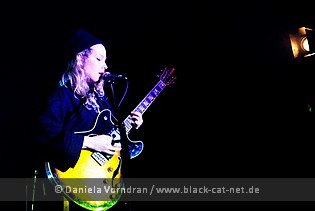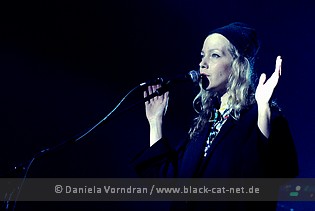 Hundreds
HNDREDS, that's the Hamburg sisters Eva and Philip Milner. Eva is responsible for lyrics, vocals and the autoharp while her brother Philip operates synthesizer and piano. On stage, they are supported currently by a third musician, mainly responsible for percussions. Would have lived to tell you his name, but could not find any information about him. The duo caused a first stir with their video 'I love my Harbour', Eva's declaration of love to the Hamburg harbour. The self-titled debut album was released in 2010, followed by the second album 'Variations' in 2011, containing a mix of Folk, Indie and club oriented material. During their live-shows, the electro pop being presented on the albums is transformed with much love for details and so, concert goers will be excited from the first second. The sound of laptops, keyboards and percussions is wonderfully accompanied by Eva's warm and versatile voice.
http://www.hundredsmusic.com
/
https://www.facebook.com/hundredsmusic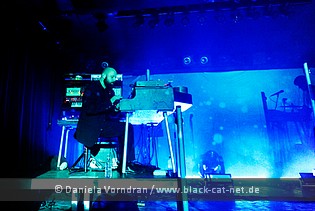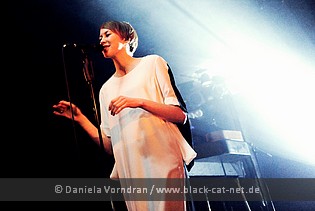 Music & Performance

The rebuilding break was short and before HUNDREDS entered the stage, already silent music and birds' twittering were announcing the band who opened up the set with 'Aftermath' from the same titled, current album. As the band stated shortly after, they have already played in Münster, back in 2011 at the Gleis 22. They asked who of the attendees was there and there were just a handful of people raising their hands. Seems the popularity was at least increasing. For their live show, the duo was adding an additional musician, so you had Eva in the middle, walking without shoes, her brother on the left and the percussionist on the right. Besides, everywhere on stage there were neon tubes placed creating simple, but wonderful light effects in combination with the videos and animations from the video beamer. While the male musicians of course rather were steady, Eva was very vivid showing her dance interludes, being probably especially choreographed for each song.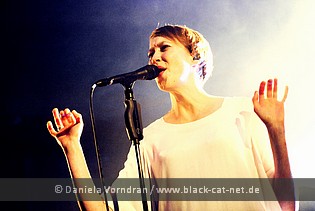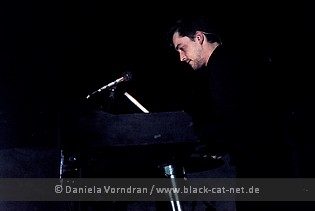 The setlist of course contained several songs of the current album, like the already mentioned title track, but also i.e. 'Ten Headed Beast', 'Rabbits On The Roof' or 'Beehive', just to name a few. Of course there were also several older songs, partly newly interpreted. For the last song of the main set, 'Grab The Sunset', Philip delivered some additional vocals too. HUNDREDS came back for a few more songs, starting the encore bloc with the calmer 'Foam Born', originally a composition of TOUCHY MOB. 'Circus' and 'Song For A Sailor' followed. At the very end, Eva presented 'Little Heart' together with Philip. For me, the HUNDREDS show was a premier and I really loved it. It will surely not be my last live contact to the band.
Setlist

01. Seals (Intro)
02. Aftermath
03. Fighter
04. Solace
05. Beehive
06. Ten Headed Beast
07. Please Rewind
08. Wait For My Raccoon
09. Rabbits On The Roof
10. Stones
11. Our Past
12. Happy Virus
13. Let's Write The Streets
14. Grab The Sunset
---
15. Foam Born
16. Circus
17. Song For A Sailor
18. Little Heart
Rating

Music: 9
Performance: 8
Sound: 8
Light: 9
Total: 8.5 / 10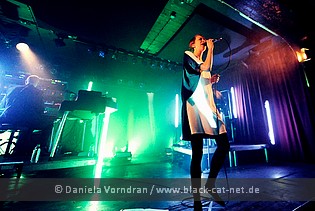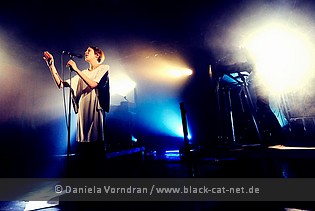 All pictures by Daniela Vorndran (
http://www.vorndranphotography.com
/
http://www.facebook.com/blackcatnet
)