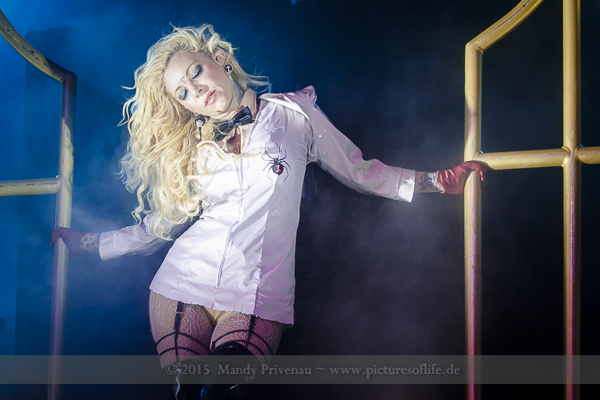 Grünspan, Hamburg, Germany
23th February 2015
In This Moment, Fearless Vampire Killers, Starset

"Death Metal Barbie" Maria Brink and her band are visiting Europe for the very first time on a headliner tour. The small tour also leads them to Germany where their popularity is rising. IN THIS MOMENT have chosen two equally avant-gate support bands to accompany them.
Starset

STARSET is an American Rock band formed by Dustin Bates, lead vocalist of DOWNPLAY. They released their debut album 'Transmissions' in 2014. The music on 'Transmissions' has been compared to the style of LINKIN PARK and SKILLET.
http://www.starsetonline.com
/
https://www.facebook.com/starsetonline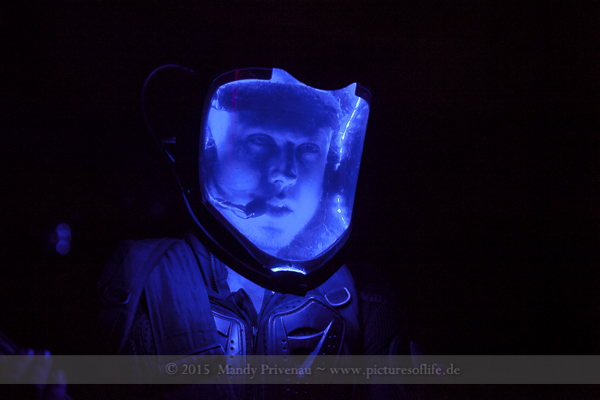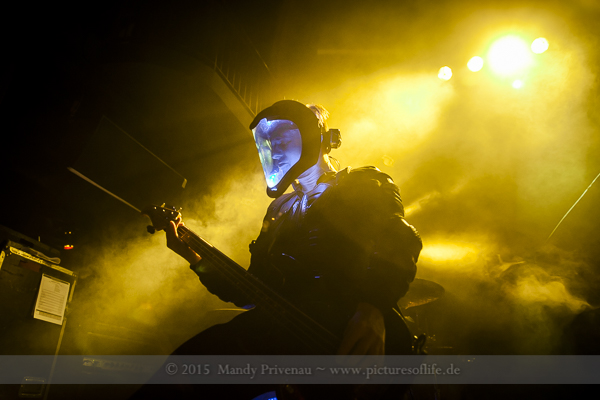 Music & Performance

STARSET got the opening slot at 8pm for the Europe tour with IN THIS MOMENT. Their show time was limited to 30 minutes. The lavish outfits showed the musicians in spaceman-like uniforms. In contrast to the quite well-designed and illuminated helmet constructions, the motorcycle suzerains seemed a bit ragged underneath their clothes. Apart from the illuminated blue faces one couldn't see a lot of the musicians through their helmets and there was no light show involved at all. Singer Dustin Bates performed unspectacularly with a leather jacket and black jeans. He interacted with the invisible back of a music pad and adjusted the vocals and background noises of a song from time to time there. Actually a nice idea but unfortunately the big mat screen construction disrupted the set and the view at the singer was very limited.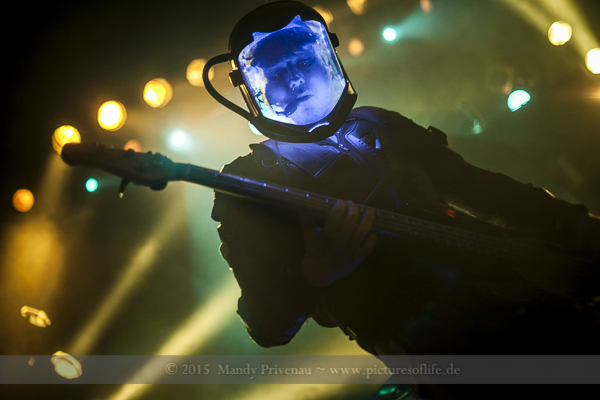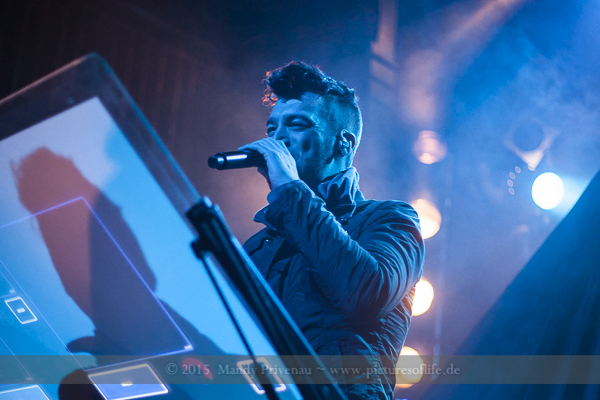 The eight songs were presented very well vocally, though. The number of visitors was starting to increase and they were very fond of the Americans. The Grünspan continued to fill and it started to get tighter even in the first rows.
Setlist
01. Rise and Fall 

02. Carnivore 

03. Halo 

04. Antigravity 

05. It Has Begun 

06. Let It Die 

07. My Demons
Rating
Music: 7
Performance: 5
Sound: 7
Light: 4
Total: 5.8 / 10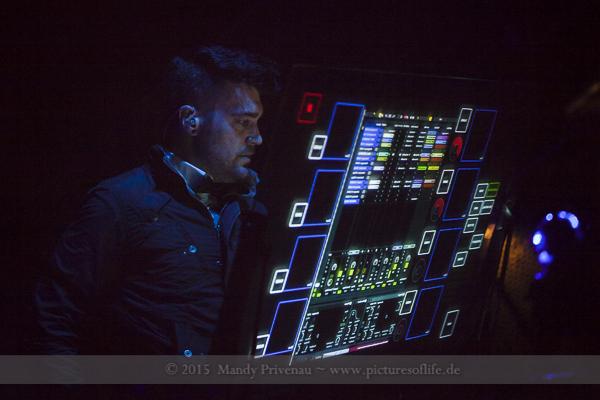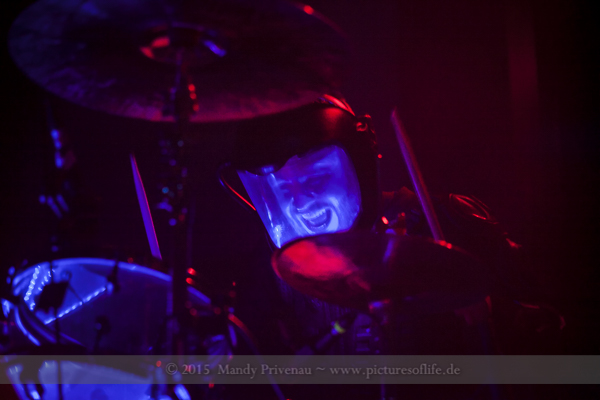 Fearless Vampire Killers

FEARLESS VAMPIRE KILLERS are an alternative rock band consisting of five members. The band was founded in 2008 in London. They are comprised of the singer and guitarist Laurence Beveridge, Kier Kemp who is also the singer and guitarist of the band, bassist Drew Woolnough, lead guitarist Cyrus Barrone (real name Shane Sumner) and drummer Luke Illingworth (known as Pillnahn). The name of the band comes from Roman Polanski's film "The Fearless Vampire Killers". Their debut was named 'Militia of the Lost' and released in 2012.
http://fearlessvampirekillers.com
/
https://www.facebook.com/wearefearlessvampirekillers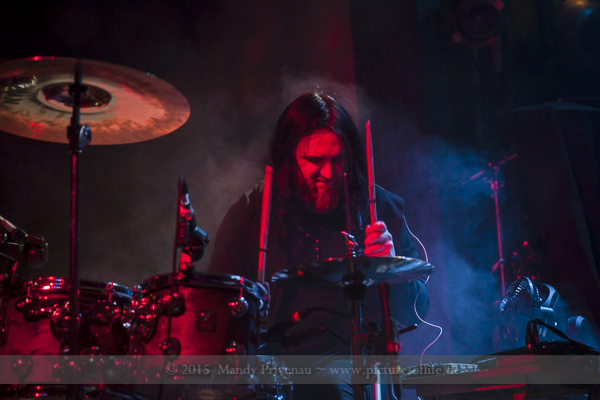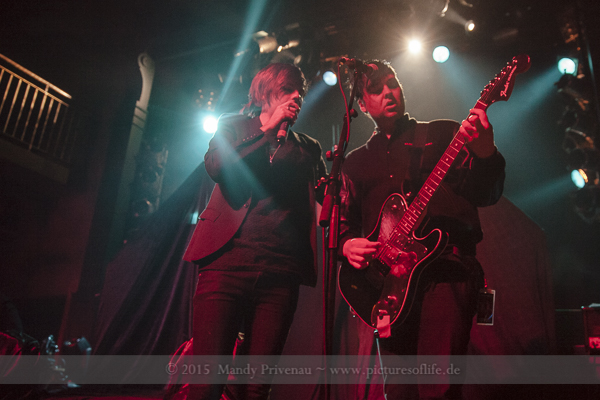 Music & Performance

Singer Laurence jumped onto the stage energetically after a short intro . From the very first moment on, he radiated joy and party atmosphere that couldn't be escaped. The audience started to dance along and people were also fond of the singer's look. He switched constantly from vocals to guitar so Kier also got a chance to show his skills as the second singer. Personally, I believe that Laurence was received much better, though. In the middle of the set they covered 'I'm Still Standing' from ELTON JOHN which broke the spell and brought the party on. Unfortunately the show abated at the end of the 40 minutes show and one could look into many bored faces.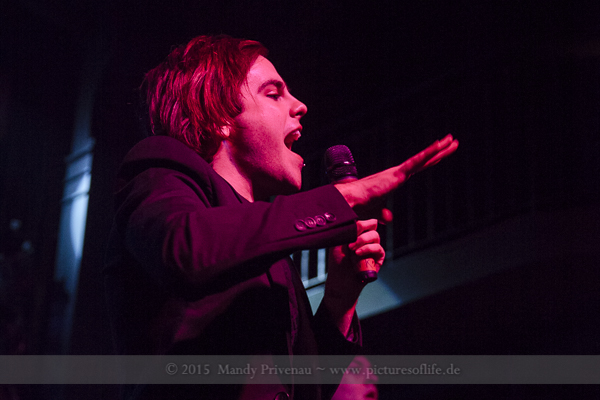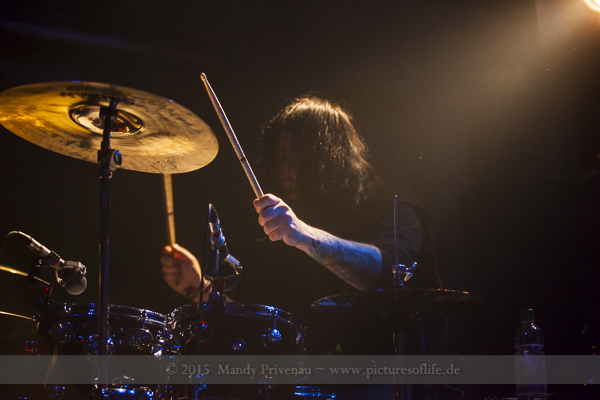 Setlist

01. Say What You Want From Me
02. Maeby
03. Bite Down on My Winchester
04. I'm Still Standing (Elton John cover)
05. All Hallow's Evil
06. Could We Burn, Darling?
07. Neon In The Dance Halls
08. Unbreakable Hearts
Rating

Music: 7
Performance: 7
Sound: 7
Light: 6
Total: 6.8 / 10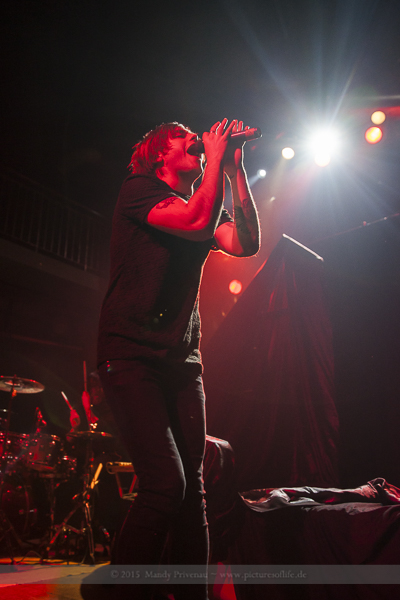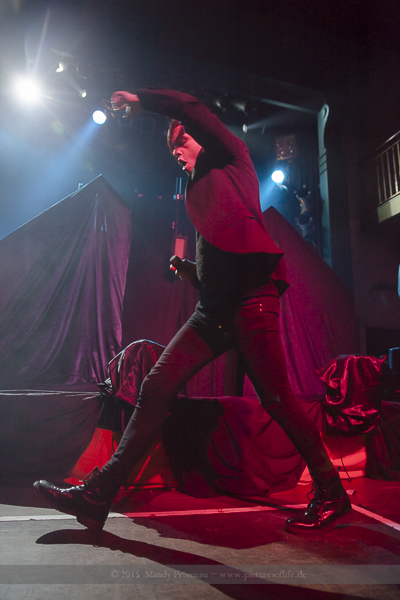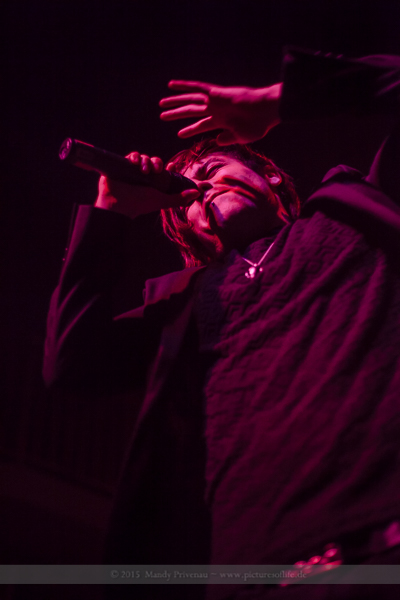 In This Moment

And yet we have the third bands from California here, IN THIS MOMENT from Hollywood. Singer Maria and guitarist Chris met in 2005 in Hollywood and started writing songs together. With drummer Jeff, they were entering the studio to record a first demo. Exceeded by guitarist Blake and bassist Jesse, the band IN THIS MOMENT was born. Soon, they were signed by Century Media, the debut album 'Beautiful Tragedy' was recorded and released later in June 2007. A tour with 3 INCHES OF BLOOD followed. Constantly touring brought them a good reputation as great live act. In October 2008, the second album 'The Dream' followed. Their third album, 'A Star-Crossed Wasteland', was released in 2010 was their highest-charting album up to then. The band's latest album is called 'Black Widow' and was out in November 2014 via Atlantic Records (Warner). IN THIS MOMENT is Maria Brink (vocals), Chris Howorth (lead guitar), Travis Johnson (bass), Randy Weitzel (guitar) and Tom Hane (drums).
http://www.inthismomentofficial.com
/
https://www.facebook.com/officialinthismoment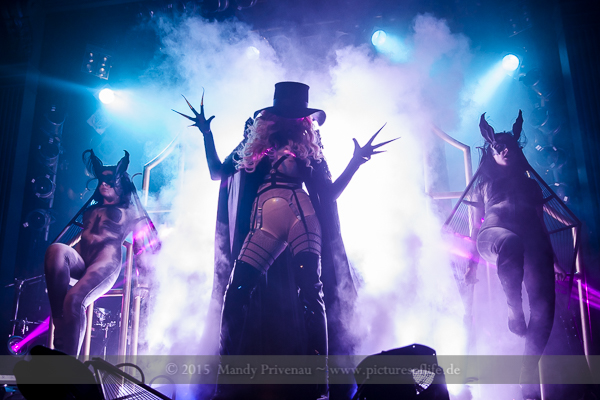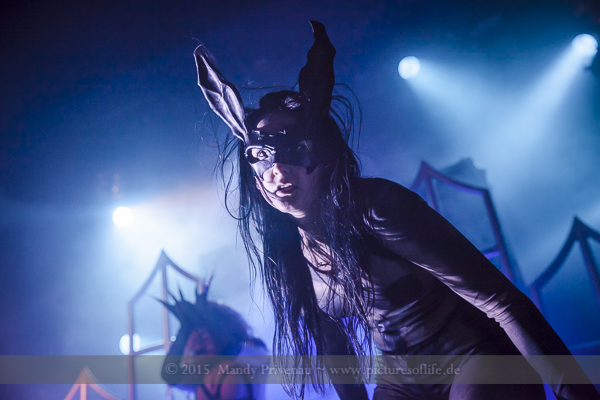 Music & Performance

After a 50 minutes long change-over, Death Metal Barbie Maria Brink finally entered the stage mysteriously through a tiny curtain at 10.15pm. The opulently dressed singer placed herself on a pedestal between two dancers who accompanied the entire show with their performance. Optically appealing but unfortunately a bit tedious for the audience was Maria's habit to disappear behind the tiny curtain after every(!) song in order to get changed for literally five minutes… After every song! Those minutes were filled with dance, long interludes or guitar solos of the remaining musicians. Those three guitarists and the drummer who was unfortunately placed a bit too far in the background and was thus almost invisible showed with all subtlety their skills. The medley performed by both guitarists and the bassist and consisting of songs by PANTERA, METALLICA and co. was definitely a highlight.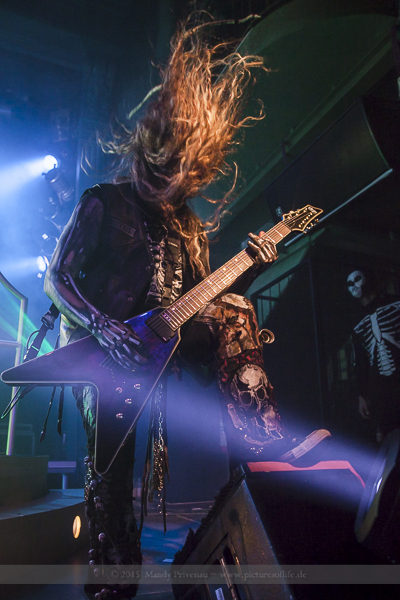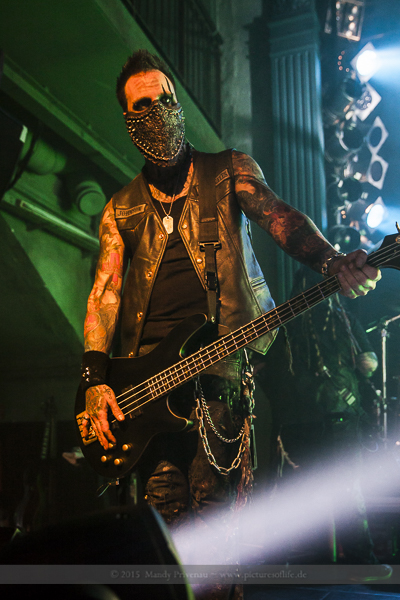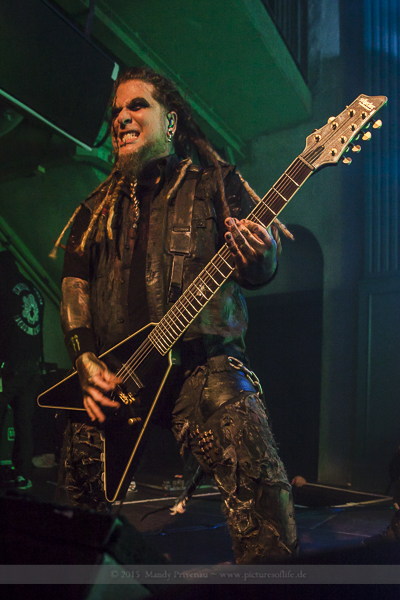 The dancers also changed their outer appearances from time to time in accordance with the next song. Maria's performance was unfortunately a bit disappointing. The music was played from the tape, including all stutters and other effects. Maria Brink's "bellow" which she used on the record from time to time was especially missing and on top of that, she did not strike all the right tones either. The high pitches definitely suited her better. It is definitely striking that IN THIS MOMENT is a concept band. Their studio work is excellent and their performance is also worth seeing but unfortunately the finesse of Maria's vocals and the diverse arrangements of their songs remain absent during the live performance. After only an hour the show ended already.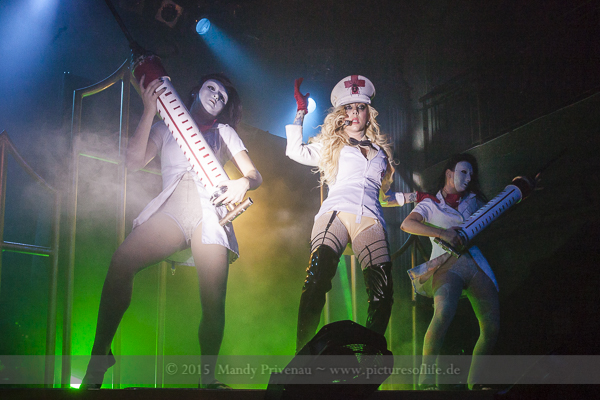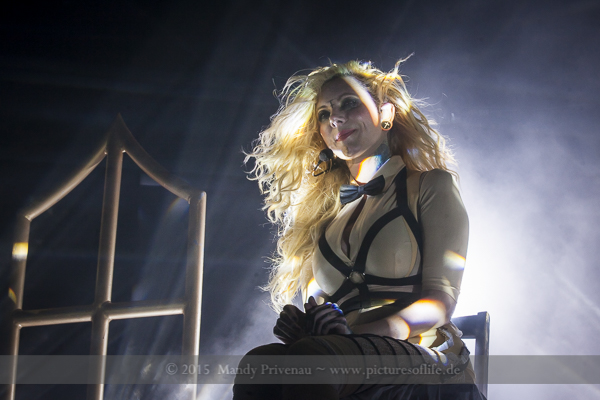 Setlist

01. The Infection
02. Sick Like Me
03. Black Widow
04. Adrenalize
05. Sex Metal Barbie
06. Burn
07. Into the Light
08. Fallen Heroes
-Drum Solo-
09. Big Bad Wolf
10. Whore
---
11.Blood
Rating

Music: 7
Performance: 7
Sound: 7
Light: 6
Total: 6.8 / 10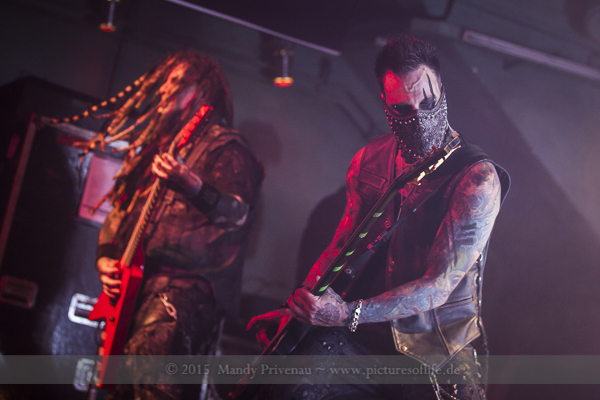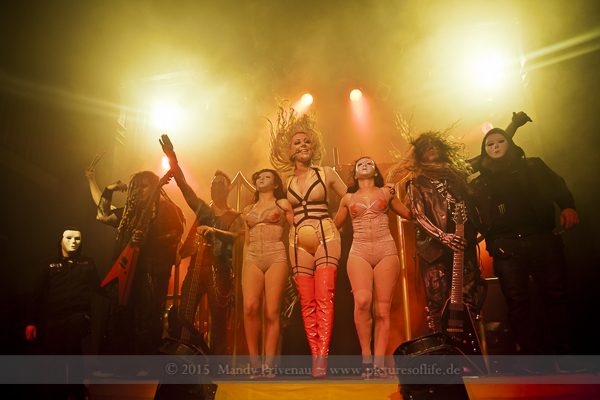 Full Gallery

All pictures by Mandy Previenau (
http://www.picturesoflife.de/
)
Written by Mandy Privenau, Translation by Alex UltraRiot