Turbinenhalle, Oberhausen, Germany
7th March 2015
Fiddler's Green & Bodh'aktan

Raise your pints! FIDDLER'S GREEN are celebrating their 25th anniversary - a good reason for a boisterous party! End of February 2015 they were now starting their jubilee tour where they party hard together with the fans and friends. There are twelve shows in Germany. We celebrated "25 BLARNEY ROSES - 25 years of Irish Speedfolk" together with the band and their Canadian support act, BODH'AKTAN at the packed Turbinenhalle in Oberhausen.
Bodh'aktan
Canadian band BODH'AKTAN, who fuses elements of traditional Irish, Celtic, Québécois, Maritime and Breton with hard rock, country, polka and punk, started its career in 2011 with their first released album 'Au diable les remords'. The name BODH'AKTAN is inspired by a Gaelic term for fisherman's boots. Following the first album was a tour and several festival appearances. In 2013, the band signed with FrostByte Media Inc. releasing the album 'Against Winds and Tides' targeting the English-language market in Canada and internationally. In the same year, the band released one more album, this time in French, called 'Tant qu'il restera du rhum...'. BODH'AKTAN is Alexandre Richard (lead vocals, guitar, bouzouki, flute and bodhran), Alain Barriault (electric guitar, dobro, banjo, vocals), Robert Langlois (bass, vocals), Éric Tanguay (accordion, guitar, vocals), Marc Angers (violin, vocals), Éric Gousy (drums, vocals) and Luc Bourgeois (bagpipes, whistles, electric guitar, vocals).
http://www.bodhaktan.com
/
https://www.facebook.com/bodhaktan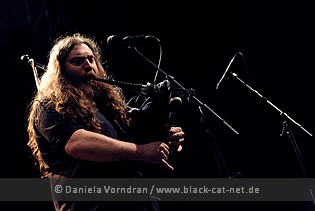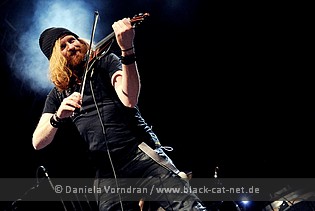 Music & Performance
I guess many of the attendees were not familiar with the Quebec based band. I was neither. And like many, I was pleasantly surprised by this support act. What a fun, what a party! With their mix of Punk, Polka, Traditionals and influences of their home land, the seven music soon made people clapping, cheering and jumping… latter especially during the HOUSE OF PAIN cover 'Jump Around'. This was really something unexpected. The guys bring so much energy and fun on stage… their version of Celtic folk, enriched of French influences, is just infectious. Only sad thing was that the show was not much longer than thirty minutes. I would have loved to enjoy them much longer. As another surprise at the end of the show, BODH'AKTAN played the AC/DC song 'Highway to Hell'. And people loved it! With huge applause and loud cheers, the band was rewarded after the set. I guess I was not the only one wishing it would have lasted much longer.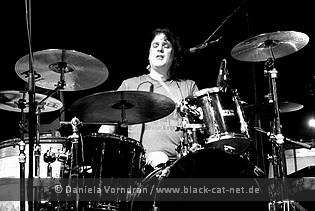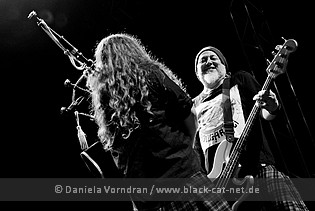 Setlist

01. La Bouteille
02. Dansez (Dance Hey)
03. Maids Of The Sea
04. Salut les Disparus
05. Hell Of A Day
06. Sink Another
07. Streets Of Montreal
08. Jump Around (HOUSE OF PAIN cover)
09. Medley du Mal de Pieds
10. Three Captains
11. Highway to Hell (AC/DC cover)
Rating

Music: 8
Performance: 10
Sound: 8
Light: 9
Total: 8.8 / 10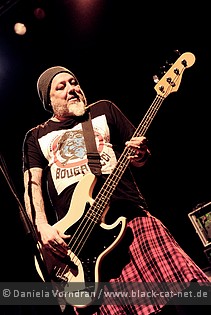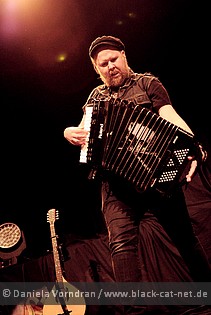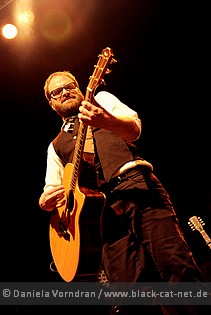 Fiddler's Green
FIDDLER'S GREEN, formed in 1990, is a German band from Erlangen playing independent Irish Speedfolk. Their first concert under the name of FIDDLER'S GREEN was at the Newcomer-Festival in Erlangen in November of the same year. The band made the second place in the contest. In 2010 the band released the live DVD 'Folk's not Dead' to celebrate their 20th anniversary. End of 2010, the band was returning to the studio to work on new material. 'Wall of Folk' was finally released on 16th September 2011 followed by a massive tour mostly through Germany including also some festival appearances. For 25 years now, FIDDLERS GREEN are at home on stages in Germany and Europe and even now, much paging, sweaty stage outfits and some creative changes later, there is no end in sight for this wonderful band from Erlangen. A total of 17 albums has already been released on which you can pursue the history and development in a wonderful way.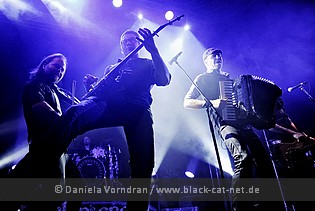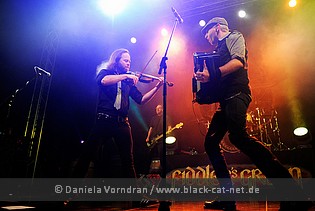 To celebrate their jubilee duly, FIDDLERS GREEN released on the 13th February 2015, for the first time in the band's history, a compilation album with the most popular and successful songs from the now huge repertoire: '25 Blarney Roses'. FIDDLER'S GREEN is Ralf "Albi" Albers (vocals, acoustic guitar, bouzouki, mandolin, banjo), Pat Prziwara (vocals, electric & acoustic guitars, banjo), Stefan Klug (accordion, bodhran), Tobias Heindl (violin, vocals), Frank Jooss (drums, percussion) and Rainer Schulz (bass).
http://www.fiddlers.de
/
https://www.facebook.com/Speedfolk
Music & Performance
After such a pleasant support act, FIDDLER'S GREEN would have a hard time getting the mood on that high level… I thought. But if you have ever seen a show of the Speed Folkers, you know what party they can celebrate. And during this tour, they had a big reason to celebrate… their 25th birthday! The change-over was not too long and at nine, the band entered the stage along to 'Take Me Back' and one thing was for sure from the very beginning: there would be a lot of dancing, jumping, sinning, screaming and clapping during the whole show. As usually, the band interacted a lot with the audience, fooled around and told little stories.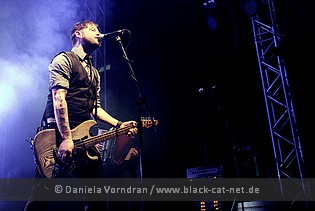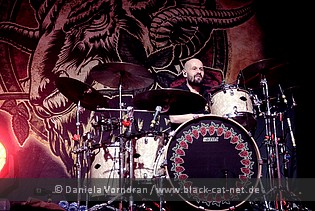 After 'Jump' and an instrumental solo medley, of course, they also had their little march into the audience, where 'Donkey Riding', was performed by the whole band. As we know from past shows, many men had their girls on their shoulders, riding through the crowd. Back on stage, the FIDDLER'S were in for a little acoustic set, just in remembrance of the "Acoustic Pub Crawl" tour. You might guess… it was fun. It seems during their live shows, the FIDDLER'S are never failing. Another obligatory element of a FIDDLER'S GREEN show could not be missed either, the traditional "Wall of Folk" with a nice mosh-pit in the middle of the hall. Towards the end of the main set, the band performed 'Fields Of Green' together with their Canadian support. Finally after 25 songs… was is an coincidence?... the main set ended. But well, we were celebrating an anniversary. And after the band had left the stage, the musicians were called back with loud cheers. In two encore blocs they presented five more songs. Of course, the famous 'Bugger Off' and 'Blarney Roses' belonged to them.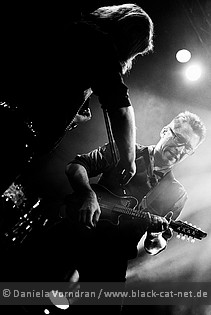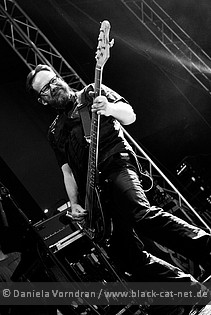 Great show! Indoor shows of the FIDDLER'S are always a great experience, much more emotional than festival gigs. The band shows close contact to the audience, you can laugh with them, you can sing and dance… and you will definitely have a good time.
Setlist

01. Take Me Back
02. Scolding Wife
03. A Bottle a Day
04. Queen of Argyll
05. Irish Air
06. Walking High
07. The More The Merrier
08. Jump
09. Instrumental Medley
10. Donkey Riding
11. Mary Mack (acoustic)
12. The Irish Rover ([traditional] cover) (acoustic)
13. Dirty Old Town (Ewan MacColl cover) (acoustic)
14. Rocky Road to Dublin ([traditional] cover)
15. Greens and Fellows
16. Down By The Hillside
17. Irish Washerwoman
18. A Night in Dublin
19. We Don't Care
20. Shut Up and Dance
21. Fields Of Green (with Bodh'aktan) ---- Never hide
22. Old Dun Cow
23. Captain Song
24. Yindy
25. Folk's Not Dead
---
26. Burning the Night
27. The Night Pat Murphy Died
28. Bugger Off
---
29. Victor and His Demons
30. Blarney Roses
Rating

Music: 9
Performance: 10
Sound: 9
Light: 9
Total: 9.3 / 10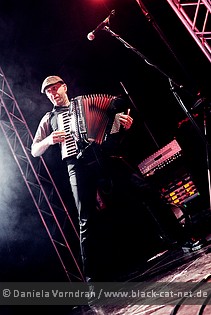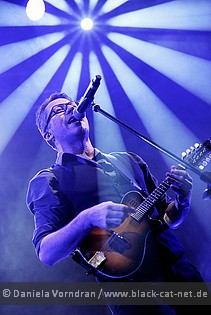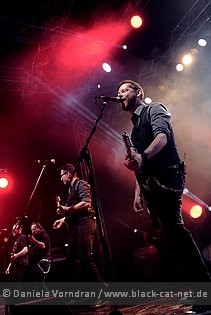 All pictures by Daniela Vorndran (
http://www.vorndranphotography.com
/
http://www.facebook.com/blackcatnet
)