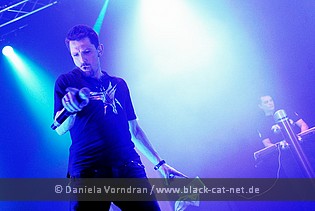 Das Bett, Frankfurt/ Main, Germany
27th March 2015
Frozen Plasma & Torul

What is the best thing to do when it's weekend time? Tidy up the apartment, weekend shopping maybe, go out dancing could be an option, too. Or one simply gets seated in a bus to drive to Frankfurt when one's own car is defective in order to see TORUL and FROZEN PLASMA. That's what I did – and that even though I knew that I would drive to the E-Tropolis in Oberhausen on the next day and from there to the E-Werk Ost Festival in Dresden. Sounds like an exhausting weekend, right? It was indeed but I've got to say that it paid off. The festival reports will follow, by the way, but let me begin with my report on Friday at first.
Torul

Do you know a Slovenian Synth Pop band? No? Well now you do, because TORUL are. The band was founded by Torulsson, who is the songwriter and the producer of the band. The other two members are guitarist and live synth player Borut and singer Jan. Torulsson has had a lot of club music releases in the past on the labels such as Low Spirit – Berlin, Force Inc – Frankfurt, Thule Musik – Reykjavik and many other labels, but parallel also explored vocal music, inspired not just by electronic music, but also dark rock, indie and other genres. At the moment they are playing several shows with FROZEN PLASMA and a few festivals with their latest release 'The Measure'.
http://www.torul-recordings.net
/
https://www.facebook.com/torul
Music & Performance
I have praised them a lot already and I am not alone with my enthusiasm for the Slovenian band TORUL. Those who expect permanent dance music bark up the wrong tree with TORUL, it is much rather this mix of melancholic synth pop with a few guitars, this breeze of 80s sound and Jan Jenko's truly genius vocals. When DAS BETT in Frankfurt started to slowly fill up, the lights started to dim and the show could finally start, the band came and Jan Jenko walked on stage with big steps and bicolour glow sticks. Along with old songs, they of course performed bits and pieces from the current record ''The Measure'' and those who took a closer look (and who stood in the front like me) could take a look at the setlist. What did make it so special? It was marked by abbreviations, tiny text remarks and on demand of a colleague who was also writing it was revealed that they wouldn't give it away "because it's intimate".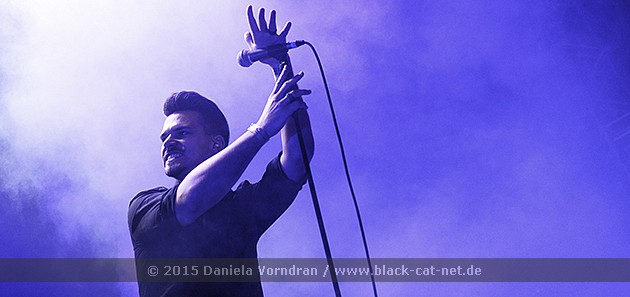 Those who are interested in TORUL setlists beside DEPECHE MODE setlists have to fall into deep sadness now because I got it in the context of ''Thanks again for the interview'', after all. Not exactly the sheet that was on stage but a replica. But who needs the tools of the singer? Regarding the situation in the club, it's left to say that it was quite cosy and that the location is not really big. Many bobbed up and down as if in trance, others were smitten with the band. I don't want to call it exuberant party mood, that's not what TORUL's music is made for. It rather encourages thinking and delving. That's how a gentleman behind me felt who stood there for the whole show with his eyes closed. The only thing that lowered the concert pleasure was the sound. It did sound quite tinny and friends of mine who stood further in the back reported not having understood anything at all. Those who want to enjoy a concert in the BETT should be there on time and stand in the front.
Setlist

01. Lonely Night
02. The Balance
03. Higher
04. Difficult to Kill
05. Hearts
06. All
07. Try
08. The Fall
09. Show me your City
10. Where the Night Starts
11. If you so wish
12. Silence of a Dead Tree
13. Lost for You
---
14. The Sun
15. Dark Enough
16. If it's Wake Up
Rating

Music: 8
Performance:8
Sound: 8
Light: 8
Total: 8 / 10
Frozen Plasma

For ten years now, they've been standing on big and small stages, they urged festival audiences to dance for revolution or wrote club hits overnight. Sometimes songwriter Vasi Vallis gets sneered at by his colleagues for his songs, whereas band mate Felix Marc gets adorned by the ladies in the audience all the more. One thing has remained in all those years between 'Artifical' and 'Monumentum' and after two live records to the current record 'Dekadenz': catchy tunes. And so they are in the business since ten years and don't seem to stop making music. This year they will be also playing several concerts in Germany and of course there still festival stages to be entered by them this year: For example M'era Luna Festival in Germany.
http://www.frozenplasma.com
/
https://www.facebook.com/FrozenPlasma
Music & Performance
After their label colleagues TORUL had finished, the gentlemen of the evening came soon after. I call them consciously that way because for some in the audience they were that certainly. There were conversations in the ladies' toilet held by mature women who much rather sounded like 17 year olds. That did make me chuckle a bit. And for those who claim that the audience only consists of women: that's wrong, it was actually pretty even. After Vasi Vallis stumbled almost off the podium almost sweeping away the banner while wiring (what brought a bit of an evil grin upon my face), the show could finally begin. It started off with songs of the current record 'Dekadenz' and quite a few of them. It must've been three or four. Personally, I had the luck of being able to listen to the record in advance, for the rest of the audience it was the release day on that Friday and thus, the reaction was a bit modest. Not in the negative sense but one listened curiously and tried to dance along or clap along to the unknown, faster tracks. Felix Marc must be praised here who absolutely possesses entertainer qualities.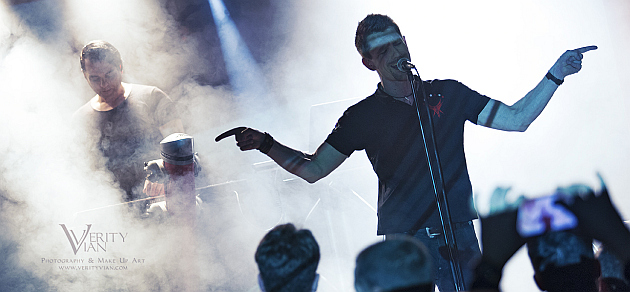 Whether interesting dance moves, funny incidental remarks – no matter what – his interaction with the audience worked perfectly. And he did it that well that one could almost forget the perpetual tinny sound. I have rarely experienced someone who is really that entertaining, and that also made up for one or the other false note. Music is entertainment, at least it should be and those who agree with that statement should go and watch FROZEN PLASMA with Felix Marc. Is there anything more to say? Oh yeah, the industrial dancers to my right were fantastic and were definitely worth a look besides Felix. One can think of the dance style what they want but I want to speak out my respect here for their perseverance. The most beautiful moment for me was to see 'Stare at the Moon' live, by the way, for me the best song on the new record. After the concert, it was time for some fan love and pictures for those who wanted one (and quite a few did). I got a kind embrace and then a really hilarious journey to my sleeping place in order to be fit for the E-Tropolis Festival on the next day.
Setlist

01. Age After Age
02. Foolish Dreams
03. Earthling
04. Stare at the Moon
05. Rain
06. Irony
07. Maniac
08. Faith Over Your Fear
09. Living On Video (Trans-X cover)
10. Crazy
11. Murderous Trap
12. Tanz Die Revolution
---
13. Warmongers
Rating

Music: 9
Performance:10
Sound: 8
Light: 9
Total: 9 / 10
Definitely an evening which was worth travelling more than 400km to see to bands. Sounds still a bit nuts, but I really think it was worth it. Maybe Das Bett should work on its sound, improve it. And yes of course there are tiny things to moan about. Is TORUL really a good opener? In this case I would say they haven't been an opener or support but more like a co-headliner. Another question left from this evening is: Is starting with new songs a good opening for the main band and is it a good idea to play so many tracks from an album which was just released that day? I would say opening with new tracks is a bit confusing and playing a lot of new songs is on the one hand a pretty cool idea as people then can decide if they like it or not and if they are willing to buy it. On the other hand it minors the sing-along-effect a lot as no one really knows the lyrics. So I did know the lyrics because I was a lucky girl having the album so many weeks before the release, but as a fan that night I would have wished for more "old" tracks. But there are always things to complain about, which could have been better and it would be really senseless thing to discuss questions like this now in a really long way. I just wanted to mention a few things which were criticized by the fans after that night. In my opinion it was a really lovely evening close to being 100% perfect.
Written by Fee Wundersee, translation by Alex UltraRiot
Picture of Frozen Plasma from Frankfurt by Verity Vian (
http://www.verityvian.com
), intro picture and Torul from Oberhausen by Daniela Vorndran (
http://www.vorndranphotography.com
/
http://www.facebook.com/blackcatnet
)