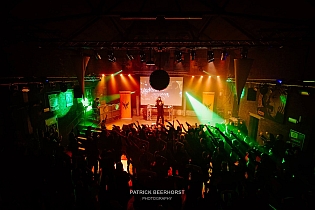 Kulttempel, Oberhausen, Germany
16th October 2015
Frozen Plasma & X-Divide

It was a cold October night when we made our way to Oberhausen to attend the shows of X-DIVIDE and FROZEN PLASMA. We didn't expect so many people to be around as there were shows of VNV NATION and DAF nearby, but we got quite surprised. FROZEN PLASMA advertised this show to be the longest in their history – and it was a really long show indeed. If you weren't there or attended one of the other concerts, please read this review and maybe start to be a bit jealous of what we and the audience had, compare it to the show you have seen or simply hope that both bands will repeat such an evening.
X-Divide (Josie Leopold)

X- DIVIDE is the Synth Pop formation of Jens Domgören (keyboard, backing vocals) and Eric Schmaler (vocals) from Cologne. Founded in 2005, both had already profound stage experiences with diverse musical projects. The in 2007 released promo EP entered the German Alternative Charts and this without the backing of a label. This changed soon as the project then was discovered by Torben Schmidt of Infacted Recordings. The song 'Forever' of its in 2010 launched album 'X' was nine weeks in the DAC (German Alternative Charts). The band sounds a lot like NAMNAMBULU and this is not a surprise as the producer for a lot of their songs is Vasi Vallis from NNB and FROZEN PLASMA. So yes, like Jens said on this evening, there might be no better band to open for FROZEN PLASMA.
http://www.x-divide.de
/
https://www.facebook.com/xdividecologne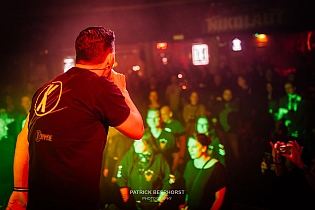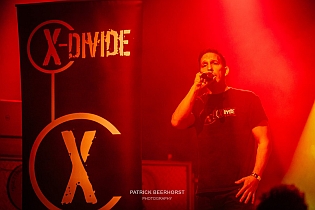 Music & Performance

The Kulttempel was not really filled with people and I couldn't get this NAMNAMBULU feeling out of my head and discussed this topic with some friends. I do think Eric has a good voice but the fact that the band does sound so much like NNB killed my ability to find words describing them better. And that which I said about their show at the Darkflower Open Air festival in July this year is still relevant– I don't like bands covering DEPECHE MODE songs. I mean, the cover was not bad or anything, but in my eyes this is one of the overly covered DEPECHE songs ever. So maybe Jens and Eric should cover another one to get me on their side at this point. As Jens said there might be a new album sooner or later, I really hope that there will be less of the Vasi Vallis handwriting – and I don't mean it in a bad way. Vasi's songs are great, but I want Eric's voice to be more in the centre of attention and not synths with that "Oh this reminds me of another band"- feeling which makes the listener probably lose the interest in this band.
Rating

Music: 8
Performance: 8
Sound: 9
Light: 9
Total: 8.5 / 10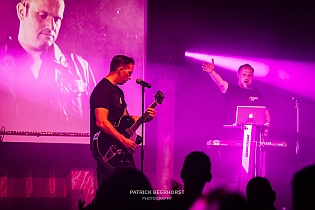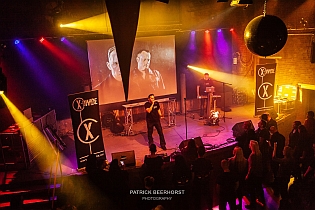 Frozen Plasma ( Alex UltraRiot)

For ten years now, they've been standing on big and small stages, they urged festival audiences to dance for revolution or wrote club hits overnight. Sometimes songwriter Vasi Vallis gets sneered at by his colleagues for his songs, whereas band mate Felix Marc gets adorned by the ladies in the audience all the more. One thing has remained in all those years between 'Artifical' and 'Monumentum' and after two live records to the current record 'Dekadenz': catchy tunes. And so they are in the business since ten years and don't seem to stop making music. This year they will be also playing several concerts in Germany and of course there still festival stages to be entered by them this year: For example M'era Luna Festival in Germany.
http://www.frozenplasma.com
/
https://www.facebook.com/FrozenPlasma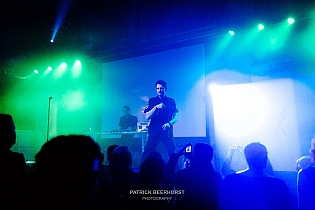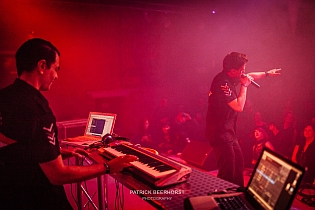 Music & Performance
Despite so many other events taking place on that day/weekend, at least 150 people gathered in Oberhausen's Kulttempel to see the headliner FROZEN PLASMA. A lot of people were wearing t-shirts of the band which promised to make a good evening – I mean, if there are so many fans who even wear the merchandise that must mean that they are dedicated to the band, right?! Nevertheless, it took the crowd some time to get into the show – despite the pompous countdown FP project on screens before every single show which is supposed to help with the feeling of furious excitement. The slowness of the crowd was probably due to the semi-filled room but the more the show advanced and the more singer Felix was interacting with the crowd by dancing his silly dances or animating them to clap or wave their arms, the more the crowd was warming up and by the end of the show, everyone was clearly enjoying themselves.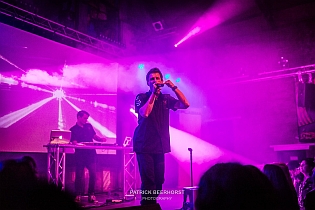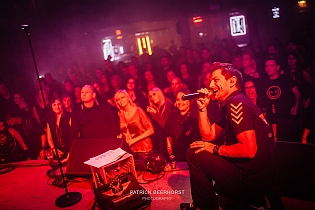 The setlist was a mix of old and new songs so no fan could truly complain since songs like 'Murderous Trap' and 'Stare at the Moon' from the newest record 'Dekadenz' were played along old classics like 'Warmongers', 'Irony' and the ominous 'Tanz der Revolution' made for a perfect ending and its message might be more topical than ever. All of the songs were underlined by videos which were flickering in the background and which were making for a nice underlining of the sweet, danceable synth tunes which keyboardist Vasi Vallis is responsible for. All in one, FROZEN PLASMA delivered a solid show full of glitter, fun and dancing and for many visitors, it was certainly a memorable night which made one or the other forget their autumn blues.
Setlist
01. Intro Countdown
02. Age after Age
03. Foolish Dreams
04. Earthling
05. Stare at the Moon
06. Condense
07. Faith over your Fear
08. Saving this Moment
09. Irony
10. Generations of the Lost
11. Crossroads
12. Maniac
13. Murderous Trap
14. Warmongers
15. Living on Video
---
16. Lift the Veil
17. Crazy
18. Tanz die Revolution
Rating

Music: 6
Performance: 8
Sound: 8
Light: 8
Total: 7.5 / 10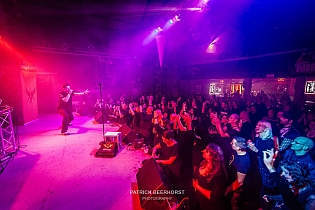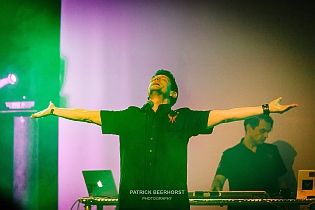 All pictures by Patrick Beerhorst (
https://www.facebook.com/BeerhorstPhoto
)
See also (all categories):