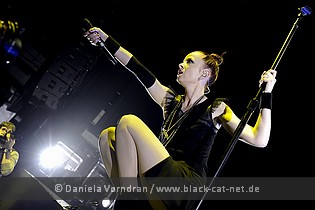 Palladium, Cologne, Germany
31st October 2015
Garbage & Dutch Uncles

In celebration of the 20th anniversary of its debut self- titled album, GARBAGE did an extended tour with unfortunately only one show in Germany. We got an accreditation but we were not there? Why you might ask? Well, read the following…
Actually here should be the concert review. And actually we - the photographer and I, the writer - were accredited. But due to the restrictive photo contract we kindly declined our accreditations. We both are passionate for music; we buy music and invite others to do as well and not to download it without paying. We know that producing music is expensive, especially for the independent musicians and of course we want the musicians work to be paid off. This has also to do with the respect for their art, right?
In return we ask for respect for our art/ work. Some concert photographers try to make a living with their art/ craft and even those who only sell several photos for magazines or sell some photo prints, both the professional and the semi- professional carry camera equipment to concerts you could easily buy a nice car from. And after the shooting it takes several hours to choose the best photos that make the musicians look good. And the professional photo editing programs don't come as freeware as well.
So if my colleague, the photographer, decides not to accept such a contract including i.e. a rights grab or demands the free delivery of photos for promotion, I surely will not invest my time to write reviews either.
Sorry!
Another nice article (in German) about the photo contract issue, especially about the current FOO FIGHTERS contract (which we also did not sign) is online here:
http://rocknroll-reporter.de/index.php/doc-n-roll/2305-docnroll1-86
The intro picture used in this article was taken at a previous GARBAGE tour in 2012, where no contract was handed out.