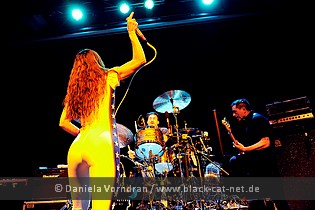 Bürgerhaus Stollwerck, Cologne, Germany
26th April 2016
Juliette & The Licks, WACO

In 2003, Juliette Lewis was founding the band JULIETTE & THE LICKS, known for loud guitars, up-tempo songs and her deep voice. After six years, the band was put on hiatus but finally now the band is back and on 26th April, Juliette and band were rocking a sold-out Bürgerhaus Stollwerck in Cologne, supported by UK based WACO.
WACO

The quartet, hailing from the weirder ends of the UK (North Yorkshire, Jersey and Coventry), came together through their animalistic compulsion to make noise and their perverted goal to get inside peoples' heads, like squatters in an empty condo. The Punk Rock quartet WACO released only one EP so far, 'Sundown', in February 2015 via Venn Records, limited to 100 copies. The band is rather unknown by now and there is not much information. Towards the end of 2015, WACO published the video for the song 'Agitation' and soon, the band was played by DJ Dan P Carter on Radio 1, followed by prolific taste maker Zane Lowe spinning 'Wrangler' during his prime-time 7pm slot. Sound-wise, the band reminds a little of MILLENCOLIN. Dressed in weird colorful clothes, the four-piece warmed up the audience with their thirty minutes show quite well.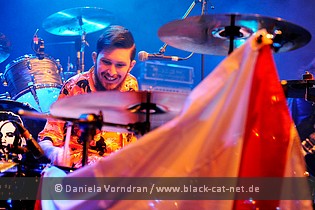 WACO is Jak Hutchcraft (vocals, guitar), Tom Pallot (guitar, backing vocals), Chris Cowley (bass, backing vocals) and Welshy (drums, backing vocals).
http://www.wacoband.co.uk
/
https://www.facebook.com/Wacouk
Setlist

01. Salem
02. SE17
03. Wrangler
04. Jezebels
05. Rotten Tooth
06. Dungeness
07. Agitation
Rating
Music: 6
Performance: 7
Sound: 7
Light: 6
Total: 6.5 / 10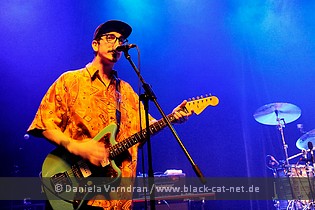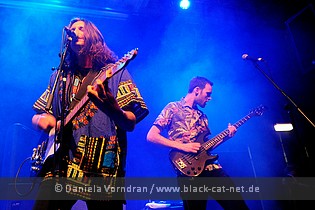 Juliette & The Licks

Juliette Lewis founded her band in 2003 inspired by a legendary BLONDIE concert. Already in her movies she gained a lot of experiences in singing. For the song-writing, she asked for help at ex-4 NON BLONDES front woman Linda Perry with whom she write her successful debut album. Later on, she relied on her own abilities as composer. Lewis' heat beats for dirty Rock'n'Roll, just sounding like coming directly from the garage. Especially the live shows with her band caused storms of excitement. After six years where she released three albums and toured around the globe, the band was put on hiatus. The latest record is 'Four on the Floor'. Juliette started a solo career and concentrated more on her acting. Another six years passed and then all of a sudden in summer 2015, JULIETTE & THE LICKS were back, playing a reunion show. A new album is already in progress. JULIETTE & THE LICKS consists of Juliette Lewis (vocals), Todd Morse (guitar, backing vocals), Nick Maybury (guitar), Juan Alderete (bass, backing vocals), Rami Jaffee (keyboards) and Brad Wilk (drums).
http://juliettelewis.com
/
https://www.facebook.com/OfficialJulietteLewis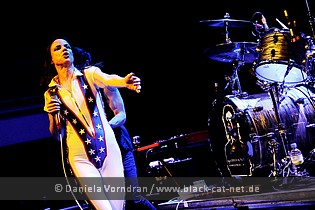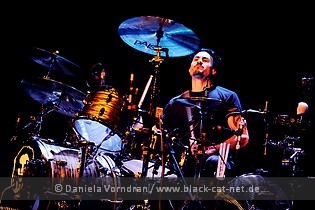 Music & Performance

It was very packed and hot in the club when Juliette and her band entered the stage at ten o'clock. From zero to hero, she rocked the stage and was carrying the crowd away. Of course the setlist contained a lot of old gems, fan favourites, but also some new stuff. So you already knew what to expect from the coming album. When you compare the setlist of different shows one thing soon gets clear: she changes the list, changes the songs. That's cool for fans following her to see various shows. As you know it from her shows, Juliette is a true whirlwind constantly moving. And when she addressed the audience directly, the crowd answered with loud cheers. With 'Hello Hero', Juliette also presented a very new solo song. After this calmer piece, 'Got Love To Kill' exploded with more power again. With the CREEDENCE CLEARWATER REVIVAL song, 'Proud Mary', she presented the first cover version of the evening. Another one would follow later. The show lasted only around one hour by now when the band left the stage after 'Get Up'.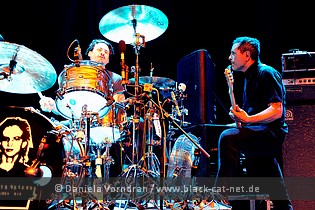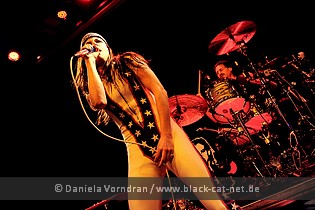 After loud cheering and clapping, the band returned for some more songs, starting their encores with the second cover version of the evening, the PRINCE song 'Purple Rain', dedicated to the artist who just suddenly died a few days ago. 'Hot Kiss' followed before Juliette and her band finally said goodbye with their last song, 'You're Speaking My Language'. Even the concert was not very long, just around 75 minutes, it was very intense and the new songs made one looking already forward to the upcoming album.
Setlist

01. Smash and Grab
02. Mind Full of Daggers
03. Sticky Honey
04. Any Way You Want
05. Purgatory Blues
06. Killer
07. This I Know
08. Hello Hero
09. Got Love to Kill
10. Proud Mary (Creedence Clearwater Revival cover)
11. I Know Trouble
12. Get Up
---
13. Purple Rain (Prince cover)
14. Hot Kiss
15. You're Speaking My Language
Rating
Music: 8
Performance: 9
Sound: 7
Light: 6
Total: 7.8 / 10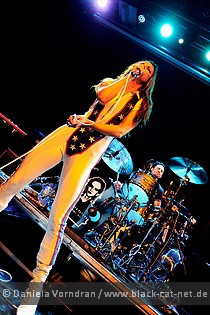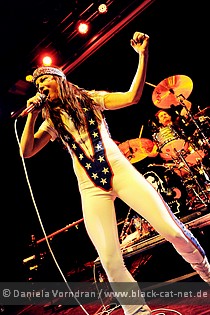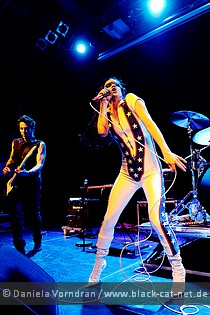 All pictures by Daniela Vorndran (
http://www.vorndranphotography.com
/
http://www.facebook.com/blackcatnet
)