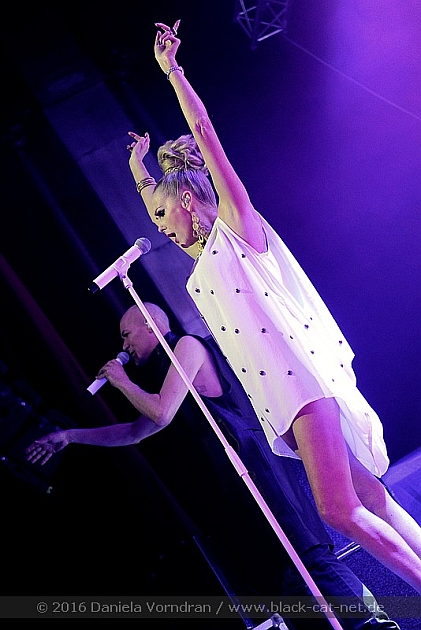 Live Music Hall, Cologne, Germany
15th November 2016
The Human League & Sinplus

Formed in 1977, they were pioneers in synth pop. They were called "The future of pop music" by David Bowie. They wrote their own chapter in the history of pop music with hit singles like 'Don't you want me', 'Love Action', 'The Lebanon' and 'Human'. They are a "Very British Synthesizer Group" and they came to Cologne to prove it. THE HUMAN LEAGUE took us to a trip to analog sounds and avant-garde aesthetic with their "A Very British Synthesizer Group" tour 2016. SINPLUS from Switzerland supported their show in Cologne.
Sinplus

SINPLUS is a pop duo winner of the 2014 MTV "Best Swiss Act" award. The Broggini brothers are from Locarno in the south of Switzerland. Gabriel sings and Ivan plays guitar and both do the writing, composing and programing. Their debut album 'This Is What We Are' will be released in January 2017. All songs were produced and written by the band.
http://www.sinplus.net
/
https://www.facebook.com/Sinplus/
Music & Performance

When these two guys came up on stage with a guitar I thought that it was some acoustic act but to my surprise they were accompanied by dance programing triggered by Gabriel (singer). Ivan plays catchy arrangements and arpeggios on his guitar and Gabriel has a great voice indeed. The result is an invitation to dance. The charismatic brothers managed to capture the attention from a two generations older public that was very much looking forward to the main act.
Setlist

01. Dreamers
02. Unbreakable
03. Crazy life
04. Feel love
05. WTF
06. Capisci
Rating

Music: 6
Performance: 5
Sound: 7
Light: 6
Total: 6 / 10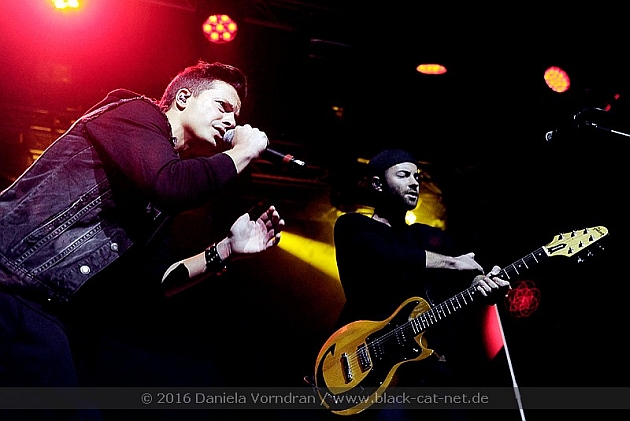 The Human League

In the past they were the future. I mean, back in 1977, Martyn Ware and Ian Craig Marsh formed a band named THE FUTURE which was never signed and did not release material commercially. Ware and Marsh were searching for a vocalist and they decided to invite an old school friend, Philip Oakey, to join the band. Oakey was known on the Sheffield social scene for his eclectic style of dress. Although he had no musical experience, "he already looked like a pop star", said Ware. He had never sung in front of an audience before, but got inspired to write some lyrics which later became the single 'Being Boiled'. With a new line-up, sound, and vocalist, Ware decided that the band needed a new name. It would also allow them to approach record companies again from a different angle. Ware suggested a quote derived from "Starforce: Alpha Centauri", a science-fiction wargame. In the game, "The Human League" arose in 2415 A.D, and were a frontier-oriented society that desired more independence from Earth. Ware suggested that THE FUTURE rename themselves after the game, and in early 1978 THE FUTURE became THE HUMAN LEAGUE.[ Source: "Complete guide to The Human League 1977–1980"]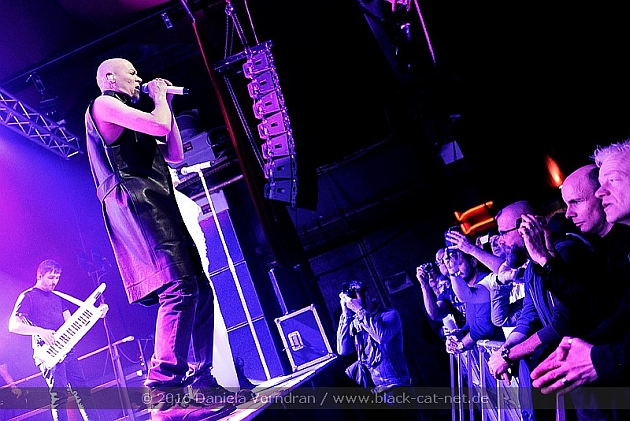 The band's live performances began to gain momentum and acclaim. In December 1978, David Bowie appeared in the audience and later declared to NME that he "had seen the future of pop music." In 1980 Ware and Marsh left the band as they were unsatisfied by the success gained so far. Oakey recruited two teenage girls he found dancing together on a dance floor: Susan Ann Sulley and Joanne Catherall. With no experience of singing or dancing professionally, the girls became the backing vocals of THE HUMAN LEAGUE. The band's third album, 'Dare' including hits like 'Don't you want me' and 'Love action', was released in October 1981 and reached No. 1 in the UK. A success that wasn't repeated so far. THE HUMAN LEAGUE released nine studio albums in their 38 year career.
http://www.thehumanleague.co.uk
/
https://www.facebook.com/thehumanleague/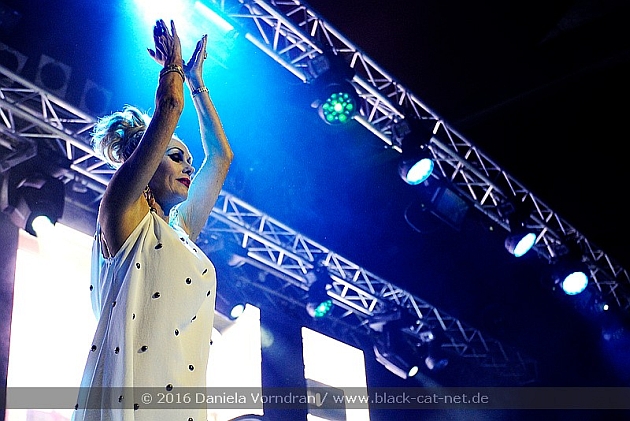 Music & Performance

Once the guest band had left the stage and their gear was removed, some covered stuff could be seen in the background. Yeah, the main act's gear, of course. The white stage with white stairs and white covers was left completely empty with the exception of those things with white covers in the very background. When the staff removed the white covers... OMG!, On each side there were white Roland synthesizers standing on futuristic white stands with white keyboard guitars aside. In the middle a white Roland electronic drum set was uncovered. Three microphone stands were lined up in the front at equal distances. All white, of course. The people on the front said "woooow!" Lights went off, blue spots lighting the stage and the band went on stage on glamorous dressing. Philip on leather and sunglasses and the girls on white (of course) skirts. The opening was with 'Mirror Man', a song released as single in 1982. The lyrics are a celebration of love to Motown records. The second delivery was 'Sky', the last single from their latest album 'Credo' released in 2011. A song which made our bellies vibrate with its deep analog synth bass arrangements.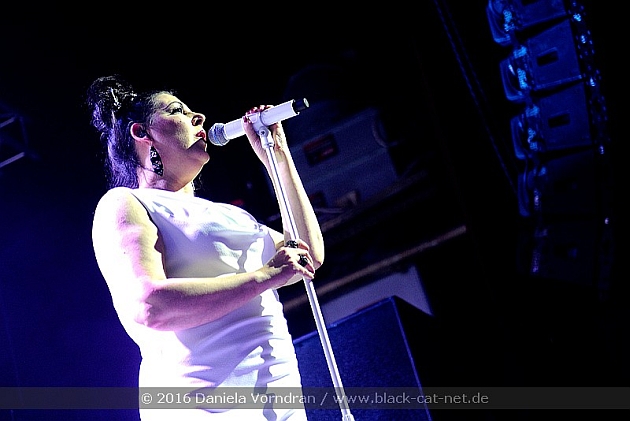 Philip (61) is restless, full of energy and with a smile painted in his face. He runs from one to the other side of the stage to be close to everyone. It was hard for me to take a clear picture from him with my cell phone. 'The sound of the crowd' was the third one. It's a song from 1981 and it was the first HUMAN LEAGUE song to feature female vocals, from Susan Ann Sulley and Joanne Catherall, interacting with Philip Oakey's baritone lead. We went mad with the first chords of 'Love action'. The video projections on the background were perfectly integrated to each song. THE HUMAN LEAGUE are pioneers on integrating multimedia to their shows. Back on their beginnings they had a photographer who was listed as a member of the band who used to take care of all multimedia surrounding their shows. The band left the stage for a short pause coming back on glamorous "new romantic" clothing. I can't tell how I loved that! The next three songs (5,6 &7 from the setlist) were from their 90s period and the four song block ended with 'Seconds' form their celebrated 'Dare' album from 1981.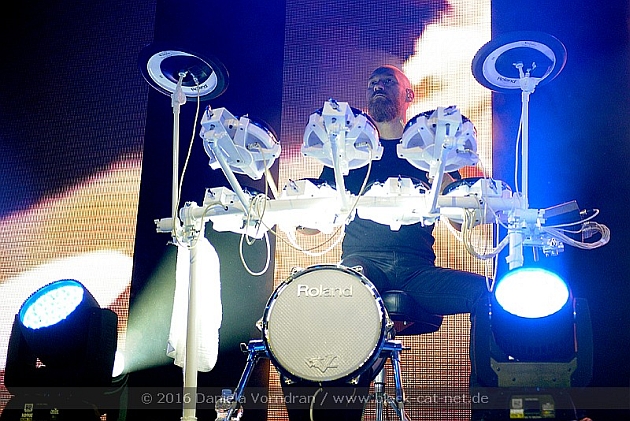 Another pause and another change of clothing, on fabulous futuristic retro black and white gothic style. They returned to play 'The Lebanon' from 1984, with its heavy use of bass and rock guitars, 'The Lebanon' was a radical departure from the established synth pop sound of THE HUMAN LEAGUE. Oakey introduced the band only with their first names and said "Thank you so much for coming on a Tuesday night. We continue doing this because of you". The next one was 'One Man in My Heart', a ballad performed by Susan Ann Sulley. After a few more songs from the 80s and 90s the long awaited super hit 'Don't you want me' made the whole crowd dance. The band said goodbye and left the stage but the public would not let them leave so easily. After applauses, yells and cheering they returned for the encore. Susan and Joanne on black feathers! The sound operator pumped up the volume and lowered that basses for 'Being boiled'. I was at the front and the speakers literally were blowing like a fan.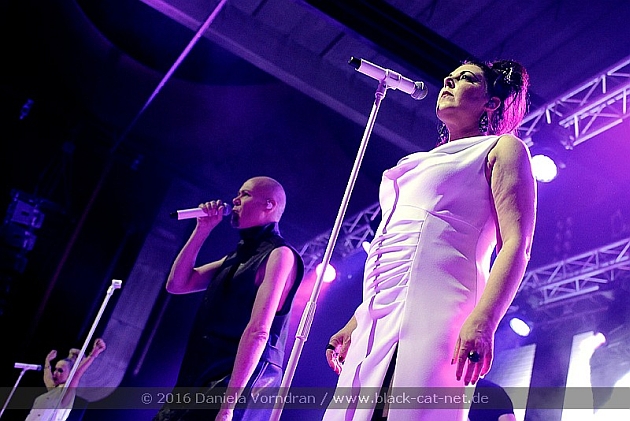 They finished with 'Together in Electric Dreams', a hit from Oakey's and Giorgo Moroder duet album which was part of the original soundtrack of the movie "Electric dreams" from 1984. THE HUMAN LEAGUE's shows are sold out almost wherever they play and no wonder, their act is a spectacular trip to those times when glamour ruled. Those times when I used to spend hours in front of the mirror getting ready to be part of one of those fabulous happenings.
Setlist

01. Mirror Man
02. Sky
03. The sound of the crowd
04. Love action
05. Filling up with heaven
06. Heart like a wheel
07. Soundtrack to a generation
08. Seconds
09. The Lebanon
10. One man in the heart
11. Stay with me tonight
12. Open your heart
13. Tell me when
14. Fascination
15. Don't you want me
---
16. Being boiled
17. Electric dreams
Rating

Music: 9
Performance: 10
Sound: 9.5
Light: 10
Total: 9.6 / 10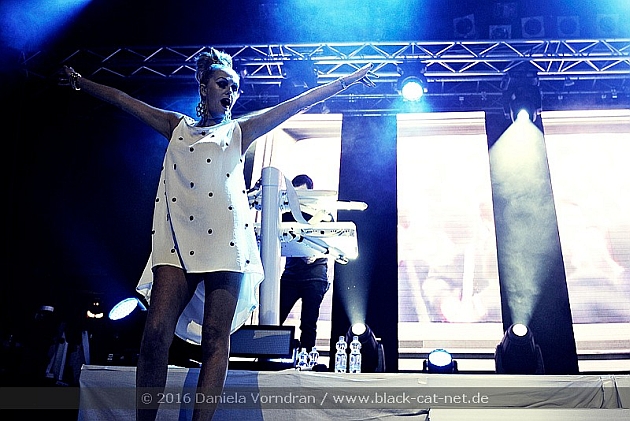 All pictures by Daniela Vorndran (
http://www.vorndranphotography.com
/
http://www.facebook.com/blackcatnet
)