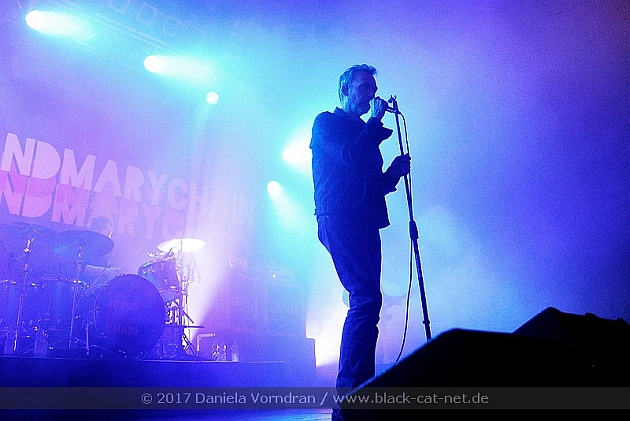 Live Music Hall, Cologne, Germany
25th April 2017
The Jesus and Mary Chain & Laura Carbone

'Riots and Violence' are headlines that brought THE JESUS AND MARY CHAIN to the news in their early stage of their nearly 34 years of career. Their 50s surf rock style altered by looping guitar distortions drove the early eighties audience mad. Furthermore, their shows were as short as 20 minutes because they only had a few songs to play. That didn't happened last Tuesday, the 25th of April, at the Live Music Hall in Cologne. It was a crowded Post-Punk evening opened by LAURA CARBONE and sealed with fire by the legendary Scottish band.
Laura Carbone

LAURA CARBONE is an Italian-German singer and songwriter based in Mannheim, Germany. "Bittersweet, atmospheric, noisy and heavy" is how Laura describes herself. Her first solo album 'Sirens', released in January 2015, was financed via Crowdfunding. Laura has already been compared with the names of such iconic figures as Lana del Rey and PJ Harvey, who, together with THE CURE or SISTERS OF MERCY, belong to her musical models: "To be compared with such musical greats, whose work I greatly appreciate, is a true knighthood!" http://www.lauracarbone.com / https://www.facebook.com/lauracarboneofficial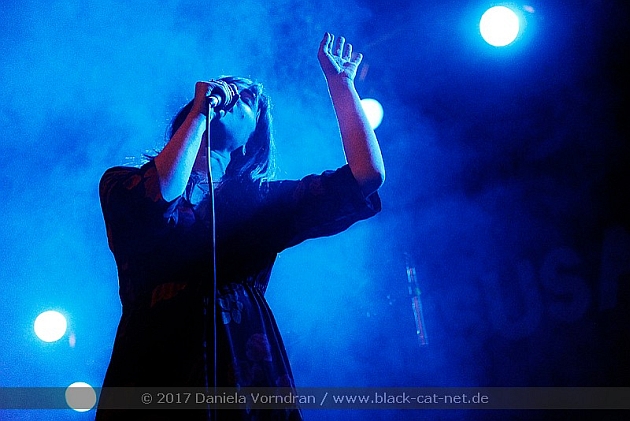 Music & Performance

The beautiful LAURA CARBONE and her band took over the stage at 20:00. Her melancholic-driving songs accompanied talented Ian Sydow (guitar), Kevin Potschien (bass) and Jusch Juschzak (drums) brought the audience to the right mood for the evening.
Setlist

01. Stigmatized
02. Blue Birds Fly
03. Lullaby
04. Silky Road
05. Heavy Heavy
06. Cellophane Skin
07. Grace
Rating

Music: 8
Performance: 7
Sound: 7
Light: 7
Total: 7.3 / 10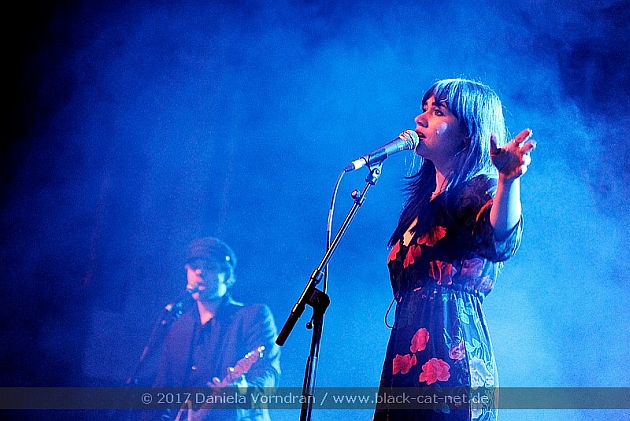 The Jesus and Mary Chain

THE JESUS AND MARY CHAIN was founded in 1983 by the brothers Jim and William Reid. According to William "it was perfect timing because there weren't any guitar bands. Everybody was making this electronic pop music." As self-proclaimed Shangri-La fans, influenced by bands such as THE VELVET UNDERGROUND, THE STOOGES, SIOUXSIE AND THE BANSHEES and THE RAMONES, TJAMC blended catchy melodies, dark lyrics and a guitar based sound; noisy, gloomy and rhythmic at the same time. Playing in front of small audiences, during early shows, the band performed very short gigs, typically fuelled by amphetamines and lasting around 20 minutes, and played with their backs to the audience, refusing to speak to them. Most of their performances ended up in riots. Violence soon started to become a hindrance to the band, with people attending concerts simply for the violence rather than the music, William commenting "I hate it, I despise it. It gets in the way in terms of getting more gigs, and it gets in the way of our image". The success of their first single 'Upside Down' from 1984 led to interest from WEA-subsidiary Blanco y Negro Records which signed the group in early 1985.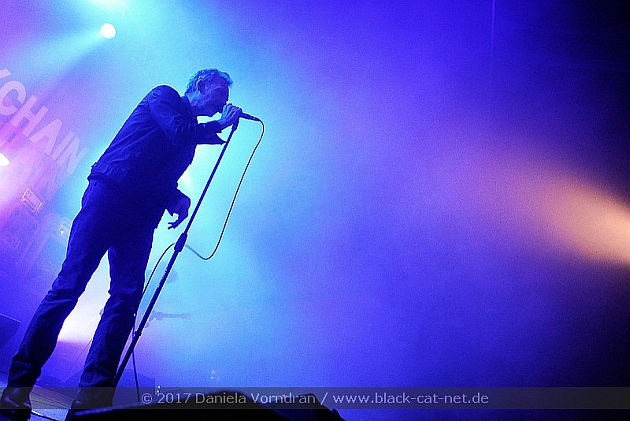 'Psychocandy', their debut album, was released on that year followed by other five until 1998. Though it was not until October 1999 that the split of the band was made official, on 12 September 1998, William had a falling out in the tour bus with guitarist Ben Lurie before they were to play a sold out performance at the famous Los Angeles House of Blues. Jim appeared onstage apparently drunk and barely able to stand or sing. William walked offstage about 15 minutes into their set, and the show ended. The band reunited in 2007. Since then they've been on tour several times. Their seventh studio album 'Damage and Joy' was released on March this year. http://thejesusandmarychain.uk.com / https://www.facebook.com/JesusAndMaryChain
Music & Performance

The band went up on the still warm stage a few minutes after 21:00. When the lights went on the unmistakable silhouettes of the Reid brothers could be seen through the dense smoke. 'Amputation', the track #1 of their brand new album was the opening of the show. The sound was a little low to my taste. 'April Skies' was the next one. I was so much looking forward to hear it but unfortunately the sound wasn't clear enough until the next song. 'Head On' was an injection of energy. It's one of those songs starting with Jim singing on lower tones with a dramatic progression up to higher tones.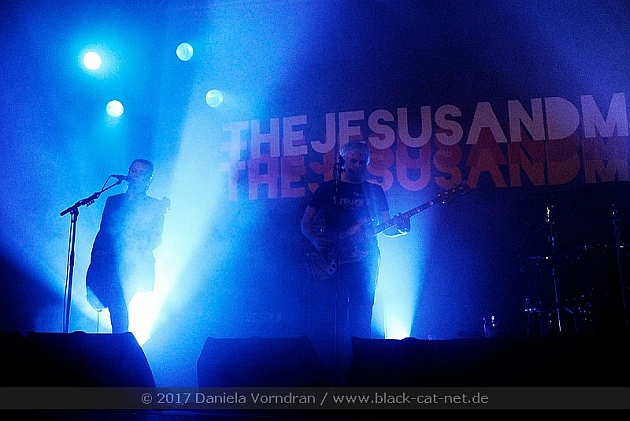 The repertoire was a smart selection of songs from all their albums excepting 'Stoned & Dethroned' (1994). The increasing emotional and hypnotic power of the songs put the fans on a very good mood. In one of the few moments when Jim spoke to the public apart from saying "Thank you" he announced: "This is the last song". That was before starting performing 'Revenge'. Even though we all knew that an encore was to come, many voices claimed "No way!" The band left the stage with the guitars on a looping distortion. The boys returned to stage to play 'Nine Million Rainy Days' and the much awaited 'Just Like Honey' and 'You Trip Me Up' from 'Psychocandy' to leave the stage with a big cheering. But the mood went into ecstasy when they returned for a second encore with two more 'Psychocandy' songs, then Jim said "We'll leave with one song of our new album". The gloomy cadence of 'War on Peace' could have fit in any of their early albums. That was a great closure! But after having left the stage, they returned to play 'I Hate Rock'n'Roll' on a third explosive encore. Now I can look back at their early days when they had just a handful of songs leaving the public crazy for more. This one was a generous show featuring lots of classics, a fair deal of new songs and a smart expectation management.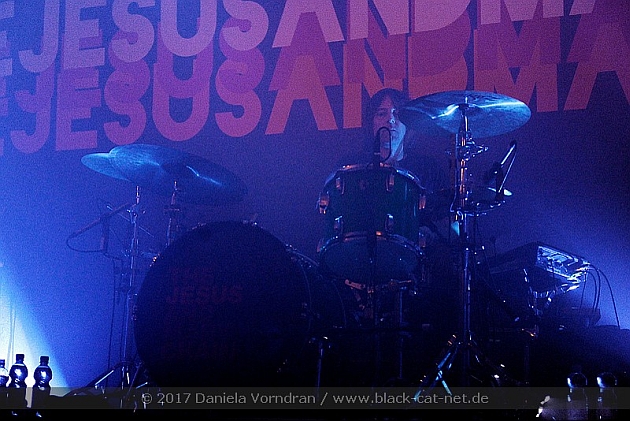 Setlist

01. Amputation
02. April Skies
03. Head On
04. Far Gone and Out
05. Between Planets
06. Blues From a Gun
07. Always Sad
08. Mood Rider
09. Teenage Lust
10. Cherry Came Too
11. The Hardest Walk
12. All Things Must Pass
13. Some Candy Talking
14. Halfway to Crazy
15. Reverence
---
16. Nine Millions Rainy Days
17. Just Like Honey
18. You Trip Me Up
---
19. The Living End
20. Taste of Cindy
21. War On Peace
---
22. I Hate Rock'n'Roll
Rating

Music: 9
Performance: 8
Sound: 7
Light: 8
Total: 8 / 10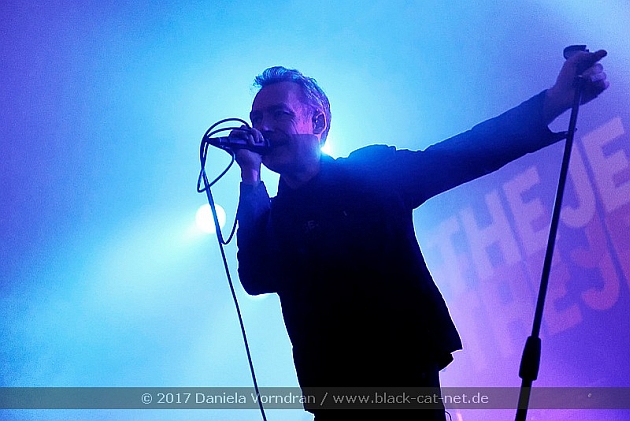 More on
The Jesus and Mary Chain
&
Laura Carbone
All pictures by Daniela Vorndran (
http://www.vorndranphotography.com
/
http://www.facebook.com/blackcatnet
)