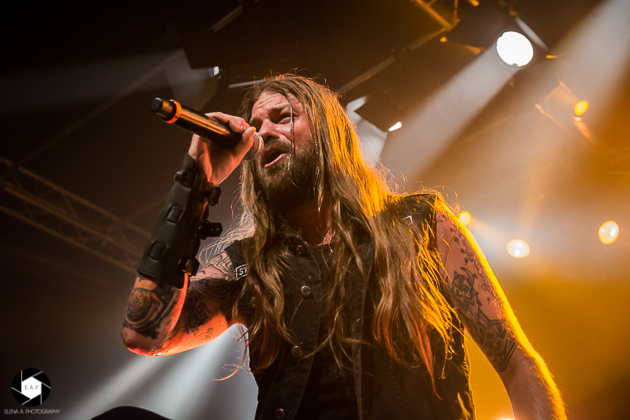 Kulturfabrik, Esch sur Alzette, Luxembourg
13th July 2017
Iced Earth, Sleepers' Guilt, Elysian Gates

After their last gig in October 2013, supporting VOLBEAT, ICED EARTH were back in the Grand-Duchy and they let the Kulturfabrik feel what they've become! To promote their latest album 'Incorruptible' they asked local bands ELYSIAN GATES and SLEEPERS' GUILT to help them out to create a successful evening!
Elysian Gates
Opener band was
ELYSIAN GATES
which is a symphonic metal band from Luxembourg. Their songs are about suffering, religion and inner struggles. When they came on stage, the crowd was rather quiet. Maybe because there were a lot of foreign spectators from the neighbouring countries who didn't knew the band before. The bands' performance was quite professional. The songs were powerful and used a lot of dynamic guitar riffs. There was also a lot of variation in the vocals. Noémie changed between clean singing and forceful growls. The keyboard elements in the background gave their songs the final touch. First, the crowd was as already mentioned rather quiet but later on, the band got a well-deserved applause. Unfortunately, there was a little technical problem after the first few songs but the band remained confident and the crowd didn't mind.
Setlist

01. One Open Gate
02. Broken Inside
03. Human Infection
04. Whispering Premonition
05. Crossroads
Rating
Music 8
Performance 7.5
Light 7
Sound 10
Total 8 / 10
Sleepers' Guilt

Afterwards,
SLEEPERS' GUILT
definitely warmed up the Kulturfabrik. The local melodic death metal band already shared the stage with legendary
AMON AMARTH
and will also play at the 'Metal Days' festival in Slovenia. As usual, the performance was robust and experienced. Their energetic songs and great guitar riffs made the crowd move a little bit more. There's nothing more to say, since such a performance of the band is accustomed. So the choice of ICED EARTH, to take SLEEPERS' GUILT as one of their support acts, was absolutely not a washout.
Setlist

01. Horizon of Aten
02. Scars of War
03. Sense of An Ending
04. Two Words
05. Dying Alone
06. Price to Pay
Rating

Music 8
Performance 9
Light 8
Sound 10
Total 9 / 10
Iced Earth
Finally, after a short change of set,
ICED EARTH
hit the stage. About the American metal band also isn't much to say. The performance was very good, the setlist well-chosen and the songs were adroit. The Kulturfabrik was in a good mood and head-banged as never before. The focus of the set switched. They played songs from their latest album but also songs from older ones. There was a well done balance of the songs: not too many new songs but also not too many older ones.
Setlist

01. Great Heathen Army
02. Burning Times
03. Declaration Day
04. Plagues of Babylon
05. Pure Evil
06. Vengeance is Mine
07. V
08. Seven Headed Whore
09. Boiling Point
10. Cthulhu
11. Slave To The Dark
12. My Own Savior
13. The Hunter
14. Dystopia
15. Watching Over Me
Rating

Music 8
Performance 8
Light 9
Sound 10
Total 9 / 10
All in one, it was a great evening with very talented musicians. ELYSIAN GATES opened the evening and even with a little technical issue while playing their set, they stayed sovereign. SLEEPERS' GUILT prepared the crowd with a powerful set to the main act ICED EARTH which putted the Kulturfabrik over the edge.
All Pictures by Elena Arens