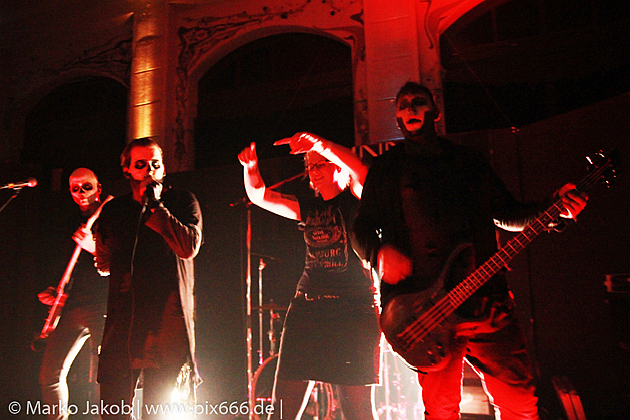 Stellwerk, Hamburg, Germany
2nd June 2018
Johnny Deathshadow & Red Dead Roadkill

The birthday concert: Daniela from Hamburg originally wanted to celebrate her 30th birthday as usual with friends, with a little relaxing round at home or in a bar. But then she had a thought - why not have as many friends as possible, and doing something that she enjoys most? After a pondering for a while it became clear - she should celebrate at a concert and of course, at one of their favourite bands! The nice guys of JOHNNY DEATHSHADOW were enthusiastic about the idea and were immediately on board.
A bigger problem was to find a location in Hamburg at such short notice as everything was fully booked. However, their luck was in, as a band had cancelled their concert at the Stellwerk and, as it was free for Daniela's birthday date, they jumped at the chance to book it. Daniela also organised a DJ for some appropriate party music - no less than Yannik "Rage" Bockelmann the drummer of Europe's well-known band EYES SHUT TIGHT, and from the live band of FLORIAN GREY - and he made sure there was great entertainment into the wee hours.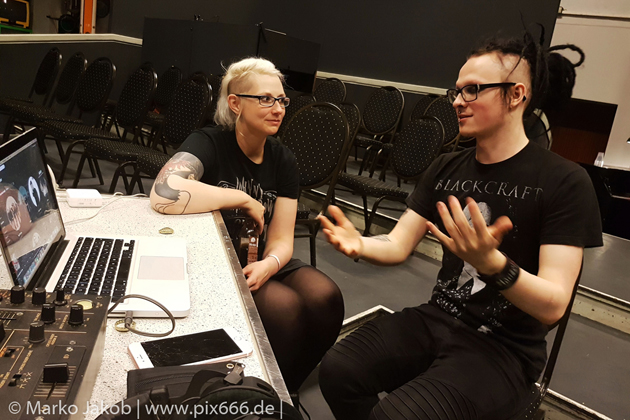 Red Dead Roadkill

A second band played this evening, as usual at many concerts. Daniela had searched extensively on the internet for local bands - in doing so she came across YouTube videos from the Hamburg band RED DEAD ROADKILL. She was immediately impressed by the voice of front woman Radd and the boys and girls of the band did not hesitate to be able to play with JOHNNY DEATHSHADOW. The band describes their music as the "Red Death Rock" and fuelled up the audience with the opener 'Unleash The Beast'. The band offered a varied mix of hard and alternative Rock. The four musicians clearly demonstrated their passion for music and they easily transmitted the fun that they were having on stage to the audience. Fast, powerful songs alternated with some quieter, soulful pieces. It was a real colourful mix of Rock / Metal, perfect for a colourful mixed birthday audience.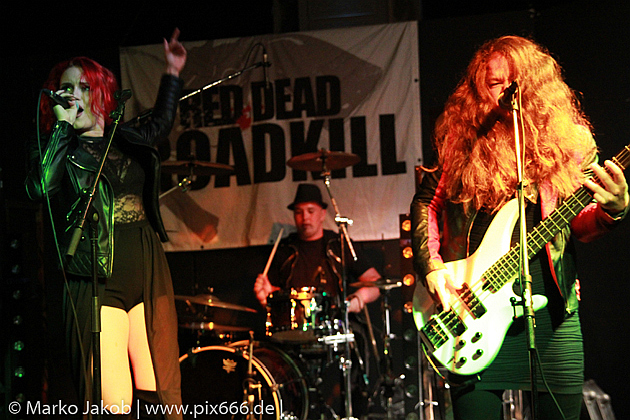 After just under an hour and the addition of the song 'Good Night', there was a lot of warm applause for the band, which will release their debut album 'Sweet Songs of Anguish' this year.
Setlist

01. Unleash The Beast
02. Lines Of Fire
03. Cold
04. Thorns Below
05. Headlights
06. Dying Day
07. Hail To The King
08. Somewhere, Mr. Fate
09. Pretty In Silence
---
10. Good Night
Rating

Music: 8
Performance: 9
Sound: 8
Light: 7
Total: 8.0 / 10
Johnny Deathshadow

JOHNNY DEATHSHADOW
went on tour with CYPECORE this spring. At the end of April they did some more concerts together with cult band DIE KRUPPS and also performed at the Plage Noire Festival on the Baltic Sea. Before they play at one of Germany's biggest metal festivals (With Full Force Festival) in mid-June, they returned to the stage in their hometown of Hamburg on the first weekend of June with this special event on their tour schedule. The audience was, of course, much more colourful today than usual at a JOHNNY DEATHSHADOW gig. Daniela's friends and guests included Rockers, Punks, Gothics, Rockabilly and Metal fans; but also friends of Daniella who are maybe more used to more salubrious surroundings also had a special experience! As is often the case, the band started their concert with the song 'Shadow', which provided a great atmosphere for the club with its hard guitar riffs.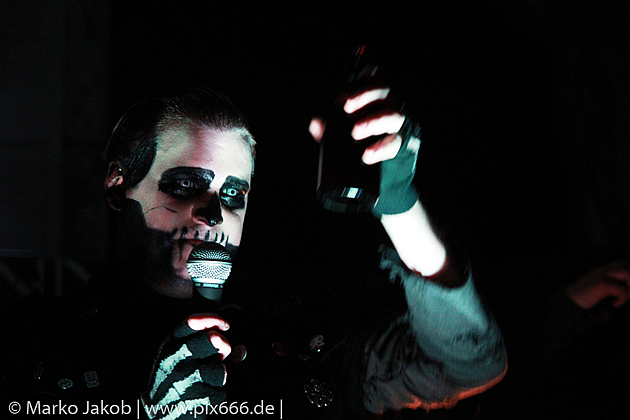 Almost immediately people began to dance or nod their heads. Since not everyone was familiar with the band, singer Jonathan good-naturedly introduced his band at least three times! After songs like 'Bleed With Me' and 'Black Clouds, Dark Hearts', the mood was one of real enjoyment and even Daniela's more reticent friends dared to move towards the front. As is almost always the case with the band's concerts, the stage was dimly lit and created a mystical atmosphere that perfectly matched the guys with the make-up and masks. Many of their songs have become true classics over the years; despite the hardness they are always melodious with sing along qualities. After more than an hour, the band's biggest hit, 'Kill the Lights', ended an unforgettable evening. Then, to her complete surprise, there came a song just for Daniela's birthday. She had chosen 'Black Eyes', a song from 2013's EP 'Blood & Bones' that the band has not played live for about three years. Of course Daniela was invited on to the stage and everyone sang 'Happy Birthday'.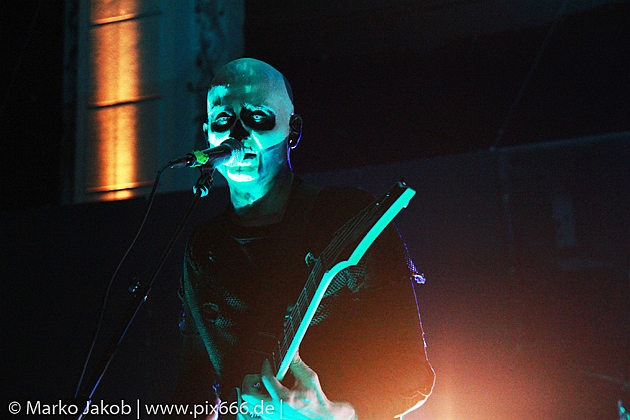 After the concert, the band took a lot of time for the fans and guests for souvenir photos and chatting. DJ Yannik also did a great job, resounding the audience with fantastic varied music - many thanks to him. A big thank you from Daniela goes to all the super nice and friendly guests who contributed to the good mood, to all her friends who have travelled from near and far, to all the helpers, to the great people behind the bar and to the team from the Stellwerk.
Setlist

01. Shadow
02. Bleed With Me
03. Black Clouds, Dark Hearts
04. Sleeper
05. Land Of The Dead
06. The Slow Departure
07. Ghost
08. Apocalypse Trigger
09. Forever
10. Kill The Lights
---
11. Black Eyes
Rating

Music: 9
Performance: 9
Sound: 8
Light: 8
Total: 8.5 / 10
All pictures by Marko Jakob