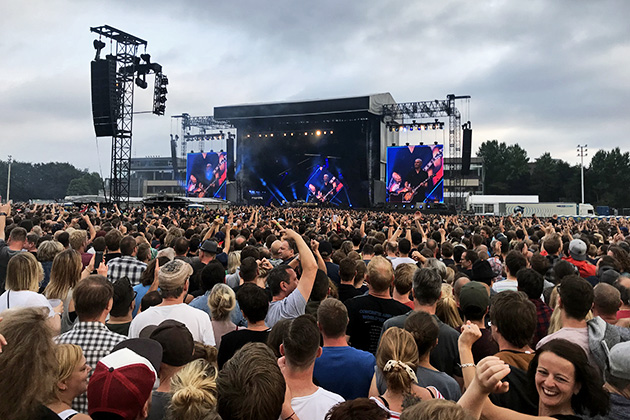 Trabrennbahn Bahrenfeld, Hamburg, Germany
10th June 2018
Foo Fighters - "Concrete and Gold World Tour" 2018 - Special Guests: The Kills, Wolf Alice


Rock Icons FOO FIGHTERS have decided to throw in a stop of their "Concrete and Gold" world tour in the beautiful city of Hamburg around their scheduled appearances on the 'Rock am Ring' and 'Rock im Park' festivals. 60,000 fans joined the Rock party of the year to see one of the greatest Rock bands live and open air. However, getting to the festival area represented quite a challenge, which had to be overcome by different means of public transport and walking for what felt like miles through the Volkspark.
Wolf Alice

WOLF ALICE
are a quartet from Northern London, playing Alternative Rock. They have formed in 2010 and have released two studio albums so far, which both made it into second place of the Top 40 Charts of the UK. https://www.facebook.com/wolfalicemusic / www.wolfalice.co.uk
Music & Performance

At 5:30pm, singer Ellie Rowsell and her band members came out onto the (pretty full) stage and started off with their low-key Rock song 'Moaning Lisa Smile' from their 2015 debut album 'My Love is cool'. Ellie's voice was a perfect match to the very British instrumental setup (Vox amps), and the band used their time in the spotlight to show off their qualities and win over a good part of the open-air crowd. Their 45-minute set was closed off with the hit single 'Giant Peach', which culminated in a giant feedback orgy, during which Ellie rolled over the front stage area under the applause of the crowd.
Setlist

01. Moaning Lisa Smile
02. Yuk Foo
03. You're a Germ
04. Lisbon
05. Don't Delete the Kisses
06. Beautifully Unconventional
07. Sadboy
08. Visions of a Life
09. Fluffy
10. Giant Peach
Rating

Music: 7
Performance: 7
Sound: 6
Light: 6
Total: 6.5 / 10
The Kills

The American/ British Indie rock band
THE KILLS
were the second female-fronted band of the night. The band was formed back in 2001 by singer Alison "VV" Mossheart and guitarist Jamie "Hotel" Hince. Their latest album is called 'Ash & Ice' and was released in 2016. Their music relies heavily on low-fi garage rock and blues elements, which made sure comparisons to THE WHITE STRIPES et al were never far away. https://www.facebook.com/thekills / www.thekills.tv
Music & Performance

Around a quarter to 7pm, the two founding band members and their touring musicians made their way onto the stage. They kicked their set off with the song 'Heart of a Dog' from their latest album. The stage presence of Alison, as well as the low-fi, rough guitars did not fail to make an impression on the ever-growing crowd in front of the stage. Listening to THE KILLS was really the best use of your time, because getting a drink or a bite to eat was a sure ticket to be stuck in waiting lines forever, as the logistics of the festival area was challenging to say the least. THE KILLS did not let any of that discourage themselves, and played a solid set, which turned up the party level of the waiting crowd.
Setlist

01. Heart of a Dog
02. U.R.A. Fever
03. Kissy Kissy
04. Hard Habit to Break
05. Black Balloon
06. Baby Says
07. Tape Song
08. Steppin' Razor (Joe Higgs cover)
09. Doing It to Death
10. List of Demands (Reparations)(Saul Williams cover)
11. Pots and Pans / Monkey 23
Rating

Music: 7
Performance: 8
Sound: 7
Light: 7
Total: 7 / 10
Foo Fighters


Whoever saw
FOO FIGHTERS
during their 20-year history live will agree to the fact that it does not get any more Rock n' Roll than Dave Grohl and his band mates. A guy who does not let a broken leg get between him and a good show certainly deserves respect. But this simple event epitomizes the level of dedication from the band, as they simply reside in a league of their own. www.foofighters.com / https://www.facebook.com/foofighters.
Music & Performance

Around 8 pm it was time for the band of the evening, Dave Grohl and his bandmates stormed on stage, and opened up with 'Run' from their newest album 'Concrete and Gold' instead of the usual 'All my life', which came second on the setlist. In one of the song breaks Dave took a visibly content look into the wide area and promised the 60,000 "German motherfuckers" a long Rock N' Roll night. And this time he delivered. Unlike a mere week ago at Rock Am Ring, where a sore throat forced Dave to shorten the setlist considerably and rely on his band members to help out on the job, the 49-year-old singer was back to his original level of artistic capabilities. Supported by his congenial band members, Dave and FOO FIGHTERS delivered a Rock N' Roll show for the books.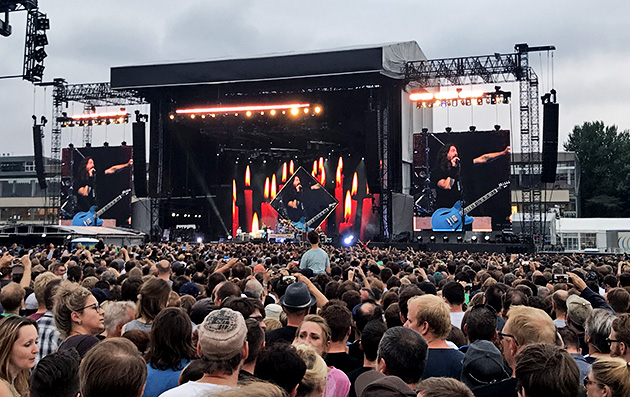 They played all their hits from the last three decades. An obviously very joyous Dave watched the sun set over the festival area and mentioned how nice the warm evening breeze felt in his hair, and that this made him feel like Beyoncé. And he called on everyone to sing with him for Beyoncé, and the audience gladly obliged. The obligatory band introduction, where each band member gets to play a certain song, also came with a nice surprise this time. In a plead to re-unite this divided world, the band played the song 'Imagine' by John Lennon, while Dave sang/ spoke the words of VAN HALEN's hit 'Jump'. Another surprise came towards the end of the setlist when Alison from THE KILLS joined Dave on stage to perform the song 'La Dee Da' from their latest album.
Finally, Dave said goodbye to the audience, but not without making mysterious comments about a nicely looking "Weinhaus Gröhl", which he saw on his way, and which his fans should visit around noon to have a glass of wine and a chat. Turns out dozens of people heeded the call and turned up at the hitherto unwitting store owner, who made good on Dave's promise, and served wine by the glass to the FOO FIGHTERS fans. With a slight delay, Dave himself also turned up at the store, and thanked the store owner, who posted a picture with Dave on his Facebook feed. The last song of the evening was - comme toujours - the epic song 'Everlong' and around 10:30pm it was time to try and get home.
Summarizing, it was an evening well-spent. The weather could not have been better by Hamburg's standards. Certainly, the transportation and catering options at the Trabrennbahn were scarce and crowded, and the ticket was pretty expensive, but this was more than offset by the charismatic singer and his band mates, who delivered a Rock show for the ages. The "only" little downer: there was a photo contract for this show, being presented by the band's management to the photographers, our magazine refused to sign since the conditions were not suitable. So, we do not present you proper photographs of the evening here.
Setlist

01. Run
02. All My Life
03. Learn to Fly
04. The Pretender
05. The Sky Is a Neighborhood
06. Rope
07. Sunday Rain
08. My Hero
09. These Days
10. Walk
11. Another One Bites the Dust / Imagine / Jump / Blitzkrieg Bop
12. Under Pressure
13. Monkey Wrench
14. Wheels
15. Breakout
16. Dirty Water
17. This Is a Call
18. La Dee Da
19. Best of You
20. Everlong
Rating

Music: 9
Performance: 10
Sound: 9
Light: 10
Total: 9.5 / 10
Pictures by Christian Beyermann