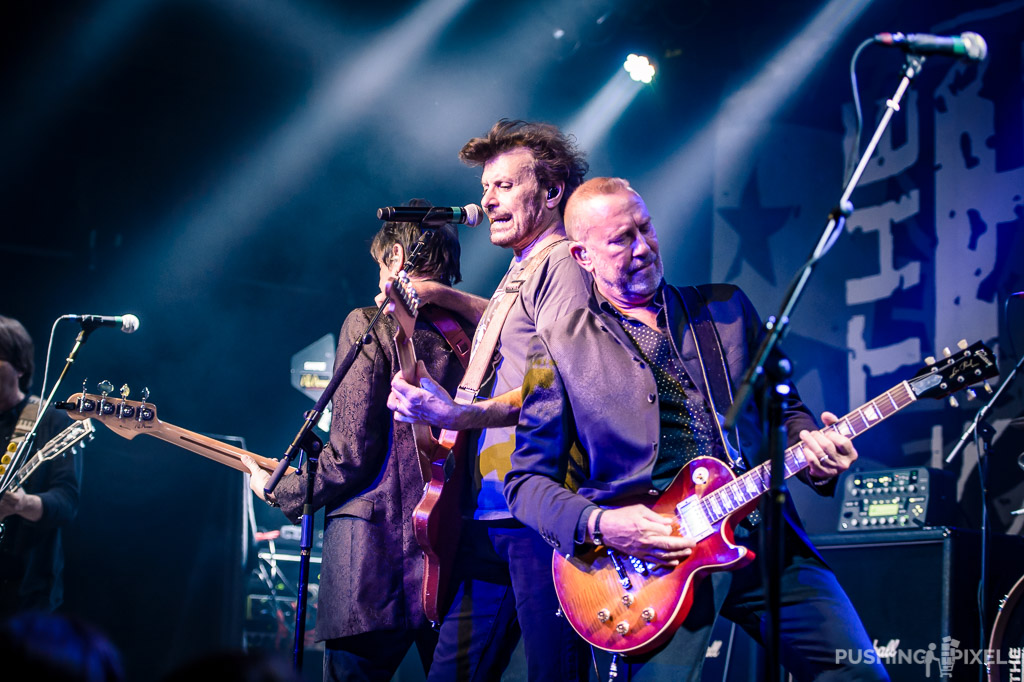 Zeche, Bochum, Germany
17th June 2018
The Hooters - "Give The Music Back Tour" - Support: Joe D'urso

In June 2017, THE HOOTERS released the new live double album 'Give The Music Back'. The final mixes, mastering and artwork were completed in May 2017 for an exciting new live album that includes over 100 minutes of music on two CDs. Now they are spending the summer touring under the title of this album.
Joe D'urso

Joe D'Urso, Dan Albanese, Rich Sica and Bob Place got together in the summer of 1989 in a crammed bedroom in Long Island City, NY and started what was to become a road less travelled. The band was originally named THREE CHORDS & THE TRUTH but after six months was renamed STONE CARAVAN and then renamed JOE D'URSO & STONE CARAVAN upon releasing their third record in 1993, 'Rock-Land'. D'Urso serves on the board of directors for 'Light of Day', 'WhyHunger' and 'The Dan Sullivan Foundation' and owns and curates the Rockland-Bergen Music Festival (rocklandmusicfestival.com). http://www.jdcaravan.com / https://www.facebook.com/JOEDURSOandSTONECARAVAN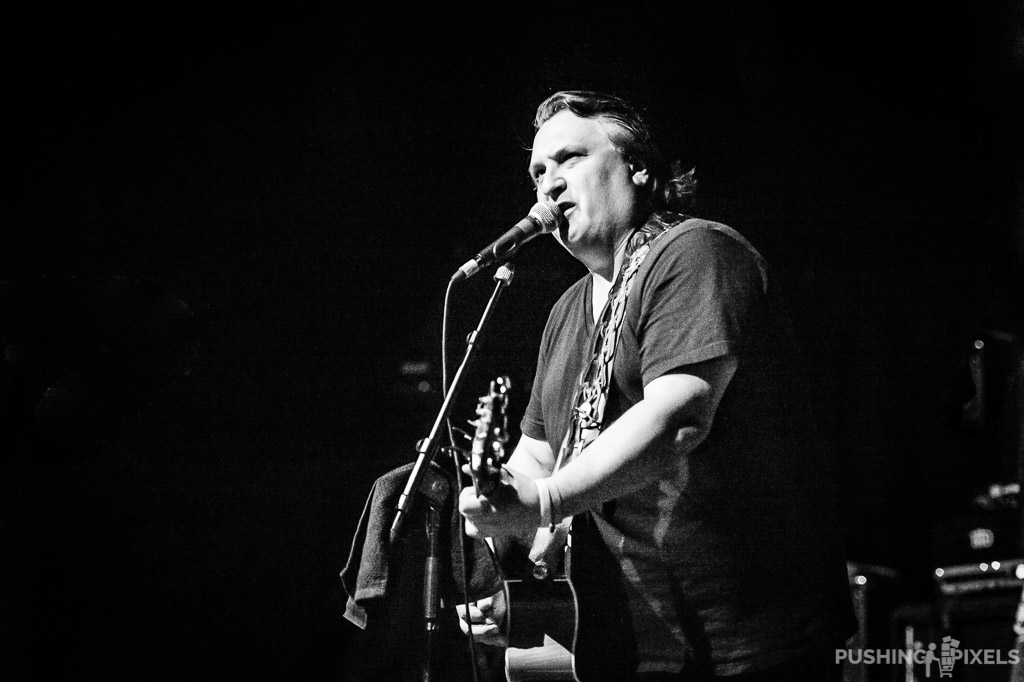 Music & Performance

Now as the support of THE HOOTERS, Joe performed a solo acoustic show. Joe and THE HOOTERS are long-time friends and they have toured already a few times together. He absolutely convinced with his one guitar show. He played songs like 'Just once' which is the opening song from the latest album 'Jersey Diner' and 'Let it go' or 'Down here by the river'. As well a song about Joe's favourite park in New Jersey, 'Come down with me (Asbury Park)'. The audience sang along with a great version of 'Cats in the cradle' and he finished with 'One guitar'. Joe said he believes in the power of man with his guitar and he can do it for sure.
Rating

Music: 9
Performance: 8
Sound: 7
Light: 8
Total: 8 / 10
The Hooters

Bursting onto the Philadelphia music scene in 1980, THE HOOTERS quickly became a huge success along their native East Coast. Their unique blend of Ska, Reggae and Rock'n'Roll was a fresh and powerful sound and in 1983, THE HOOTERS released their first independent album, 'Amore', which sold over 100,000 copies. 'Amore' introduced the original versions of songs like 'All You Zombies', 'Hanging On A Heartbeat', 'Fightin' On The Same Side' and 'Blood From A Stone', all songs which would reappear in different versions on later albums. By 1986, THE HOOTERS had four hit singles under their belts and had been touring almost non-stop for a year promoting 'Nervous Night'. A highlight of that year, the band was honoured to be asked to play at the Amnesty International Concert at Giants Stadium in New Jersey. Relatively unknown only a year before, THE HOOTERS were now sharing the stage with acts such as U2, The Police, Bryan Adams, Lou Reed and PETER GABRIEL.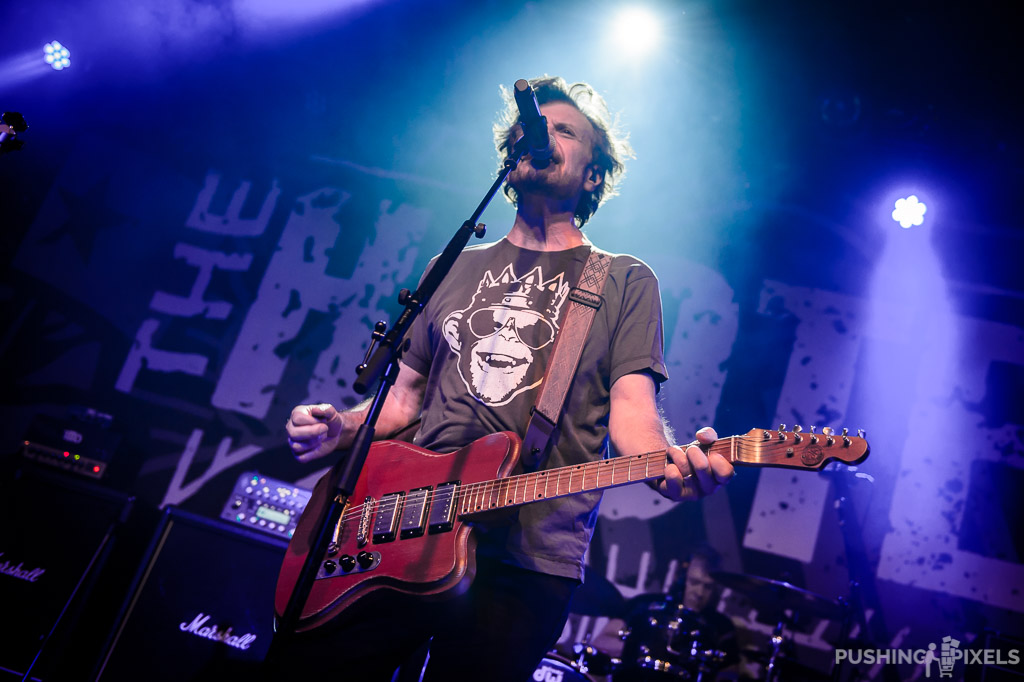 In 1987, THE HOOTERS released 'One Way Home', again achieving gold and platinum status in several territories across the globe; with songs like 'Johnny B', 'Satellite' and 'Karla With A K', and 'One Way Home'. David Fricke, from Rolling Stone magazine said,
"THE HOOTERS have made airwave magic with unconventional ingredients"
. In 1989, THE HOOTERS released their third major label album. 'Zig Zag' introduced the world to a slightly more mature HOOTERS sound while still maintaining those infectious pop hooks for which THE HOOTERS are so well known. With Peter, Paul and Mary on backing vocals, '500 Miles' became a worldwide hit that lead to another double-platinum success for the band. In 2000, THE HOOTERS were honoured to have Ricky Martin cover the English version of 'Private Emotion' on his Grammy-nominated self-titled debut album.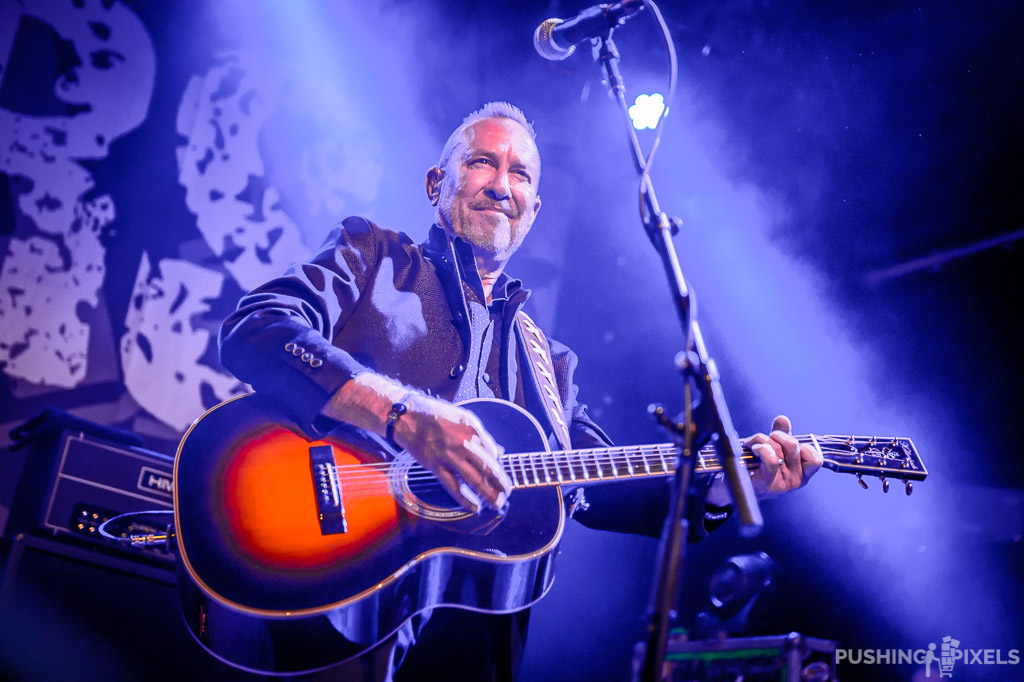 THE HOOTERS played extensively in Europe in '03, '04, and '05 and it was also during this time they wrote many of the songs for what would become their first new studio album in 14 years. In 2006, 'Time Stand Still' finally became a reality. With songs written primarily by Rob and Eric, and a beautiful cover version of DON HENLEY's 'Boys Of Summer', 'Time Stand Still' was recorded in Philadelphia and mastered in New York. Sold exclusively at shows throughout the 2007 summer tour, the CD was officially released on September 14, 2007 in Germany, Switzerland and Austria through Neo/ Sony BMG Distribution. In early 2010, the band recorded the five song EP 'Five By Five' then headed out for the summer 2010 "30th Anniversary Tour". They are still touring in all that years intensely and permanently. http://hootersmusic.com / https://www.facebook.com/TheHooters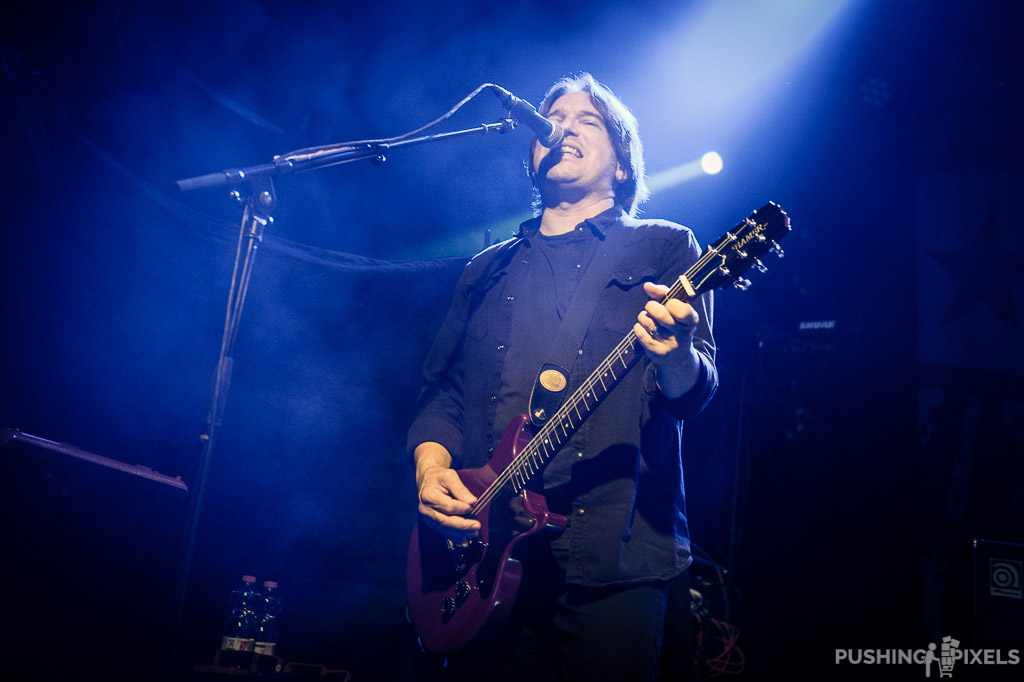 Music & Performance

From one man with one guitar we came to the men with three guitars and some more instruments. When you have seen THE HOOTERS already before you know that you will be the next two hours part of a kind like Irish Rock party even though they are from Philadelphia. A good time is guaranteed. The first songs were nearly played one after another and when Rob introduced 'Day By Day', he warned "Let's get the party started". Every one of them had their solos during the evening not only with their instruments. Eric or Rob are singing the songs, but also Tommy Williams had his own with singing the BEATLES cover 'Lucy In the Sky With Diamonds'. During the song 'Twenty-Five Hours A Day', we got a special performance with hand clapping from their crew in the background. After 'And We Danced', the first part ended and following was now an unplugged set with five songs. Then the normal / electric part went on with a guitar solo of Tommy.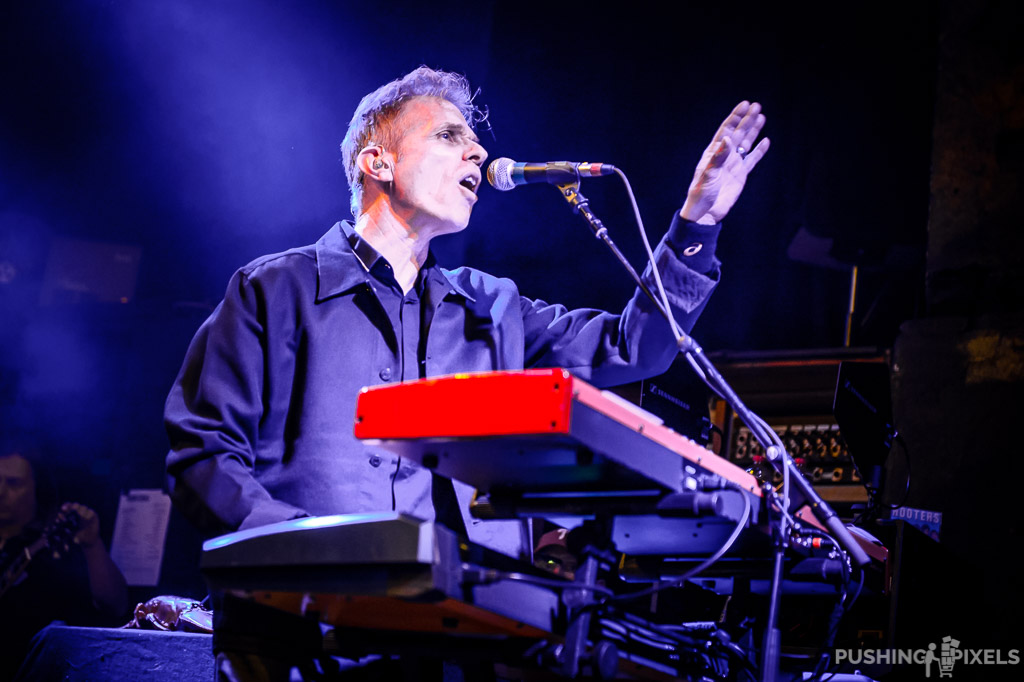 The connection to their fans was deep and you could see and feel that they enjoy it a lot to play in Germany again. German fans are loyal. Eric enjoyed seeing Tour t-shirts of THE HOOTERS in the crowd from different tours after all these years. During the whole show they were talking to the crowd and involved them. When Rob introduced the band after 'Boys Will Be Boys', he forgot to mentioned bassist Fran Smith Jr., but then he said it is his birthday. So he got a little bit confetti and paper streamers from crew members. Then Fran started to sing 'Birthday' from THE BEATLES and everyone joined in. The last part of the show consisted of songs which were performed by someone else but written by THE HOOTERS, like 'One Of Us', 'Time After Time' or the German 'Major Tom (Völlig losgelöst)' which was also sung by Eric in German. So we had a little NDW (New German Wave) part as well.
THE HOOTERS never lost any energy when they played live in all the decades and it is always a joy to see them. When they left the stage after nearly three hours they stood one after another and pretend to be a locomotion. Until next we can wish for 'Give the Hooters back'.
Setlist

01. Intro (Karla With a K Instrumental)
02. You Never Know Who Your Friends Are
03. I'm Alive
04. Hanging on a Heartbeat
05. Day by Day
06. All You Zombies
07. The Boys of Summer (Don Henley cover)
08. Graveyard Waltz
09. 500 Miles (Hedy West cover)
10. Silver Lining
11. (Unknown) (it was a piece by Johann Sebastian Bach, performed on electric guitar)
12. Lucy in the Sky With Diamonds (The Beatles cover)
13. Where Do the Children Go
14. Karla With a K
15. Twenty-Five Hours a Day / Jigs
16. Satellite
17. Johnny B
18. And We Danced
---acoustic set---
19. Come All Ye (Fairport Convention cover)
20. Nervous Night
21. Until I Find You Again
22. Fly Like an Eagle (Steve Miller Band cover)
23. Mr. Big Baboon
---end of acoustic set---
---
24. Guitar Solo Tommy Williams
25. Give the Music Back
26. Time Stand Still
27. Boys Will Be Boys
28. Birthday (The Beatles cover) (played due to Fran Smith Jr.'s birthday)
29. One of Us (Joan Osborne cover)
30. Time After Time (Cyndi Lauper cover)
31. Major Tom (Völlig losgelöst) (Peter Schilling cover)
Rating

Music:10
Performance: 10
Sound: 9
Light: 9
Total: 9.5 / 10
All Pictures by Markus Felix