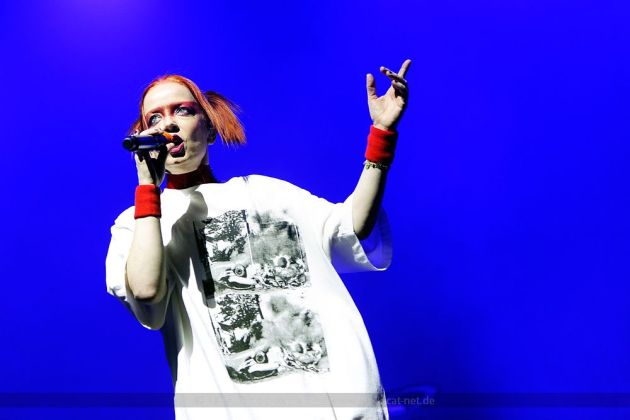 E-Werk, Cologne, Germany
17th September 2018
Garbage - 'Version 2.0: 20 Years Paranoid' Tour 2018 - Special guest: Dream Wife

The legendary Alternative Rock formation GARBAGE came on tour to Cologne to celebrate the 20th anniversary of their second album 'Version 2.0'. As support, they brought DREAM WIFE from London with them.
Dream Wife

Supporting GARBAGE on the European leg of the tour were the London/ Brighton-based band DREAM WIFE. The U.K. feminist Pop Punks have made waves in London's creative music scene with their self-titled debut album in January this year, garnering positive reviews from all sorts of music press outlets. https://www.facebook.com/dreamwifedream / www.dreamwife.co
Music & Performance

Shortly before 8pm, ABBA's 'Dancing Queen' was played as an intro, and the three female and one male members of DREAM WIFE entered the stage to kick off their set with 'Hey Heartbreaker'. In terms of music, DREAM WIFE did not fail to entertain the crowd.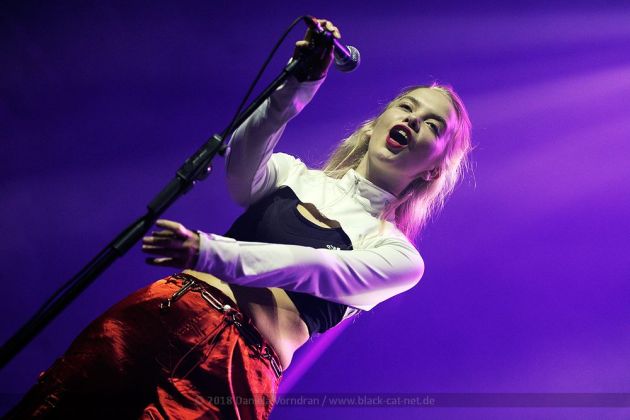 Refreshingly straight melodies completely without any electronic additives is not something you see in this generation every day. Also with regard to their show capabilities, DREAM WIFE stood out. Singer Rakel Mjöll showed off her remarkably flexible voice, a noteworthy dancing style, and it became clear that her parents almost certainly overdosed on BJÖRK records during her upbringing, judging from her accent and singing style. During their song 'FUU', DREAM WIFE took their female empowerment message one step further by creatively referencing the famous SPICE GIRLS line "I tell you what I want, what I really, really want", and screaming "I wanna fuck you up" as some kind of answer.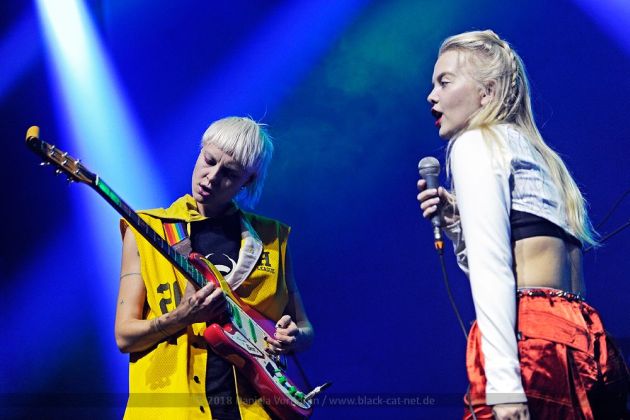 DREAM WIFE's 30-minute set flew by very quickly, and during the last song, Rakel thanked GARGABE and - above all – "baddest bitch of all" Shirley Manson for picking them as support.
Setlist

01. Hey Heartbreaker
02. Lolita
03. Fire
04. Kids
05. Somebody
06. FUU (Shorty)
07. Let's make out
Rating

Music: 8
Performance: 7
Sound: 8
Light: 7
Total: 7.5 / 10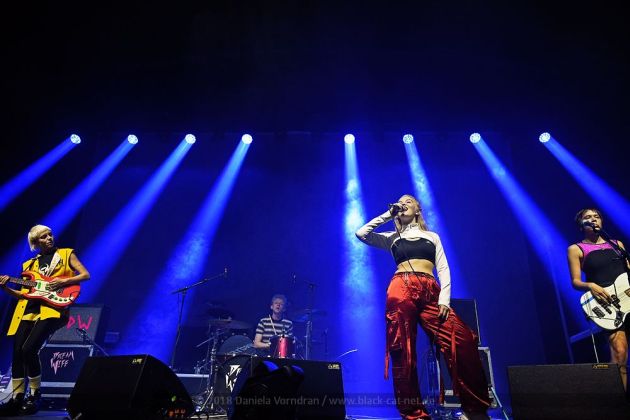 Garbage

GARBAGE were formed around the legendary producer Butch Vig (NIRVANA's 'Nevermind' album et al) in Madison, Wisconsin in 1993. In 1995 the band released their self-titled debut album, and it became an instant hit, selling over four million copies world-wide. Scottish singer and guitarist Shirley Manson artfully dominates the visual appearance of the band until this day, making GARBAGE stand out from the rest of the bands of the long-gone "grunge" era. To find out more about the band, go to www.garbage.com or https://www.facebook.com/GarbageOfficial.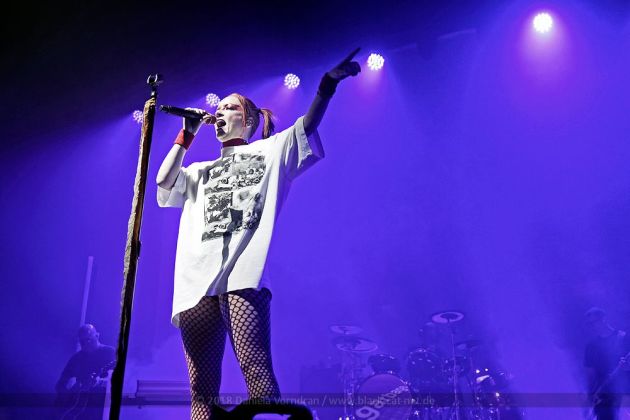 Music & Performance

At 9pm, the change-over was finally done and GARBAGE took the stage with a much reduced production. Their opener 'Afterglow' set the mood for the evening. Having been released as a B-side to the single 'I Think I'm paranoid' from the 'Version 2.0' album, it caught the audience a little off-guard. With that, the band made it implicitly clear that this evening would not be your run-of-the-mill "Best-of" hit collection show, but instead it would be a more elaborate tribute to the two decades-old album. Front woman Shirley Manson - dressed in a big white T-Shirt and fishnets, and with orange hair and make-up, looking like she was coming from an audition for the next Marvel movie - refrained from engaging in any interaction with the audience for the first eight songs, as the break between each song was filled with some spoken word interludes from different movies.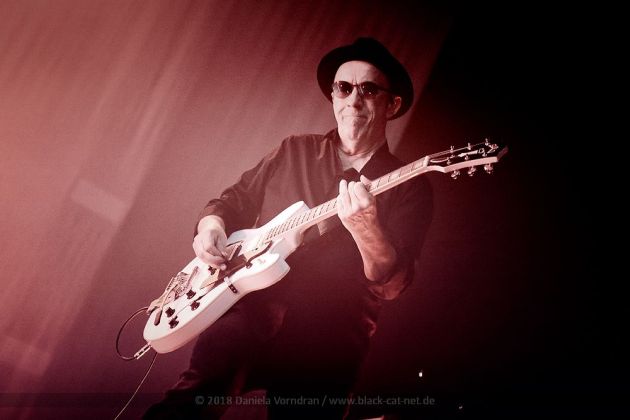 Only half way into the set, after the song 'Medication', Shirley announced that the band would be playing the two cover songs from the 'Version 2.0' album, apart from all the other "obscure" tracks and B-sides, which the band never played before. This clearly put a lid on the level of excitement inside the (not completely sold-out) E-Werk, as most people decided to just take in the visual and acoustic presentation instead of dancing their heart out. However, after almost one hour into the set, GARBAGE played one of the more upbeat hit singles of the album with 'I Think I'm Paranoid', thereby rousing the audience. Things took a more sombre turn again when Shirley announced that they were going to play "the saddest song ever written by Garbage, and we are a band that has written quite a bunch of sad songs". It turns out Shirley was referring to the song 'Soldier through this', which is once again a B-side of the 'Version 2.0' era.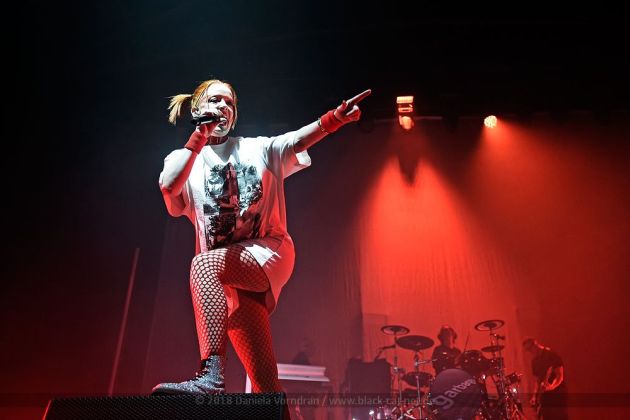 After 90 minutes of playtime, the main part ended with the ballad 'You look so fine', the band left the stage, and the lights went out. Fortunately not for long, as GARBAGE returned for a three-song encore after a few minutes of applause. As Shirley walked onto the stage, she addressed a bunch of fans who brought an LED bubble balloon to the concert and had been waving it relentlessly throughout the concert. She smiled at them, and complimented them for bringing it, as looking at this had brightened up her day. She then went on to tell a story about how the band got held up in a traffic jam during their tour in the UK, because someone had taken his own life by jumping off a bridge onto the motorway. She mentioned that this saddened the band a lot, as no one should be that desperate, as things could always be turned around. She also pleaded with the audience to look out for one another and support each other to prevent tragedies like this, which was met with loud applause.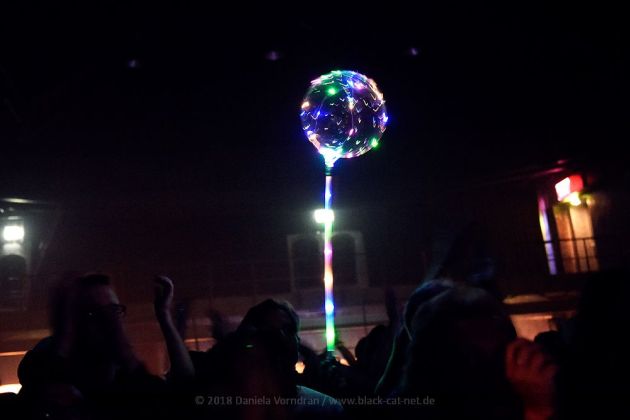 This provided the perfect introduction for the song 'The Trick is to Keep Breathing', which many fans cited as a source of support during difficult times according to Shirley. The second encore song was the new single 'No Horses', which provided a good appetizer for the new songwriting of the band for the upcoming new album. GARBAGE closed out the evening with the gender fluidity hymn 'Cherry Lips (Go Baby Go)', which was one of the few songs not from the 'Version 2.0' context. Clearly this was an evening more geared towards die-hard GARBAGE fans than first-timers, as most songs were indeed from more "obscure" rather than popular sources. However, once you accepted that, that evening provided the ultimate evidence that GARBAGE still care about creating music in their 26th year of existence.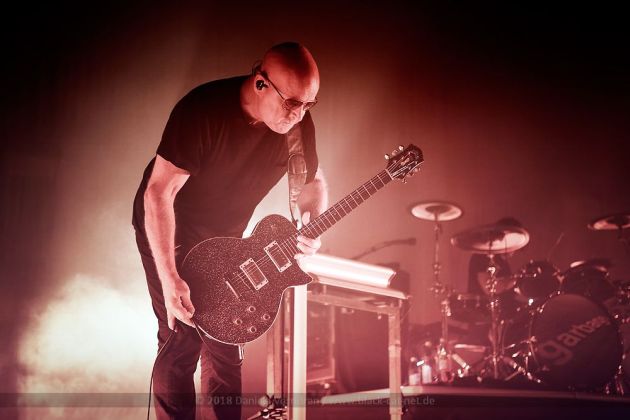 Setlist

01. Afterglow
02. Deadwood
03. Temptation Waits
04. Wicked Ways (with interlude of Depeche Mode's 'Personal Jesus')
05. Special
06. The World Is Not Enough
07. 13x Forever (with The Kinks' 'Tired Of Waiting' outro)
08. Get Busy With the Fizzy
09. Hammering in My Head
10. Medication
11. Thirteen (Big Star cover)
12. Can't Seem to Make You Mine (The Seeds cover)
13. I Think I'm Paranoid
14. Sleep Together
15. Dumb
16. Soldier Through This
17. Lick the Pavement (last verse instrumental)
18. Push It
19. When I Grow Up
20. You Look So Fine
---
21. The Trick Is to Keep Breathing
22. No Horses
23. Cherry Lips (Go Baby Go!)
Rating

Music: 8
Performance: 8
Sound: 8
Light: 7
Total: 7.8 / 10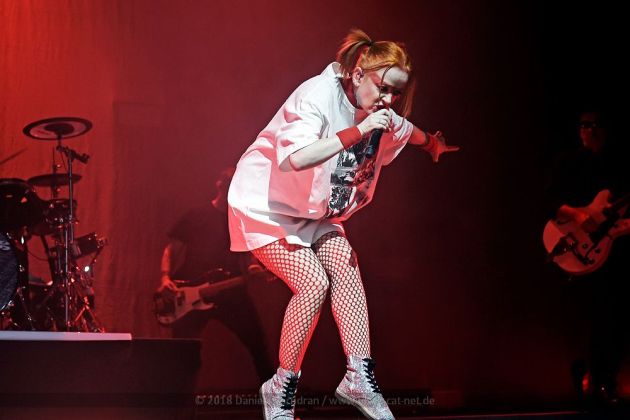 All pictures by Daniela Vorndran (
http://www.vorndranphotography.com
/
http://www.facebook.com/blackcatnet
)