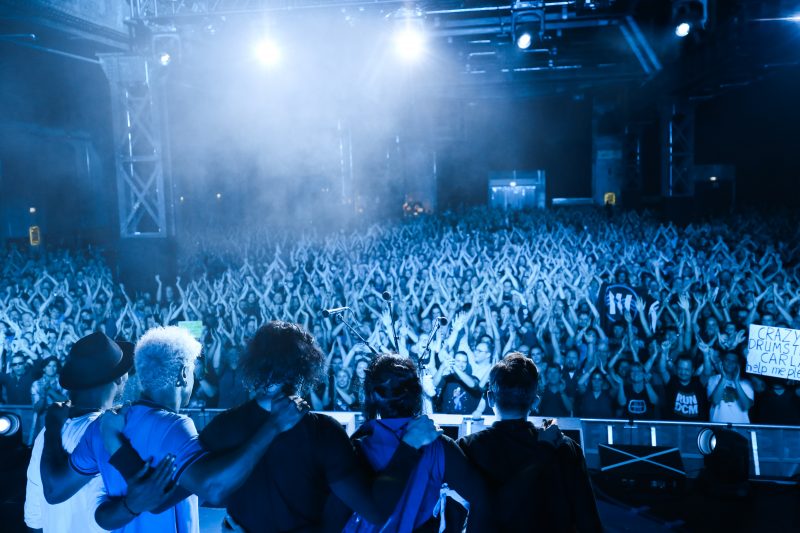 Warsteiner Music Hall, Dortmund, Germany
14th October 2018
Jack White - "Boarding House Reach" Tour 2018 - Special guest: Gewalt

The musical genius and mastermind behind bands such as THE WHITE STRIPES, THE RACONTEURS, and THE DEAD WEATHER has released his third solo album, titled 'Boarding House Reach', this spring and was coming for three gigs to Germany. One of these gigs led him and his band members to the relatively new venue Warsteiner Music Hall, which provided a rather intimate surrounding for a twelve (!) time Grammy Award winner.
Gewalt

The Berlin trio GEWALT had the honour of opening the evening for JACK WHITE & band on their three German gigs of the European tour. GEWALT is the current project of Patrick Wagner, who insiders will recognize as the ex-singer of Noise Punk band SURROGAT. GEWALT have released a few tracks through Bandcamp and seem to want to rely on the self-publishing model for a while. https://www.facebook.com/gewaltband / http://gewalt.bandcamp.com/releases
Music & Performance

When arriving at the Warsteiner Music Hall, the security check presented an added challenge: All visitors had to present their phones and cameras at the check-in, and these were put into small neoprene bags, sealed with magnetic locks similar to security tags from clothing stores, which were then handed back to the visitor. Mr White personally had requested his concerts to be phone-free, which meant that all visitors had to part (although not literally) with their addictive devices for the duration of the concert. Much earlier than announced, at 7pm instead of 7:30pm, GEWALT started their celebration of maximum inaccessible noise rock with industrial elements, much to the "shock and awe" of the middle-aged audience.
Singer Patrick wore a white suit with a rather ornate, painted decoration of dust, blood and god-knows-what-else. He was accompanied by his two band members, bass player Samira Zahidi and guitarist Helen Henfling, who performed their duties in a rather stoic manner. The rhythm section was taken over by a drum computer called DM1, lending an industrialist feel to the gig. From the beginning it became clear that GEWALT did not come to appeal to the audience and gain fans. For that, their performance relied much more on the artistic side rather than on the entertainment side. Most of the spectators fled the room to have a smoke and/ or beers outside. The ones who stayed got a lesson in existentialist noise with a very artsy "no-fucks-given" attitude, which thankfully lasted only the obligatory 30 minutes. However, the obvious question remains, how on earth this band landed on the ticket of one of the greatest rock artists around. But that is one of the few remaining charming aspects of the music business that it still tends to hold a few surprises once in a while.
Setlist

01. Guter Junge, böser Junge
02. Tier
03. Pandora
04. Szenen einer Ehe
05. So geht die Geschichte
06. Wir sind sicher
Rating

Music: 3
Performance: 5
Sound: 5
Light: 5
Total: 4.5 / 10
Jack White

JACK WHITE, or John Anthony Gillis, as he identifies at airports, has established himself quite a reputation over the decades. Not only is his band THE WHITE STRIPES credited with preserving and rejuvenating garage rock, but his other bands and business ventures (ranging from an upholstery company to a very successful record label) prove that there is really no limit to the potential outlets of his creativity. To find out more about the band, go to www.jackwhiteiii.com / https://www.facebook.com/jackwhite.
Music & Performance

Around 8pm (only a rough estimate, as the author's phone was tucked away in the pouch, and who wears watches nowadays anyway), the stage break was finally over, and the band members of JACK WHITE took their places, arranged in a half-circle around the microphone stand and a total of six guitars set up in the stage's centre. The band started the evening with the WHITE STRIPES song 'When I Hear My Name', with Mr White joining his band members on stage after a few moments, wearing a blue suit and a black shirt, which - paired with the blue stage lighting, made his face look even more pale than usual. Next up were two songs from his new album 'Boarding House Reach', 'Over and Over and Over' and 'Corporation'. While the crowd's reception of these newer songs was notably a bit mute compared to the first song, these tracks underscored that those garage rock days with a sole reliance on gut-busting distorted guitars seem to be over for now.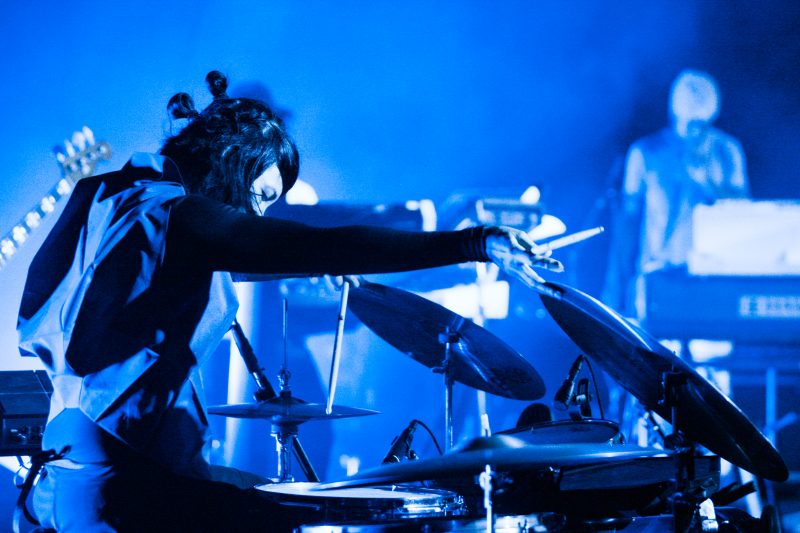 The music scope of the current release clearly is much more diverse, which is underscored by the presence of two keyboard players on stage, who did their best to help their boss indulging in Zappa-esque free jamming, spaced-out melody orgies. The contrast could not have been greater, when Jack grabbed an acoustic guitar to perform the refreshingly simple 'Hotel Yorba' from the early WHITE STRIPES discography. Around halfway into the set, Mr White's other band THE DEAD WEATHER got a nod in the form of the song 'I cut like a Buffalo'. After another WHITE STRIPES song ('Ball and Biscuit') and around 70 minutes of playtime, the band left the stage. Steady clapping and screaming brought the band back for an encore, which lasted five songs, and which contained gems like a 70ies-infused 'Steady as She Goes' from THE RACONTEURS, and one of the true highlights of the current album, the ballad 'Connected by Love'. All this culminated, when Jack picked up a beat-up old guitar with really tuned-down strings and a bottleneck to perform one of the most iconic riffs of all time: 'Seven Nation Army'.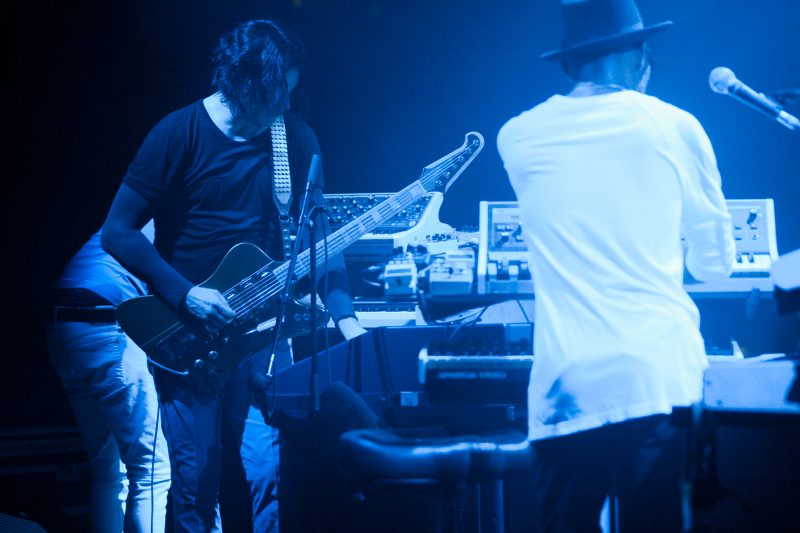 A JACK WHITE-show nowadays resembles a grab bag full of unexpected moments, with enough of the familiar favourites to keep the audience coming back again and again. And for a supposedly analogue guy, who forces his fans to part with their beloved smartphones, JACK WHITE and his band mates have used electronic instruments in the best way to add outlets to their seemingly endless creativity. With hindsight, the 'smartphone-free' policy had only upsides: first of all it was easier to focus on the concert itself without having to stare at tiny screens held up to capture the whole concert. And it had also a very relaxing effect, not being able to post anything to social media or looking anything up, which should serve as an encouragement for more artists to adopt a similar policy during their gigs.
Setlist

01. When I Hear My Name (The White Stripes song)
02. Over and Over and Over
03. Corporation
04. Lazaretto
05. Why Walk a Dog?
06. Hotel Yorba (The White Stripes song)
07. Love Interruption
08. I Cut Like a Buffalo (The Dead Weather song)
09. Hypocritical Kiss
10. Respect Commander
11. Cannon (The White Stripes song)
12. Blunderbuss
13. We're Going to Be Friends (The White Stripes song)
14. What's Done Is Done
15. Hello Operator (The White Stripes song)
16. The Same Boy You've Always Known (The White Stripes song)
17. Ball and Biscuit (The White Stripes song)
---
18. I'm Slowly Turning Into You (The White Stripes song)
19. Freedom at 21
20. Steady as She Goes (The Raconteurs song)
21. Connected by Love
22. Seven Nation Army (The White Stripes song)
Rating

Music: 8
Performance: 8
Sound: 8
Light: 7
Total: 7.8 / 10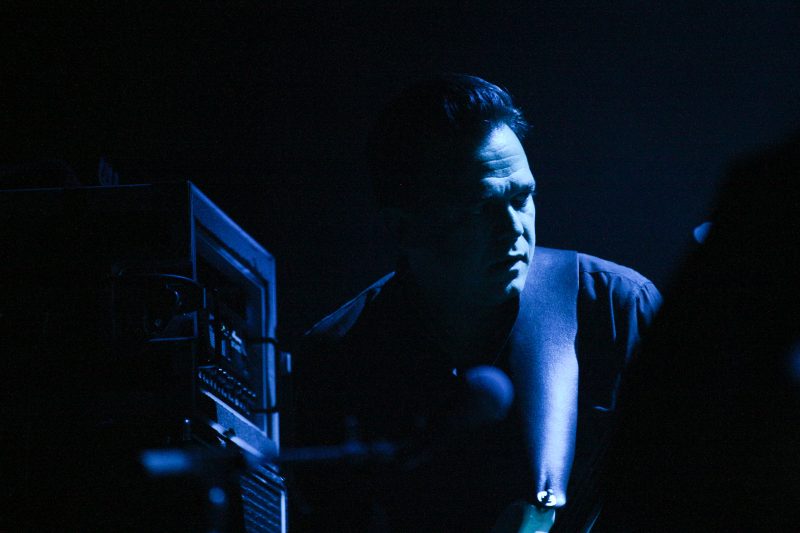 Pictures by David James Swanson (http://www.davidswanson.com)